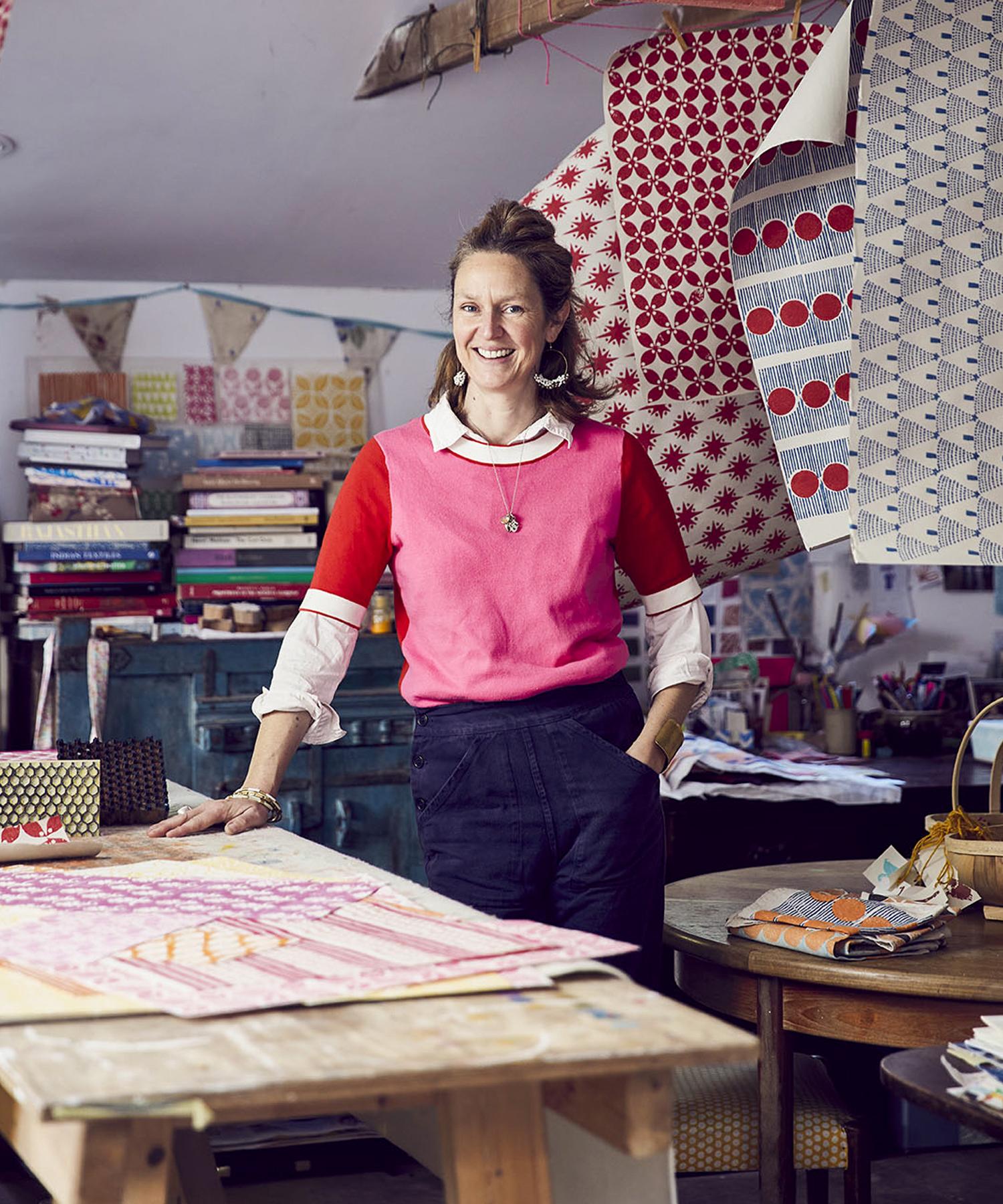 #LibertyCraftClub
Block Printing with Molly Mahon
Learn the art of block printing with textile designer Molly Mahon
Shop now
As we continue to adjust to life indoors, our community of creatives share how they are staying inspired at home, offering up their best arty tips and tricks along the way. For this instalment, print aficionado Molly Mahon shows us how to use her fantastic block print kits – working from her home studio at the bottom of the garden, nestled among the trees in Ashdown Forest.
Block printing can be very calming – if you allow yourself to relax

and

immerse yourself into the rhythm of loading the block, printing

and

starting over again, it really can be therapeutic.
• Pot of eco fabric paint
• Foam stippler
• Tea towel, set of cards or tote bag
• Wooden block
• Set of instructions
• Hand blocked draw string bag

First, prepare your work space – you'll need some nice padding. An old blanket or a 1cm layer of newspaper will work.

I put all the items to one side in an orderly fashion, so I can keep organised and clean – the paint is specifically made to adhere to fabric, so wear scruffy clothes or an apron and take care.
I'm going to print on a piece of paper to show you how to get going – I always recommend playing with paper first, before you are in control of what you are doing, and then you can start on the finished item.
The key to a good consistent print is getting the right amount of paint on to the block. The paint should have the consistency of yoghurt – if it feels claggy, add a little water.

Put a little bit on the lid of the paint pot and then with a dabbing motion pick some up with your stippler. Apply to the block with a dabbing motion – don't drag it across the block, as it will go into the gaps and you won't get such a clean print.
With an even layer applied, decide where you are going to place your block and put it down confidently. Give it a good push with the palm of your hand, and then lift clean away.

If it looks patchy, you need more paint on your block – if it splurges, you might have too much. Keep experimenting until you get it right!
Practice makes perfect. You need to look at the item you are printing and decide how the pattern will work best – on a sheet of paper, I always start top left hand corner and work my way across, but with a card it might work best as one central print. On a tote you might start in the middle, so that you get an even lay of design across the bag.
Don't worry if it's not 'perfect', nothing in life is. In block printing we like to see the mark of the hand and the little quirks you get from this non-mechanised process is what we call 'perfect imperfections'. Something crafted by hand has energy and charm that could never be found in a machine printed thing. The main thing is you enjoy yourself!

To finish, let your piece dry, and if it is fabric give it a good iron on a non-steam setting to set the paint. Wash your equipment in cold water and allow to dry before putting away.