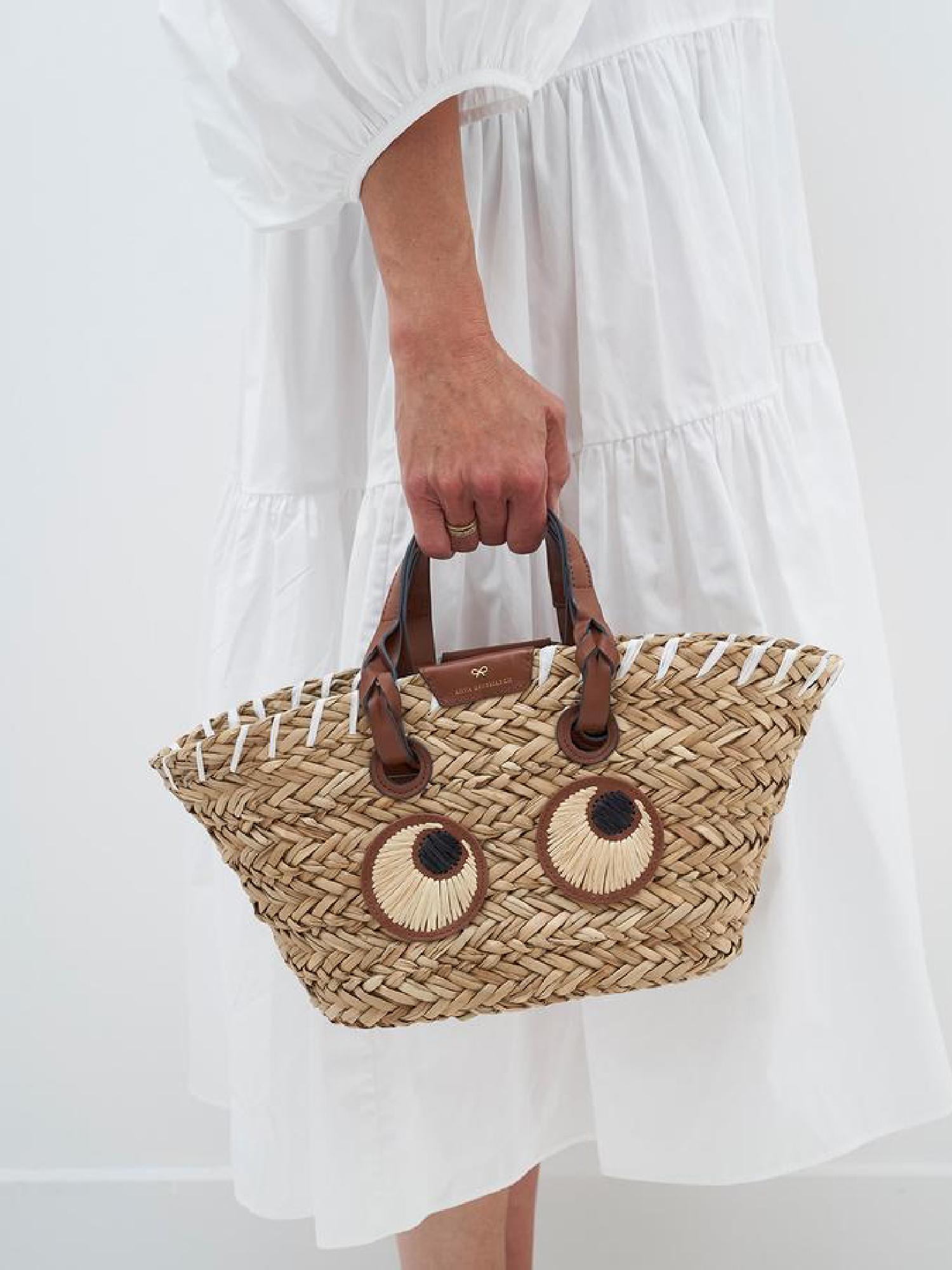 Progress Not Perfection
Anya Hindmarch
We spoke to the iconic British bag designer about her obsession with organisation, tackling the climate crisis and adapting her designs to suit a post-pandemic world
Shop Anya Hindmarch
Ever since she started her business as a teenager in the 1980s, Anya Hindmarch's bag collections have combined meticulous organisation with a witty sense of humour. The brand's creative projects have ranged from the Chubby Hearts campaign that saw 24 giant heart balloons suspended over London, to the recent opening of The Village - five post-pandemic stores which are set to redefine the high street shopping experience. Here, the British designer talks us through her creative process, and how fashion can be used as a positive force for change.
How did Anya Hindmarch become a brand?
I started the business in 1987 and have slowly, gradually built the brand to what it is today. I have been so lucky to work with brilliant people and forge very special friendships in the industry along the way, while also bringing life to projects which have, I hope, shone a light on some of the issues and causes which I am passionate about.
Did you always want to be a designer?
I always knew I wanted to work creatively and I love the design process. Home for me as a child was always like a board meeting. Ironically, my father had a plastics business, and rumour has it that my mother was helping with the invoices when she went into labour with me, so it has always been about creativity and business in equal measure.
How would you describe your aesthetic?
Modern craftsmanship, creativity, humour and personalisation sit at the heart of everything I do.
Many of your collections balance playfulness with meticulous organisation – why are these key elements for you?
I have had to admit to myself that I am a bit of a nerd and love to be organised. It helps me think straight and gives me a tiny sense of control. The Labelled collection gives me just that - a place for everything and everything in its place, as the famous adage goes. I categorise and organise everything - my to do lists, my wardrobe. I also label everything. I mean I would label my children if I was allowed. I am sure I drive everybody mad.

For me, the playfulness part is about fun and enjoyment. If I can bring a smile to somebody's face, then I feel like that is a real achievement.
Can you talk us through your creative process?
I have come to understand that there is a process for me to go through once an idea has bubbled up, so I try my best to hang on for the full journey. It will go something like, 'I love it – It's amazing – I'm nervous – I'm bored of it – It's hard – I'm not sure – It's really hard – I hate it – Maybe it's OK? – I really hate it – I hate myself – Actually, it's OK – I like it – In fact, it's great – I love it.' Once a concept has survived that process, I can then enjoy bringing it to life.
The new habits we have formed

over the

last year

or so

have brought new products

into the

collection -

the

Working From Home bag,

the

Home Office pouch

and the

Cycling bag have all been born

from

how we are now living

and

working.
In what ways does sustainability drive your brand?
Our mantra is 'progress not perfection'. We are working to reduce our environmental impact every day and make the best choices that we possibly can. It is very possible to make beautiful things in a respectful way and lots of the projects that we have worked on, and are working on, are about trying to make sure that we are doing everything we can to do our bit, keep the conversation going and make a difference.
Why is a sustainable approach so important to you?
It is important to all of us. We have 10 years to fix this climate crisis and it is something I'm acutely aware of. I am also acutely aware of how fashion can impact it in a negative way, but also in a hugely positive way. I feel that fashion could be a fantastic platform for communication and change and I want to work as hard as I can to make a positive difference with the projects we are working on, the materials that we use and the partners that we work with.
How did the I Am A Plastic Bag collection come about?
The I Am A Plastic Bag project was dreamt up as a way to utilise and keep in circulation some of the 8 billion tonnes of plastic that's currently on the planet. I wanted to use the material rather than put it into landfill, and we launched the project by filling our London stores with used plastic bottles. I really think it makes you think differently when you can see the problem right in front of you. It took over 90,000 bottles to fill the stores which might sound like a huge number, but that is the number of plastic bottles going into landfill every 8.5 minutes.
Where else do you look for inspiration?
I find inspiration in so much of the everyday around me - how people behave, the things that happen to us. I love the creativity of London. I have so missed galleries, exhibitions and shows over the last year that I cannot wait to soak everything up as it reopens. The new habits we have formed over the last year or so have brought new products into the collection - the Working From Home bag, the Home Office pouch and the Cycling bag have all been born from how we are now living and working.
It is very possible

to

make beautiful things

in a

respectful way

and

lots

of the

projects

that

we are working on are about trying

to

make sure

that

we are doing everything we can

to

do our bit.
What has been the most exciting moment of your career so far?
I always enjoy what is coming next to be honest. Opening The Village has been the realisation of a long-held dream for me. I love that it is an ever-evolving place where we can pour all of our creative energy. We have so many ideas and I am really looking forward to bringing them all to life. In our post-pandemic, digital-first world, retail needs to offer people a reason to visit and the experience, community and creativity is a big part of that for us.
Your brand has hosted a range of art installations over the years – do you have any favourites?
Each one of them holds special memories for me, picking a favourite is like making me choose a favourite child! If pushed, I always come back to Chubby Hearts - being able to suspend love hearts over my favourite city felt very special.
What's next for the brand?
Watch this space!