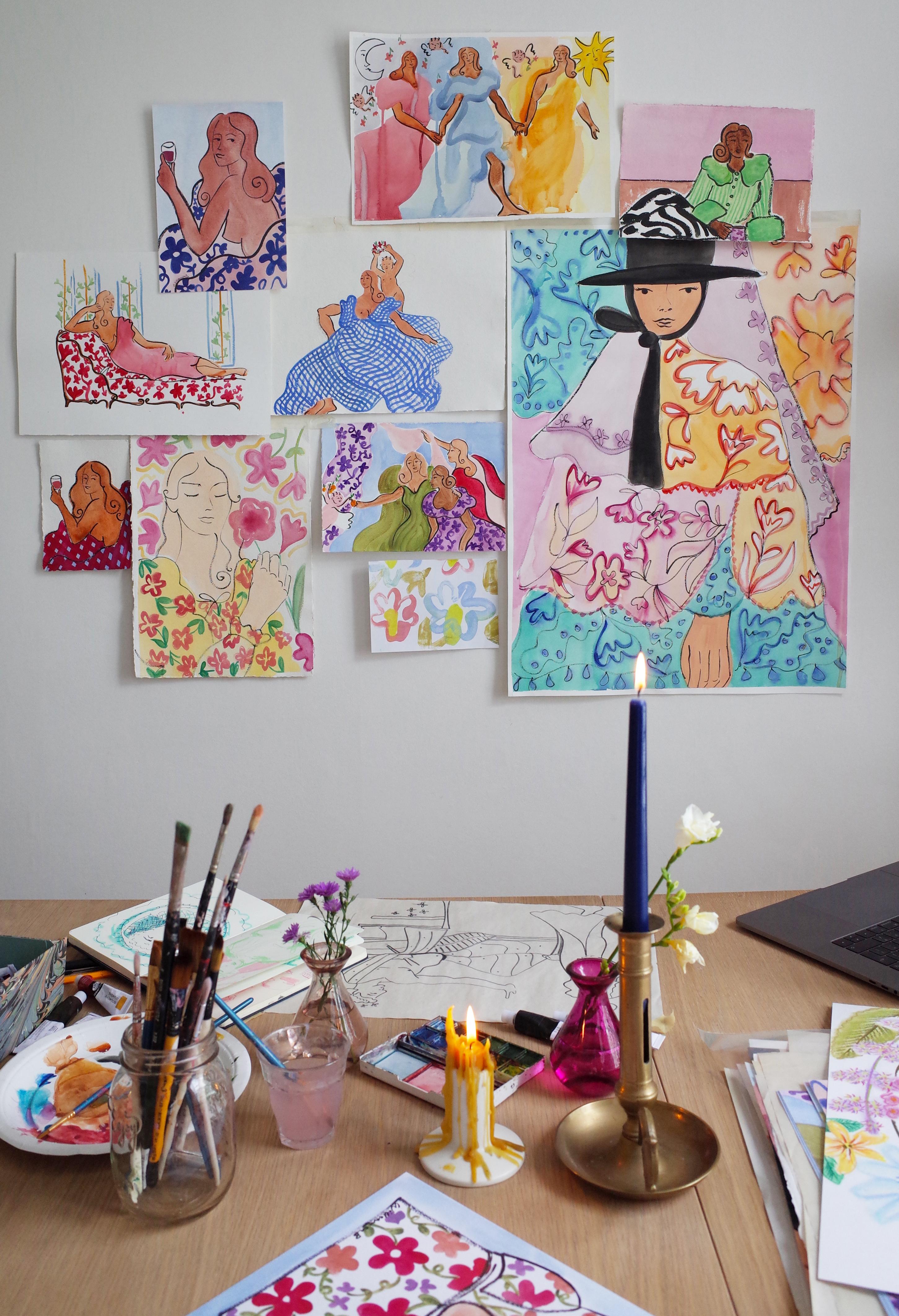 In the Studio
Willemien Bardawil
The West London artist and illustrator invites us inside her creative space
Shop now
Her characterful style presents women at their most content, and London-based artist Willemien Bardawil is all about breathing life into the familiar. Working in watercolour and ink to achieve a fluid, organic aesthetic, her creative space has a key role to play. Here, the artist invites us inside her studio, telling us how shaping moments of calm lets her imagination unfurl.
How long have you been in this space?
Since the beginning of this year. I'm lucky to have large windows and the warmth of beautiful light, it creates an air of spaciousness. I make use of all the space around me: taping my watercolours, sketches and the images that inspire me on the walls. I've also added plants to liven the room up, they keep me company on gloomy days.
What kind of environment do you work best in?
I work best in a calm and clean environment, good lighting and music are essential. It's easy for my studio to turn into a total mess within a few hours of work, so I try my best to keep it neat, which allows me to think clearly and freely express my thoughts. The plants in my studio are a necessity, they bring a sense of tranquility.
Are there any key factors that help drive you creatively?
For me, creating is a true passion, naturally I am motivated to express myself through my paintings. When I need creative drive, brand collaborations give me a fresh approach to subjects that I have drawn before and lead me to learn something new. I also like taking on commissions, which push me to go further, that can mean in unexpected directions, which is always an exciting challenge!
How did you get into art?
My father is an antique dealer, so I have grown up surrounded and inspired by beautiful objects and pieces of art. For as long as I can remember, I've always had a creative outlet: whether that was drawing or sewing in my spare time, and as I approached my teens I was instinctively drawn to galleries and exhibitions. Whilst I've always had this passion for art, it wasn't until lockdown where I was able to fully dive into my practice and pursue it as more than a hobby.
What are your main sources of inspiration?
I live in West London and I am fortunate to be surrounded by some of the most dynamic galleries in the world; I love the National Portrait Gallery, V&A and Wallace collection. Renaissance and Romantic periods fascinate and inspire me, I love the vibrant portrayal of movement and celebration of nature in many of the old masters. I try to embody this through my depiction of modern female figures and the scenes I place them within. I am also inspired by other contemporary artist's work, which I often discover on Instagram. I love The Great Woman Artists Podcast, it has been a fabulous place to find out about other artists and their personal journeys, which are inspiring - their narratives drive me to keep going.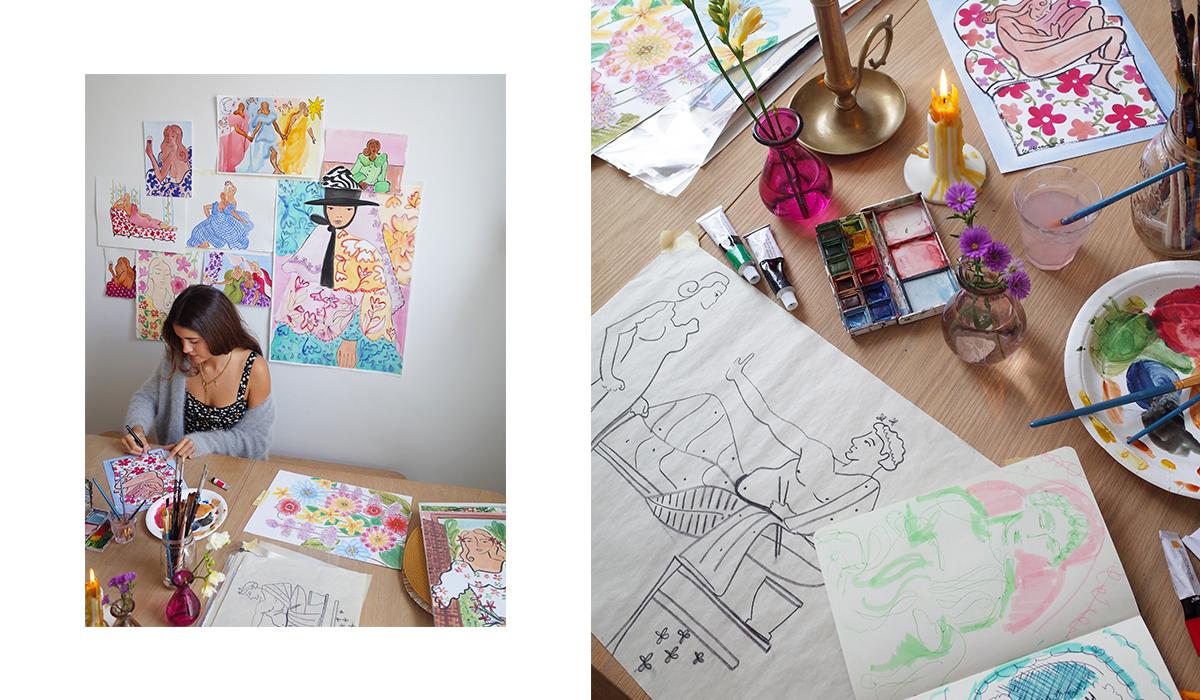 Can you tell us a bit about your creative process?
Usually it starts with seeing a painting in a gallery, where the composition or movement of figures catch my eye, I'll do a quick line sketch so that I have a rough idea of what colours I would want to use. From there I start painting directly with watercolour on paper, and then go over with a Japanese ink. I always have an idea in my head of how I want the painting to look yet the process is always spontaneous – sometimes I surprise myself with the result.
What are your favourite materials to work with?
I like the fluidity of watercolour and ink on the cotton rag paper that I use. Particularly letting the paint naturally fill spaces and form unexpected shapes and lines, I also love using soft pastels for sketching. For my larger pieces I have been using acrylic and oil, it allows the work and colours to stand out.
How would you describe your aesthetic?
My style is feminine, decorative and playful. I love floaty dresses and beautiful textiles, so I use clothing in my images to accentuate the movement of my female figures. I am drawn to ethereal classical figures such as those of Titian, Veronese or Tiepolo, which I try to capture within today's modern context by using contemporary colours, expressive patterns and simplified forms.
Where do you go to conjure new ideas?
Often, I sketch in galleries; I love the V&A it's so peaceful, or I'll go to parks and engross myself with nature. I am drawn to any open space where I can watch people - as my pictures portray women in a blissful state - it is a perfect way to observe and pull in inspiration from watching people go about their everyday life.
How do you separate home from work?
Fully immersing myself in my drawings and paintings has always been sacred down time for me, and now that I am back at work, I use my evenings and weekends to carry on what I started during lockdown.
What role does your neighbourhood play in your creative output?
I live by Holland Park, so I am surrounded by The V&A, Leighton House, The Serpentine Galleries, The Design Museum and of course the park itself. These places provide daily inspiration and really drive my creativity.