Eyewear by David Beckham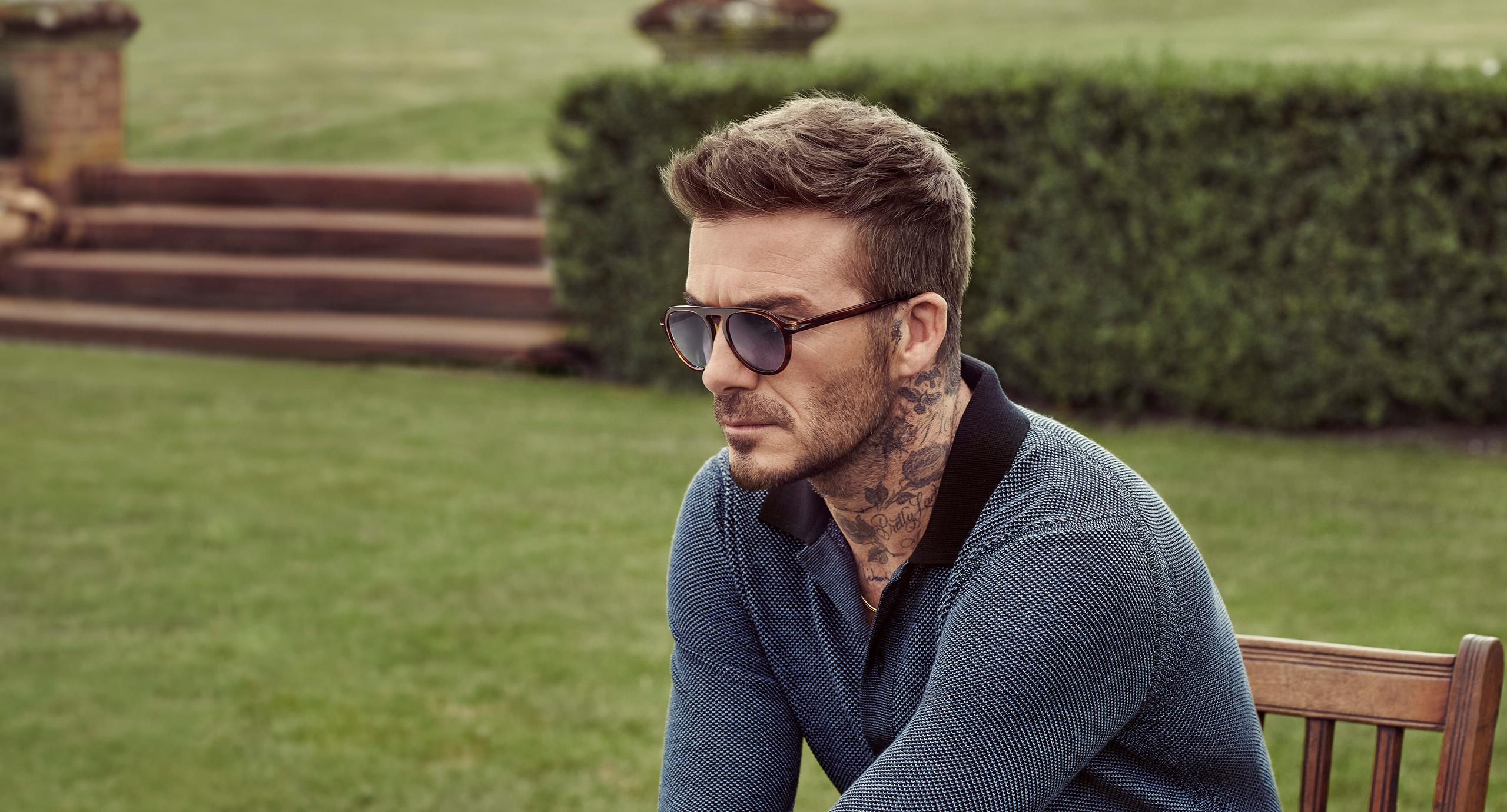 The style icon channels his exacting vision into new sunglasses and opticals
Ambassadorial president for the British Fashion Council since 2018, David Beckham is a British icon with an eye for the right frames. Now, he's teamed up with Italian eyewear expert Safilo to solidify the formula, as Eyewear by David Beckham launches. Strong silhouettes, lightweight materials and Italian craftsmanship lie at the collection's core, with inspiration drawn from vintage frames. Here, we talk to him about style integrity and building a brand on enduring design.
How did Eyewear by David Beckham come about?
I've always loved eyewear and think of sunglasses as an essential in my everyday life. I was approached by Safilo to create my own collection together with the design team and was excited straight away. It's been an amazing experience working with the experts to create this range – and I'm really proud of it.
Describe the Eyewear by David Beckham aesthetic.
I really wanted to create a range that would have a shape to suit every face. I love that our collection is unisex, so it looks great on men and women. We wanted the range to feel classic and British but also timeless and I'm so happy with how it looks.
What makes a good pair of frames for you?
I think the two most important things are attention to detail and quality, which is why I'm so pleased to have worked with Safilo on the collection. We have really taken our time to design key features such as the DB monogram and the talisman, and then they have been brought to life by the talented craftspeople at Safilo.
Which historic eyewear styles stand out as particularly iconic for you?
For me it's all about Steve McQueen and Paul Newman – they always looked great.
Where do you find inspiration?
As I said I wanted to create a range that was classic, so I did a lot of looking back at vintage styles, both in vintage stores in London and in the Safilo archive. But from that inspiration, I think we've made a very modern and timeless range.
Can you tell us about your creative process?
With all of my business ventures, I'm really involved in the details – I always want to make any project I'm involved with perfect. So, it's been amazing to work with the design team on this eyewear collection and to know that we had taken the time to look at the smallest details in order to get them right. I remember we spent a long time talking about the talisman – it seems like a small detail, but it makes our range unique, so I wanted to make sure we got it right and I'm really happy with how it turned out.
Why did you choose to work with Safilo?
I was approached to work with Safilo and being given the opportunity to create my own eyewear range with them, as experts, was an opportunity I couldn't turn down. The team there from the designers to the craftspeople to the sales team have all been so excited about this project that it's been great to work with them.
What does style mean to you?
I've always loved fashion and had my own sense of style – even though not everyone has agreed with my style choices! I always go with my gut and I'm not scared to try different things.
Are there any frames from your past you've lived to regret?
I never regret any of my fashion choices (except maybe a couple of my hairstyles). As I say – I like to experiment with fashion and style, so no regrets.
What's next for Eyewear by David Beckham?
We're really just at the start, having only launched the first collection recently, so I'm looking forward to seeing people wearing and enjoying the eyewear. We have a second collection coming out later this year for Autumn Winter 2020 and more collections after that – I've already worked on the designs for Spring Summer 2021 so lots more to come.