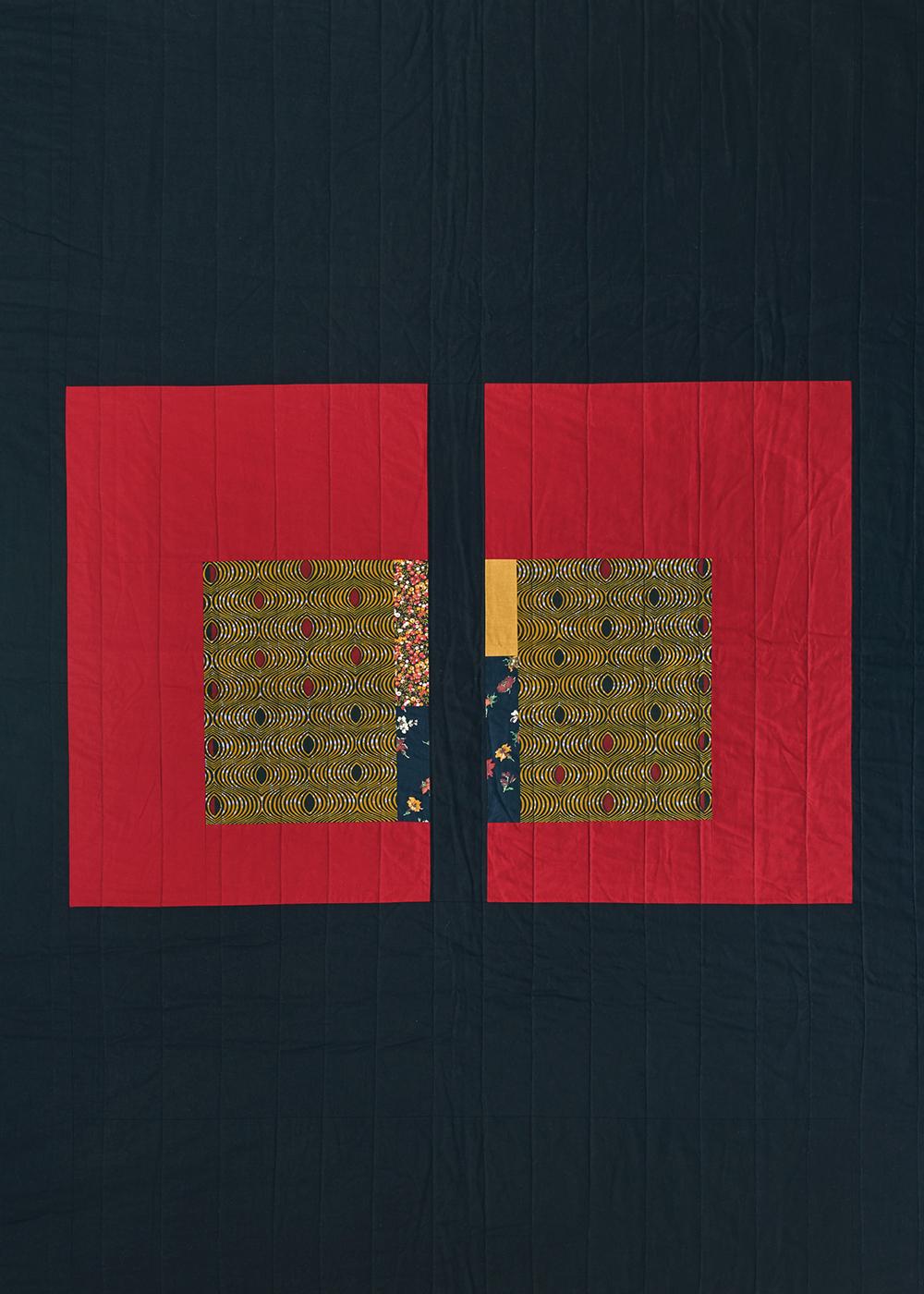 Our Liberty Fabrics Makers
A Chat With… Catherine-Marie Longtin
In this series, we speak to the designers and creators who make our worldwide Liberty Fabrics community so special
Shop Tana Lawn™ Cotton
Our global network of @LibertyFabrics makers are completely diverse in style and output – united only by their talent, creativity and a loyal love of Liberty prints. Here at Liberty HQ we love to see what the community have been up to, consistently finding handmade gems ranging from homewares and women's fashion to one-of-a-kind artworks. In this instalment of the series, we chat to Catherine-Marie Longtin – a textile artist and quilter with a strikingly minimalist approach to working with Liberty prints.
Where are you from, and where are you based now?
I was born in Montreal, Quebec, and lived there until I moved to Paris at the age of 24 to do a PhD in cognitive sciences. This was followed by a decade of back-and-forth between Montreal and London. During these years I met my British-born husband George and we had two children, Rose who is nearly 11, and Oscar, 8. We have been settled in London since August 2015 but spend our summers in Montreal with my family. Maintaining a bilingual and bicultural life is a tricky balancing act!
When did you first start sewing and designing textiles?
I did a bit of sewing with my mother when I was a child, and later designed and made my own duvet covers – as I could never find what I wanted in shops. An evening quilting class at Morley College taught me basic patchwork techniques, but it wasn't until I rented a studio space in the Eastern Townships of Quebec in 2012 that I started to move away from traditional quilting patterns to develop my own aesthetic.
What draws you to Liberty prints?
I started quilting to have a reason to buy fabric at Liberty! The third floor is such an enchanting space, it makes seamstresses and quilters swoon and dream and everybody else wish they had a sewing machine. It's impossible not to want to bring a little bit of it home with you. I think what first caught my eye were the colours and patterns, then the soft and elegant finish of the Tana Lawn™ cottons. I love the classic patterns like Mitsi or Susanna, but I always look out for something surprising in the seasonal collections too.
How do you plan out your quilts before starting?
I don't tend to do much planning, and I almost always design my quilts in full size on the wall – a bit like an oversize textile collage. The concept for a new quilt usually stems from a fabric I want to use or a colour combination I particularly like. The first step is always to pin a background of solid fabric on my design wall, to which I add prints and solids that I move around. I don't cut anything until I have a clear idea of where I am going, so at the beginning it looks like lots of thickly folded and shaped fabrics just pinned on a wall. When I'm happy with how it looks I start cutting the fabrics and sewing them together.

Sometimes I have a very clear idea of what I want to create, like the quilt inspired by Anni Albers' 'With Verticals', following the retrospective of her work at the Tate Modern. 'With Verticals' is a large woven wall hanging with irregular lines scattered across the surface. I loved the simplicity of it – this quilt shows that you don't need much of a particular fabric to make it shine. There's a narrow strip of a vintage Liberty print in there, a red floral that I use sparingly as I know I will never be able to buy it again.
Could you tell us a little bit about your commissioned projects?
I love doing commission work as it often takes me out of my comfort zone. I have had a few commissions where the client brought the fabrics to me: a piece of hexagon English paper piecing found in a car boot sale in the eighties; the clothes from a friend's late mother; the fabric remnants left by a client's grandmother to be transformed into a quilt for an expected baby. Textiles often hold precious memories, and quilts are a wonderful way to bring these memories to the centre of our lives.

I made a wedding quilt as a joint present from four women living in Italy to their friend who was getting married in London. We used different fabrics to feature each country that the friend had travelled to with her fiancé, like denim from the USA or a golden yellow for the sands of Jordan. Some of the fabrics were featured only in the binding, where there is a timeline, in fabric, of the couple's travels – but also a small strip of fabric borrowed from the clothes of each of the four friends who were giving the quilt. I think it was only halfway through that we realised we had the traditional "something old, something new, something borrowed, something blue".
What is your earliest Liberty Fabrics memory?
When I was small my mum made herself a dress out of a delicate mauve and green floral Liberty print. She bought it at Marshall's on Rue Sainte-Catherine in Montreal – it's now closed but I remember it as being wonderful, it was organised and airy and had a shiny staircase. I was allowed to roam free in it and would run my hand over all the luscious fabrics on display. The dress my mum made no longer exists, but I do have a bit of its fabric left. I used only a little square of it, in a quilt that now lives in Brazil.
How has living in different cities influenced your designs?
The place that influenced my style the most is probably Paris. My mother collected the French Elle Deco magazines, and I particularly loved looking at interiors with beautiful soft furnishings and textile accessories. Moving to Paris for my studies made it possible to visit stores like the Bon Marché and the Galerie Sentou, and to see in the flesh home textiles from the likes of Kenzo and Alexandre Turpault. It was also in Paris that I discovered artists like Pierre Soulages, Mark Rothko, Louise Bourgeois and Nicolas de Staël, who still inspire me. With quilting I have found a way to unite my love of beautiful fabrics with the abstract, minimalist art that I've always been drawn to.
@LibertyFabrics lovers – we always want to see your creations. Upload and tag us with #LibertyCraftClub, so we can see what you've been making – and maybe we'll feature your work in our next series instalment.