A Maximalist Moment for Every Home: Enter the Bloom Room
Emulate the blossoming summer season with our edit of the most extravagant buys from House of Hackney's Bloom Room, open now on the fourth floor
By: Charlotte Olby
Inviting vibrancy and personality into your home with an abundance of colour and print is a sure-fire way to boost your mood; and create a wow reaction from your guests. The maximalist decor trend is a design style for extroverts, with a more-is-more approach – think layers upon layers of pattern, oversized ornaments and bold colour. A home built from a love of maximalism is one that's fun and inviting; each eclectic piece selected with intention.

Beloved for their playful approach to print, House of Hackney is a true British design phenomenon, famed for leaning into big and bold decision making when it comes to colour, pattern, texture, shape, and form - and always inspired by Mother Nature. So who better to teach us the heady ways of maximalist decor? Prepare to spring headfirst into the new season as you take an immersive walk through the world of House of Hackney's Bloom Room. Bringing flower power to our fourth floor atrium, the installation is open now and ready to explore. These are not your average 'florals for spring'…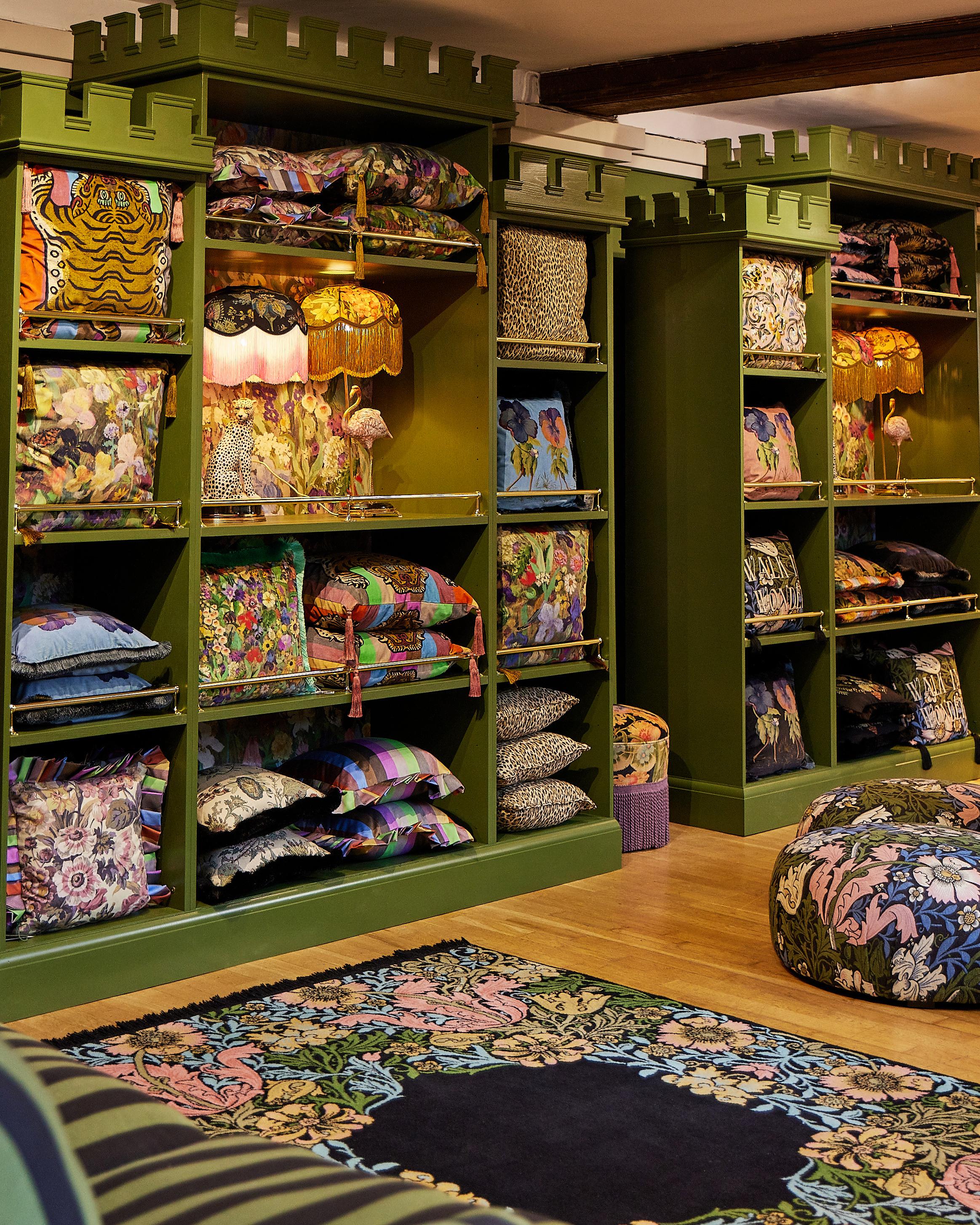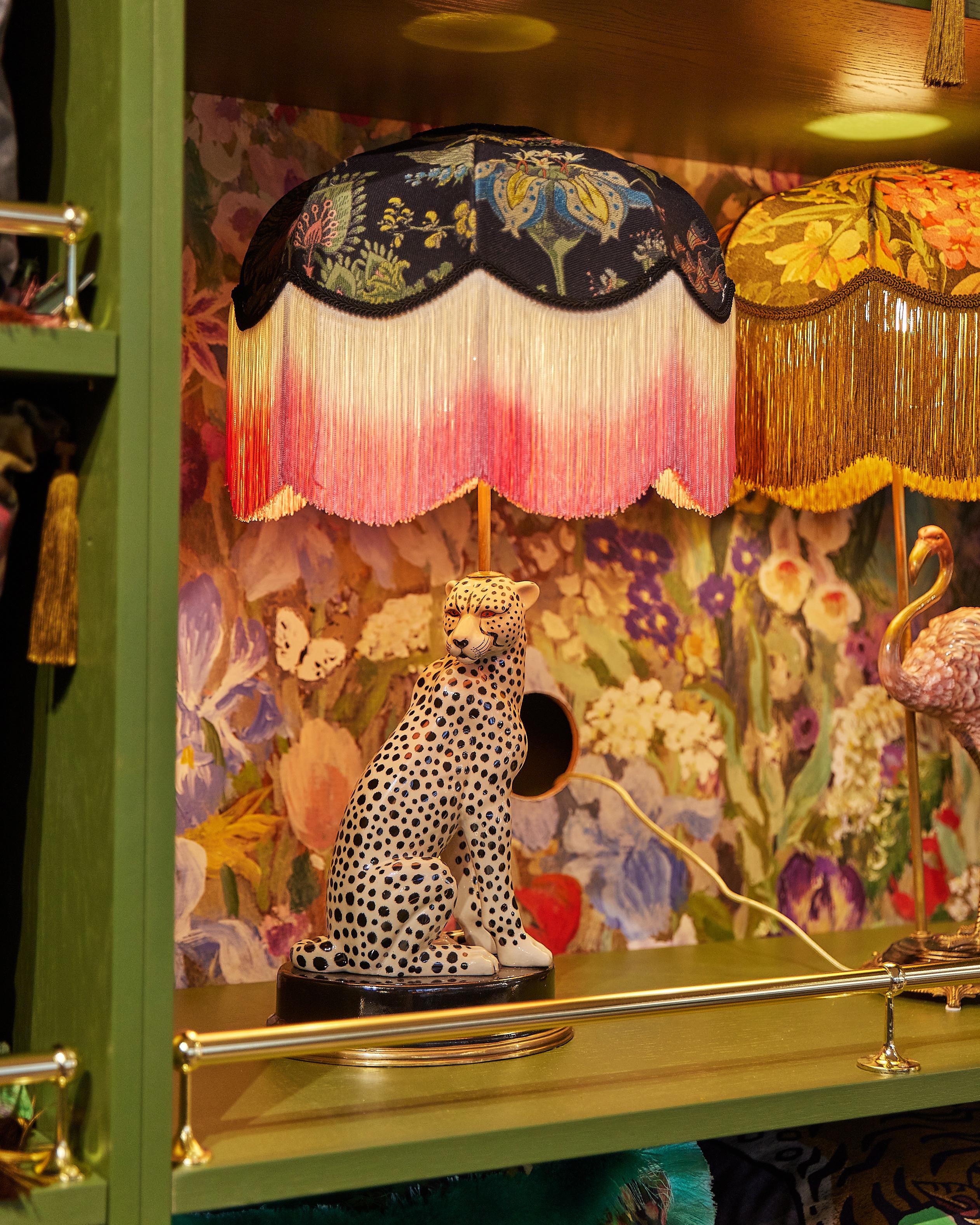 Bold ways to embrace this joyous trend (and avoid redecorating every time the mood strikes) is to curate your own collection of mix-and-match cushions - with prints ranging from vibrant florals to this classic leopard print - so you can continue to refresh the look of your sofascape.
Shop Now
While minimalism is all about getting rid of excess items and using only the things you need, maximalism is more design focused and features colours, tones and textures to create an over-the-top space. Try losing yourself in a meadow of wildflowers with House of Hackney's newest print: Floribunda. It's chintz, reimagined.
Shop Now
The most simplest definition of an exuberant home is purely one with lots of things. Choose your objects wisely and opt for a vase that can make even the most humble bunch of flowers look all the more amazing. The Viola vase boasts a luxe glossy surface and is adorned with vivid forget-me-not motifs to infuse your home with a touch of opulence.
Shop Now
Your living room should feel like a cocoon that gives a sense of who you are. Smaller spaces are often better for creating this heightened sense of character to truly draw you in. Take things up a notch with the 'Walk in Wonder' slogan cushion as a reminder to appreciate the wonder of the natural world around us. The tactile Compton jacquard - originally created in 1896 by William Morris - is reimagined in a vibrant, Pop Art-esque palette.
Shop Now
Swathed in jacquard and painted with the imaginery wonderland of Floral Fantastia, a modern retelling of a print found in 'Fleurs de Fantaisie' by J. Buhcert, this darling shade is finished with a bold dip-dye fringe for an extra dose of decadence. Coordinate with House of Hackney's pineapple lamp stand on your bedside table to help you truly find the good light.
Shop Now
If in doubt, be bold. To achieve a more accomplished maximalist look include more than one pattern in your space. Florals work especially well with stripes; try styling a floral sofa with striped accents in your cushions and other soft furnishings for a knowing clash. Sabre tiger motifs optional.
Shop Now