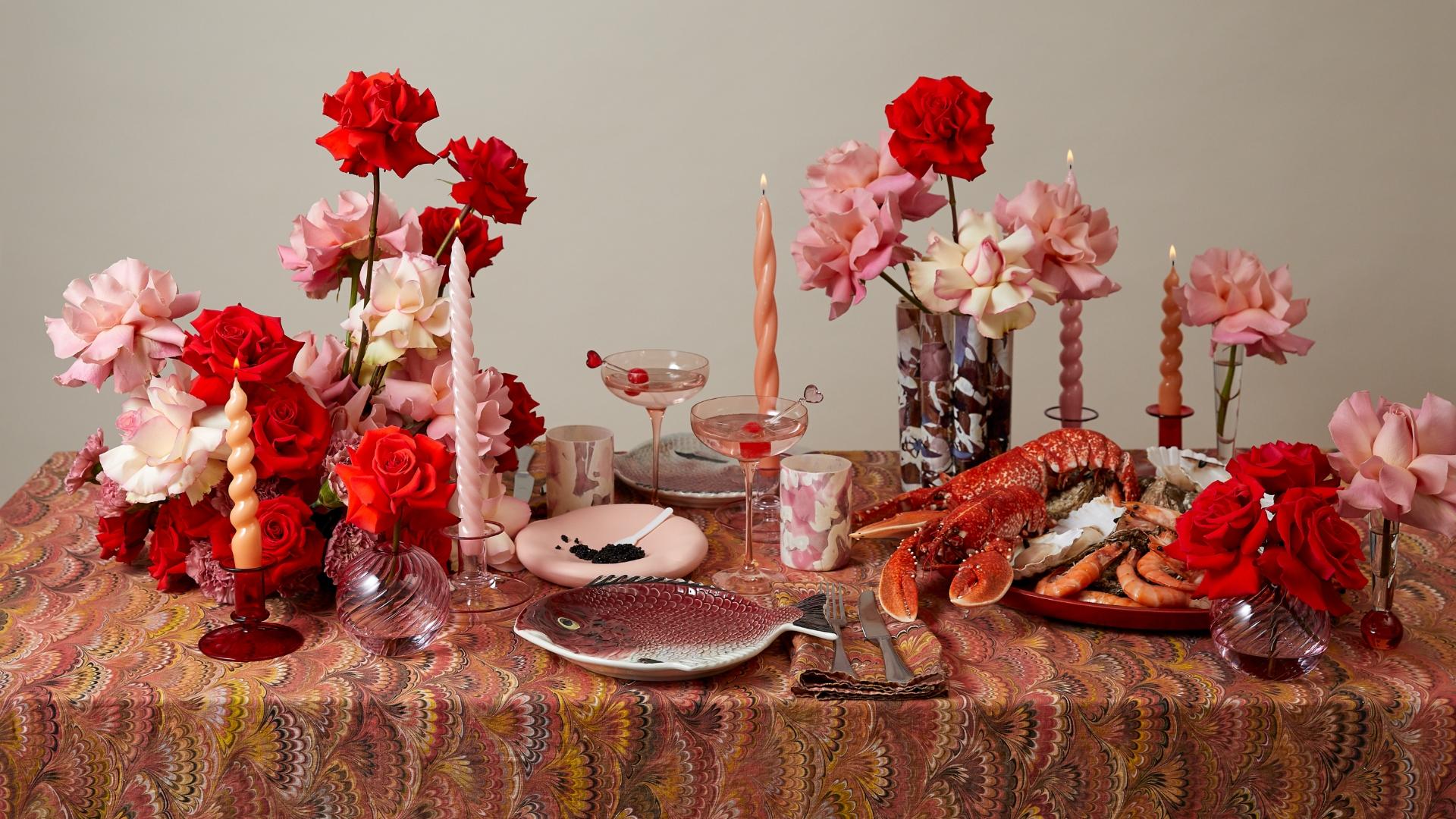 Love is in the air, everywhere you look. Love is on the shelves, on the brain, and of course, it's on the table. Here's how to experience love, or dinner, like the movies.
By: Sophie Beresiner
If you want Valentine's Day dinner tables ideas, you have come to the right place. Because what does Valentine's Day even mean anymore, if not the perfect excuse for a particularly indulgent Valentine's Day tablescape? It doesn't matter who actually sits at your table, what kind of love sparks a 14th February dinner date invitation; plutonic, familial, sympathetic, unapologetically lusty, even if you do it purely for the feed and not the food, whatever, just make it a date to remember. How? You look to the movies - the place where romance is everything to everyone, and inspiration is quite literally everywhere. Murano glass tumblers, you had me at Hello. Anissa Kermiche bud vases, to me you are perfect. Keep scrolling for our best Valentine's table ideas.
How to Set the Perfect Valentine's Day Table:
The colour palette du jour embodies the slightly rusty reds of the 80's with the Summerill & Bishop marbled tablecloth, juxtaposed with the very bright red roses and the whole table flooded with candles, thus a warm glow. Even the fish plates, mimicking the Fruit de Mer have a very nostalgic vibe. But of course, would it even be a date if there wasn't a cocktail with a cherry in, elegantly hoisted with the Sandralexandra nibble sticks…
You focus on whatever outcome you're hoping for this romantic evening, we will focus on getting the table laid, with five Valentine's Day table setting rules to help get started.
Set the Theme
Always start with a tablecloth to lay the foundation and add a richness with the textile and sumptuous flowing quality.
Shop Now
Consider Your Place Setting
We prefer sitting opposite a date, (it optimises eye contact), so lay the table facing to keep it intimate. Make your place setting conversation starting with unique napkin rings or provocative centrepieces.
Shop Now
Encourage Intimacy
Forget the formalities of courses. Instead, lay the table with sharing platters, canapes and nibbles upon beautiful vessels to make the setting extra friendly.
Shop Now
Dim the Lights
The easiest way to create an intimate atmosphere is to fill the table with your best selection of candles. Biblical amounts. Everyone looks better by candlelight.
Shop Now
Cheers to Love
Remember Valentine's Day is ultimately an excuse for a celebration, don't take it too seriously, be playful, embrace love like The Movies, and have a drink to love of all forms.
Shop Now