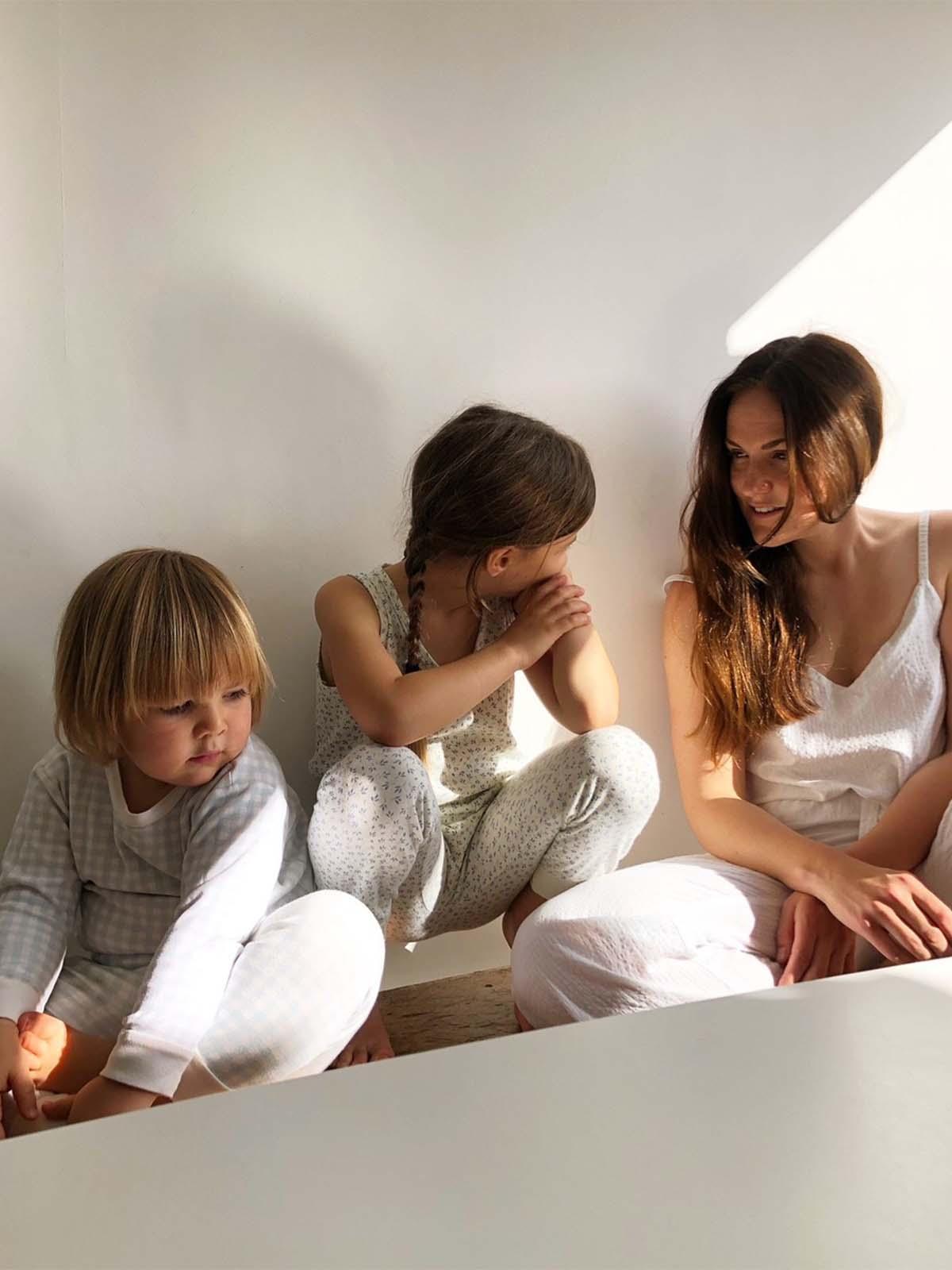 Motherhood Diaries
Sophie Hipkiss
We talk to the mother of two and founder of pioneering British sleepwear brand Sleepy Doe to discuss all things motherhood
Shop Sleepy Doe
Motherhood Diaries is a testament to modern-day parenting; from life-changing tribulations, to joyous milestones - and all the chaotic bits in between. Each month, we'll uncover a refreshingly honest account from the Liberty community, with the aim to support women who might otherwise feel frustrated, isolated or overwhelmed. Here, we invite all maternal figures to speak openly about their journey to motherhood, find light in each narrative and ultimately, a sense of solidarity.
With 10 years' experience in the fashion industry, creative directing and designing loungewear for British heritage brands, Sophie Hipkiss decided to launch her own children's sleepwear brand in 2016. Five years on and two children later, Sophie shares with us a refreshingly honest account of her own motherhood journey, from learning to cope with illness and trauma, to the importance of finding a work/life balance that suits you and your family.
Motherhood to me is navigating each day with unconditional love and being your best in imperfect moments. I am not the mother I thought I would be. I honestly thought I would only let them play with wooden toys.
I couldn't wait to be a mother. Since my early teens, I loved caring for children. I nannied and babysat for families of politicians and musicians, and I've seen some extraordinary lifestyles and upbringings. Alongside my first full time job as a designer in London, I spent evenings and weekends looking after the children of the founders of a global beauty brand. I would be collected by their driver to assist their main nanny for the evening routine which included all four children to be identically dressed, whether it was a trip out or their pyjamas. Maybe this sparked my interest in family sleepwear!?
I had hyperemesis gravidarum throughout both of my pregnancies. It was challenging and I can relate to anyone who is nauseous for even a day. Anything would trigger it, from looking at certain colours or the smell of outdoors. As grim as it is and with the help of hospital hydration, rest and nibbling on anything beige, it soon becomes a blur as you enter the next chapter with a newborn. While I was pregnant, I let my body do what it needed to do. Growing a human from scratch is incredible, I rubbed both my ginormous bumps until my jumpers piled and despite the HG I was proud of my pregnant body.
Do what's right

for

you and support others choices, especially

if

they differ from yours.
The pressure during pregnancy is definitely out there if you allow yourself to feel it. But you can always filter what you read and rise above judgement. I nursed one of my babies for 10 months and the other for over two years. I took a maternity leave with one and not the other. One was a natural birth, the other was an elected C-section. Do what's right for you and support others' choices, especially if they differ from yours.
Life post-pregnancy was exhausting. Hold them close, rest with them, get to know each other, smell them, and soak up the squeaks. Growing a close relationship with them young can help your physical and mental recovery. It's a fuzzy ride but like many others, I was lucky enough to go through it again. I had two different newborn experiences; I took it a lot slower the second time.
I was able to balance work and domestic/childcare duties following the births of my two children with the help of naps, nursery, and prompt bedtimes. Instead of trying to get 'that email' done in the park, I try and have separate work hours. We live spontaneously and take it week by week which for us, eases the many life pressures. Although the balance isn't always there, Dan and I divide our time well and both enjoy a tidy house and function better for it. There is chaos, sleep deprivation and logistical juggles but a good team works it out and we have a balance that works for us.
Motherhood is physiologically challenging. A few days into the first national lockdown Sonny, then only one years old, fell incredibly unwell. Despite the government guidelines to 'stay home' with a high temperature, I didn't hesitate and took him to A&E to be seen. Whilst at the hospital he deteriorated quickly, and he was diagnosed with Bacterial Meningitis and Septicaemia. Our family of four were forced to suddenly be apart as we were escorted to Bristol's children's hospital. My partner stayed home with our daughter Floss, five, in Bath. Sonny slept in an induced coma in PICU, I laid for days with him in his bed after his brain surgery. A mothers survival mode set in whilst being challenged with a nightmare. I made him a bunny garland from paper towels for Easter and sketched a new collection named after him. Staying creative in a crisis allowed me to be the best mother I could be in an imperfect moment. Despite his situation he is showing signs of a remarkable recovery and we will be forever grateful I didn't hesitate to take him to hospital. When he was well enough to continue long-term treatment at home, being reunited in our 'lockdown' home together was an unforgettable day, a day we couldn't be sure would happen. We definitely have realigned life priorities.
Don't get swamped

in

others negativity, motherhood

is a

privilege.
My advice to my younger self would be to remember that there is no right or wrong. You don't need to justify yourself; you are good enough for you. Worries are only a phase and trust your instincts. As much as you read before becoming a mother, nothing prepares you and every situation from birth to child is different. Don't get swamped in others negativity, motherhood is a privilege. Protect your child's identity and share nothing you wouldn't want someone to share about you. Never hesitate as life can change suddenly so enjoy the simple thing and let them be little.
I'm in awe of everything Stella McCartney. I love a unisex Bobo Choses sweat to be worn and passed down. I am beyond flattered to see my sleepwear retailing next to such brands.