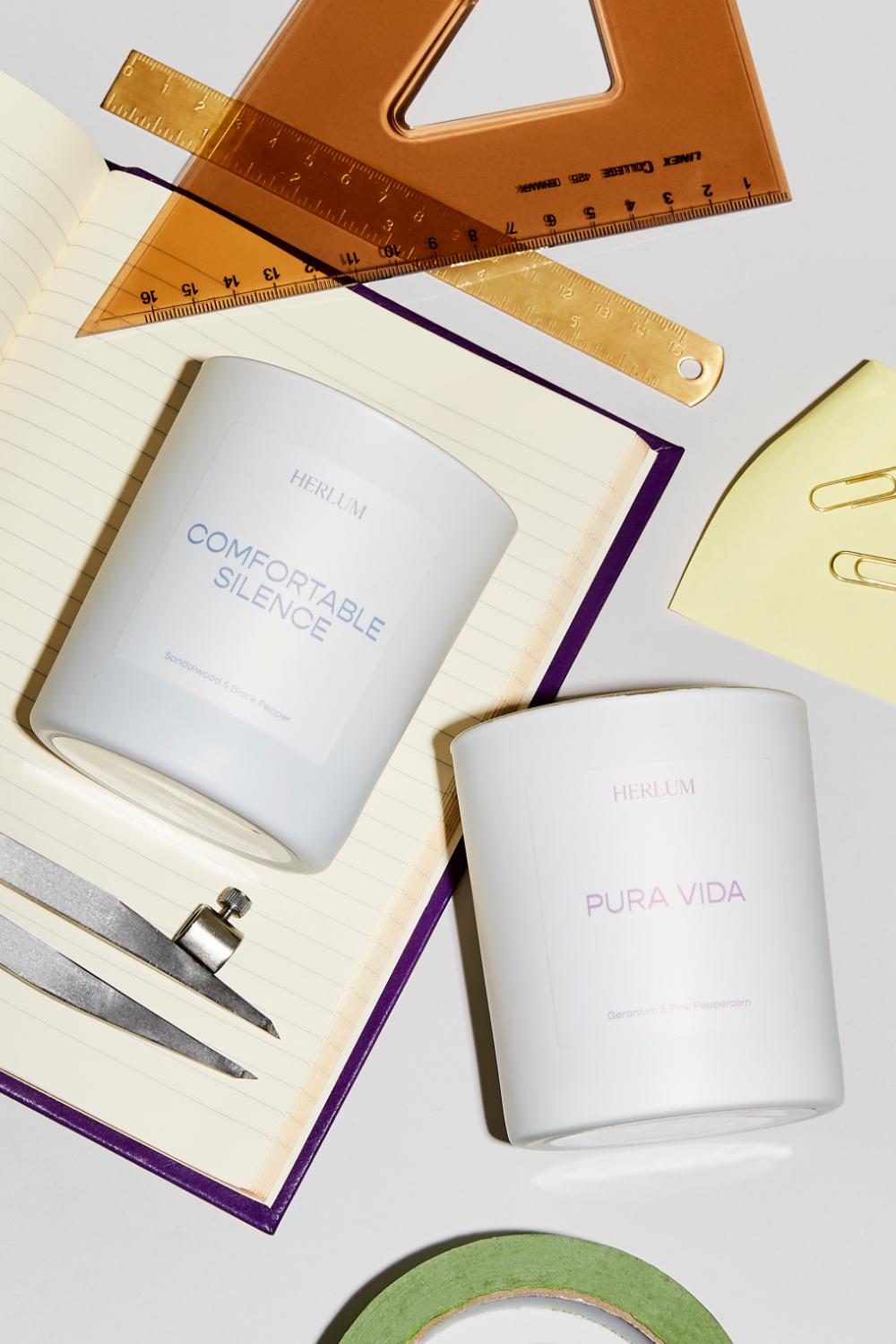 Beauty by Design
Introducing… Herlum
Sustainable beauty brand founder Isadora Belfort on how childhood memories of the outdoors inspired a need for change
Shop Herlum
Herlum is the one-of-a-kind fledgling brand set to fuel a big shift in beauty. Nurtured from an inherent understanding of nature and a desire to make a positive contribution to the industry, the brand combines learnings from founder Isadora Belfort's outdoorsy Brazilian upbringing with the reputable craftsmanship of her current UK home. Here, she outlines the scent-led sensory elements, innovative sustainability practices and ethics that shape the Liberty-exclusive beauty brand putting the planet and its people first.
What are your fondest childhood memories?
I grew up in Rio de Janeiro, a fun and multicultural city where people are effusive and open-hearted. On the weekends, my family would often drive to our beach house in Búzios, a beautiful seaside town surrounded by greenery and clear waters. One of my fondest memories was picking the berries from the jaboticaba and tamarind trees in our garden – they had a sweet and tangy taste. There was something so magical about peeling off the tamarinds to reveal the most delicious and pure fruit, grown right there in my family's garden.
Which scents from the past have stayed with you?
I love the moment after summertime rain when you can smell the wet earth and trees; the wind mixed with the sea fog; the beautiful Brazilian fruits pitanga (Brazilian cherry) and fruta-do-conde (sweetsop), and, of course, my grandmother's affectionately made rice and beans, and brigadeiro – my favourite dessert!
I believe

that the

best solution

is to

do things

with

simplicity, focusing

on

sustainability

and

clean ingredients
What inspired you to create Herlum?
I've worked in the international beauty industry for over a decade, and I worried about its impact on people and the environment. I wanted to make a positive contribution, and I believe that the best solution is to do things with simplicity, focusing on sustainability and clean ingredients. For me, that is what the beauty world urgently needs. Growing up a tropical country being outdoors in nature left me with a deeply rooted respect for our planet and our local communities. There are incredible, pure ingredients in Brazil and I wanted to share them with other people.
How did you perfect your skill for scent-making?
It's been a long journey! For me personally, scent is the most important sensorial element in a beauty product, because it describes a feeling. I set my heart on finding a fragrance derived from nature that was unique, comforting and elegant, and one that both me and my husband could wear. I learn by doing, so I immersed myself in the art of scent-making. Amidst all the test tubes and natural oils, many trials and errors, I finally got to the prototype I wanted. Together with a laboratory and a fragrance house, we recreated the beautiful 'Sandalwood NW3' scent and developed other wonderful unisex formulas for the Herlum brand.
Brazil

is

one

of the

most biodiverse areas

in the

world, with nutrient-rich soil

and a

tropical climate home

to

pure, potent

and

enriching ingredients
What's special about Brazilian botanicals?
Brazil is one of the most biodiverse areas in the world, with nutrient-rich soil and a tropical climate home to pure, potent and enriching ingredients that are unique to the land. Because the weather is hot all year round, us Brazilians like to feel confident about our bodies – taking care of them is a daily wellbeing ritual. One of my favourite ingredients is murumuru butter – it's rich in lauric and oleic acid and is highly moisturising, leaving skin feeling velvety.

The choice to use Brazilian ingredients was also based on sustainability in a country stricken by poverty. At Herlum, we're proud to work with the leading provider of natural ingredients ethically sourced from the Amazon Rainforest and other Brazilian biomes. Our trusted supplier works closely with local communities, promoting alternative sources of income that have improved the lives of more than 2,500 families, while also preserving natural resources.
What does sustainability mean to you, and how are those values reflected in the products?
To me, sustainability means existing in the present without compromising our future. We follow the principle of the circular economy: all of the materials and components in our products are designed to be reinvented. Our products are manufactured locally in the UK, are vegan, biodegradable, palm oil free, and housed in recycled and fully recyclable packaging – even the pump. We use few, fine and sustainably-sourced ingredients, and we repurpose floral waste from the perfume-making process. Our paper materials are fully recyclable, FSC certified, and our printing process uses vegetable-based inks.

Sustainability is also about making a positive impact on everybody, everywhere and everything we work with; therefore, we chose suppliers that make a positive impact throughout the process. Our recycled bottles are manufactured in the UK with ocean-bound plastic from Central and South America, the Caribbean, the South Pacific, the Middle East and North Africa. This approach prevents plastic pollution from reaching our oceans in the first place, cleans up existing waste, and encourages micro-entrepreneurship in developing countries.
How does the ingredient upcycling process work?
The scent of our Hand Wash and Hand Lotion is created using repurposed floral waste from the perfume-making process. This is obtained through an enzymatic process that requires mild processing with salt and water – a more environmentally friendly way to develop new raw materials for fragrance use. The result is woody, spicy and floral, uniting notes of freshly sliced grapefruit, woody patchouli and a creamy dash of chopped sandalwood.
What's next for Herlum?
I'm working on developing beautiful body care products and unique fragrances that will encompass what I treasure about my Brazilian home, and what I admire about British craftsmanship. Stay tuned!