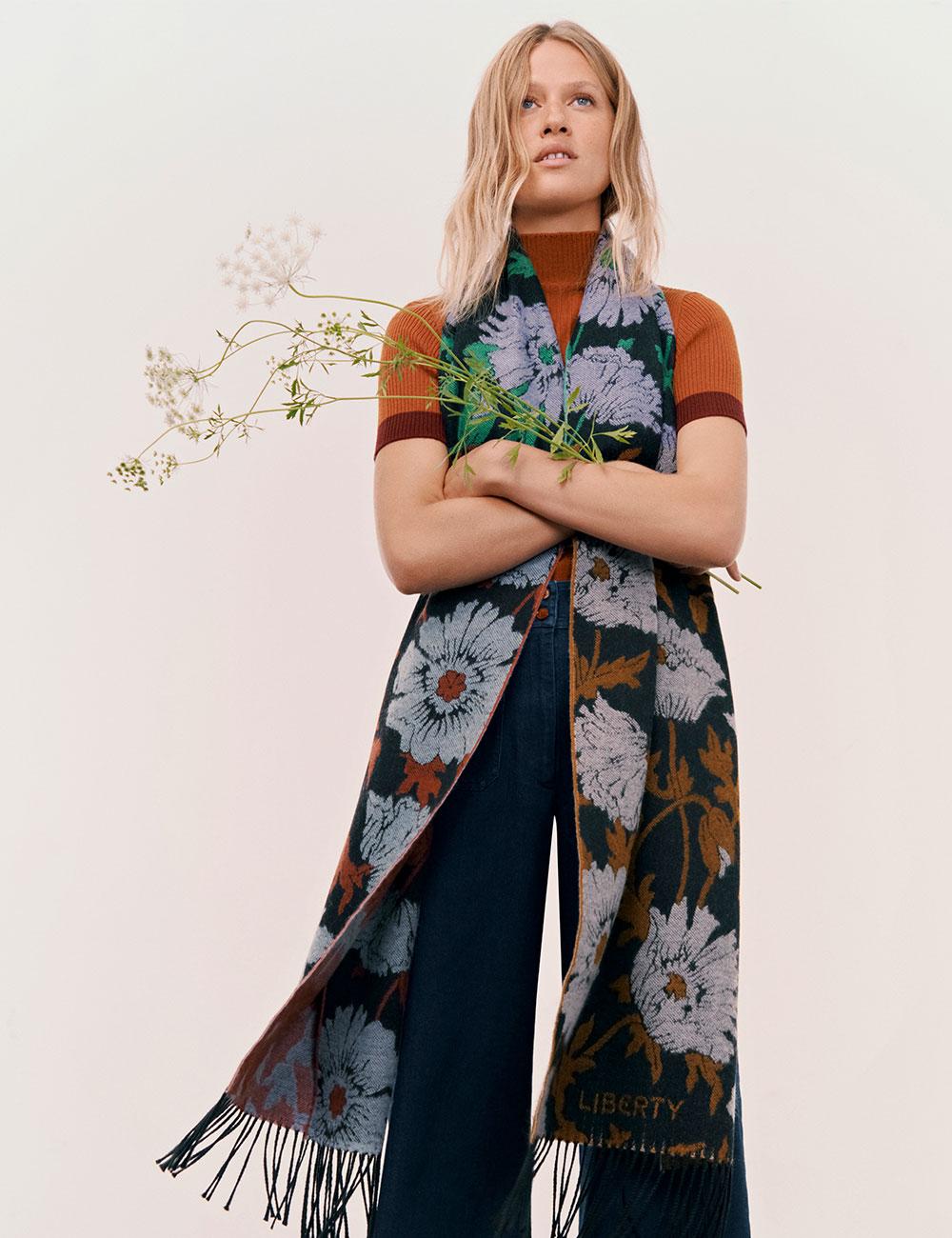 Wrapped Up: the Best Scarves of the Season
Providing comfort and cosiness on your cold, dark commute, a scarf is the functional cornerstone of your winter wardrobe. But which will you choose?
By: Team Liberty
You might not feel it quite yet, but we're about to descend swiftly into Scarf Weather. The long, dark period of the year when you wouldn't dream of leaving your front door without something big and woolly tied around your neck, or at least draped over your shoulders. Which is why it's vital to invest wisely. To find a scarf (or rather, scarves) that'll see you through the cold in style, offering the perfect finishing touch to just about every outfit you climb into this season. But which will you choose? Let Liberty's guide to 2022's biggest scarf trends serve as your guide.
Wooly Warmers
As we delve deeper into autumn, with Halloween just around the bend, we can be sure that temperatures are only going to take a turn for the worse. While our first suggestion would always be layering, if you're wearing something structured or closely form-fitting, adding an extra cardigan might not be a possibility. That's where woolly scarves come in. Your neck will thank you for opting for soft natural fibres like lamb's wool and cashmere. We particularly love Acne Studios's Multi Check Alpaca-Blend Scarf, £240; a fuzzy, multi-coloured scarf that makes you feel warmer just looking at it.
Head-Turning Headscarves
If warmth isn't the aim of the game, then take a look at our selection of silk scarves which will add interest and elevate any outfit. But note: they aren't just for knotting around your neck. If it's square-cut and made from silk, like this Liberty Hera Silk Twill Scarf, £250, made from Hera, our beloved peacock feather-print, consider wearing it as a headscarf. Trust us, it'll look just as good when worn with off-duty jeans and a t-shirt as it will with an autumn-appropriate dress. For a little vintage charm, Etro's black and white Foulard Jodhpur Silk Scarf, £330 also meets the mark. Our top tip: couple with a pair of oval-shaped sunglasses for a little modern glamour.
Logomania
Trends tend to come and go but logomania's popularity is showing no signs of slowing. That's why so many of this season's scarves come decked all-over in a brand's signature. But you don't want to go for just any old logo-emblazoned scarf; the trick is to get your hands on one of the season's must-haves. Enter Loewe's Anagram Wool-Blend Scarf, £250. With autumnal shades of copper, blue and brown, this fringed scarf comes adorned in the brand's iconic scrolling logo - one of the most coveted of all in fashion's realm. If you believe in the mood-boosting potential of dopamine dressing, turn to Paul Smith's Gradient Wool-Blend Logo Scarf, £100. Bold and psychedelic in design, it'll surely put a smile on your face this winter.
Throw On and Go
Every wardrobe needs a scarf that goes with everything, a reliable option that doesn't require you to waste time wondering if it looks good or not. While patterned and printed scarves make playful additions to your winter wardrobe, add a block colour scarf in a neutral colourway – black, grey or beige – for a more timeless accessory. While these picks might be simple in colour, you needn't restrict yourself on texture. For something warm, the MaxMara Monogram Cashmere Scarf, £285, will prove a comfort-keeper all winter long while Toteme's Embroidered Monogram Silk Scarf, £200, offers a lighter option with a embroidered monogram design for the detail-obsessed.
Painterly Prints
This season, scarves are blurring the lines between fashion and art, with many options acting like mini artworks you'll treasure forever. As home to the artistic shopper, Liberty's offering of wearable masterpieces is unrivalled. For the art aficionado, the Weston Van Gogh Farmhouse In Provence Silk Scarf, £175, is a richly distinctive scarf offering both warmth and a modern aesthetic, whether tied around the neck or the handle of your favourite bag.
Florid Florals
To those who think florals are for spring and summer, think again. The key to wearing florals at this time of year is to embrace the seasonal palette of autumn and winter, swapping out neons for softer hues. Jewel tones feel especially appropriate during the cold months, giving your outfit a pop of colour without looking too out of place in your seasonal wardrobe.