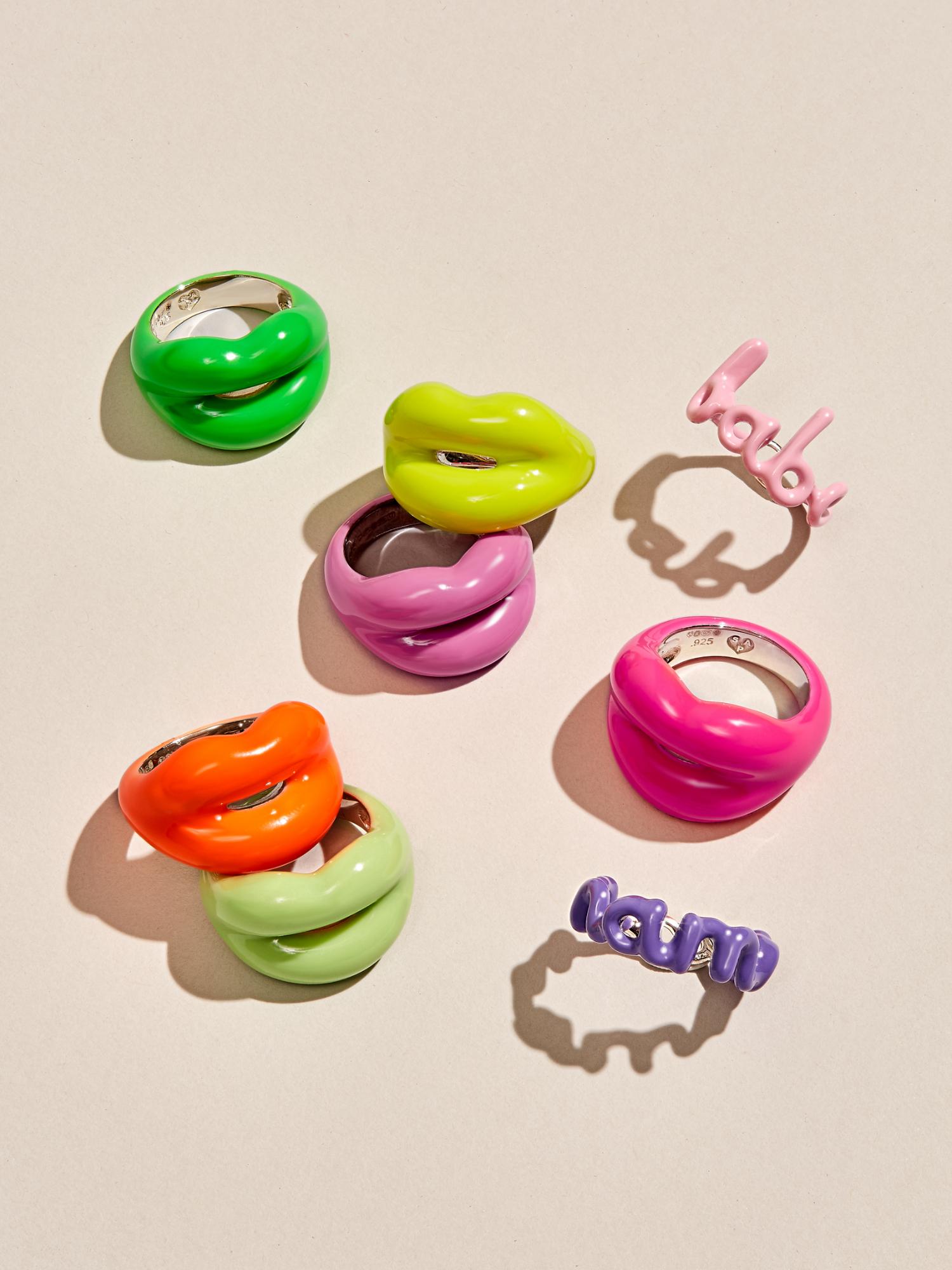 Hotlips and Hotscripts by
Solange Azagury-Partridge
The British designer talks us through her iconic Hotlips rings and the highlights of her jewellery career
Shop Solange Azagury-Partridge
When it comes to jewellery design, it seems like Solange Azagury-Partridge has done it all. Despite receiving no formal training, she designed her own engagement ring in 1987 and went on to open her velvet-lined jewellery shop in London eight years later. Since then, she has worked as creative director for Boucheron, launched her own brand, and contributed pieces to the permanent collections at the V&A Museum and the Musée des Arts Décoratifs in Paris. With her eponymous jewellery line now launching at Liberty, we spoke to the designer about the origins of her iconic Hotlips rings.
When did you first discover your passion for jewellery?
It was quite late. After a language degree I worked at a costume jewellers for a year and then at a vintage jewellery dealer. I then designed my engagement ring and that's when my passion and career were born.
Can you tell us about your engagement ring and why you decided to design it yourself?
After five years of working with costume and then 20th century jewellery by all the greatest jewellers of that period - Cartier, Boucheron, Van Cleef etc. - I'd developed a very clear view about my aesthetic and viewpoint and knew exactly how my ring should look. Youthful and wearable, unshowy but bold.
You opened your first boutique in London in 1995 – what was it like?
It was entirely red, inside and out - red paint, red velvet walls, leather floor and a tiny viewing window with room for only one ring on display behind a large magnifying glass. Very mysterious from the outside, which is possibly why it was mistaken for a brothel initially!
What was the inspiration behind Hotlips?
I'd designed some eye rings by then - the eyes being the window to the soul - and so it seemed logical to depict the mouth, the symbol of sensuality. The ethereal and the physical. Also, in my letter writing days, I would sign off letters to friends with a lipstick kiss.
The Hotlips ring

is

pure saturated colour - colour being one

of the

most instantly life-enhancing things

that

exists. The shaped form

is a

blank canvas

onto which

I can draw

any

image.
How would you describe the brand's aesthetic?
Happy, pop, cheeky, and life-enhancing.
Can you describe your creative process?
The Hotlips ring is pure saturated colour - colour being one of the most instantly life-enhancing things that exists. The shaped form is a blank canvas onto which I can draw any image, e.g. Summer, Vamp, Leopard, Starry Night, Icicles, flags etc.

For my fine jewellery it sometimes starts with a word or a concept I'd like to explore. When I designed a diamond collection the word Platonic became its title as a natural octahedral diamond is one of the five Platonic solid shapes of nature.
Do you design with a particular wearer in mind?
As someone who very obviously loves jewellery, I'm often thinking about what I'd like in my jewellery wardrobe next. I also imagine my friends and clients, who are all pretty amazing, inspiring women, wearing them.
Do you have a favourite design from your collections?
That's like asking me which is my favourite child - too tricky to answer. Although I seem to have been wearing a Scribble ring non-stop since I launched them and I almost never take off my Magic ring.
What has been the most exciting moment of your career so far?
I've had a few… Getting the call from Tom Fords' office asking me to be the Creative Director of Boucheron was up there. As was having my pieces installed in the permanent museum exhibitions of the V&A and the Musée des Arts Décoratifs in Paris.
SHOP SOLANGE AZAGURY-PARTRIDGE
Why did you choose to stock your designs at Liberty?
Liberty is an icon. The most beautiful department store in the world. It's an aesthetes dream.
You were recently a judge on BBC2's All That Glitters – what did you enjoy most about the series?
Being asked to be a judge was another exciting addition to my career. Who doesn't love a new experience? Meeting the people behind the show and also the jewellers competing on it was wonderful. It was heart-warming and inspiring.
What's next for you?
A new fine jewellery collection for the end of the year, some new additions to Hotlips and Hotscripts, plus a new range of rings to sit alongside them.