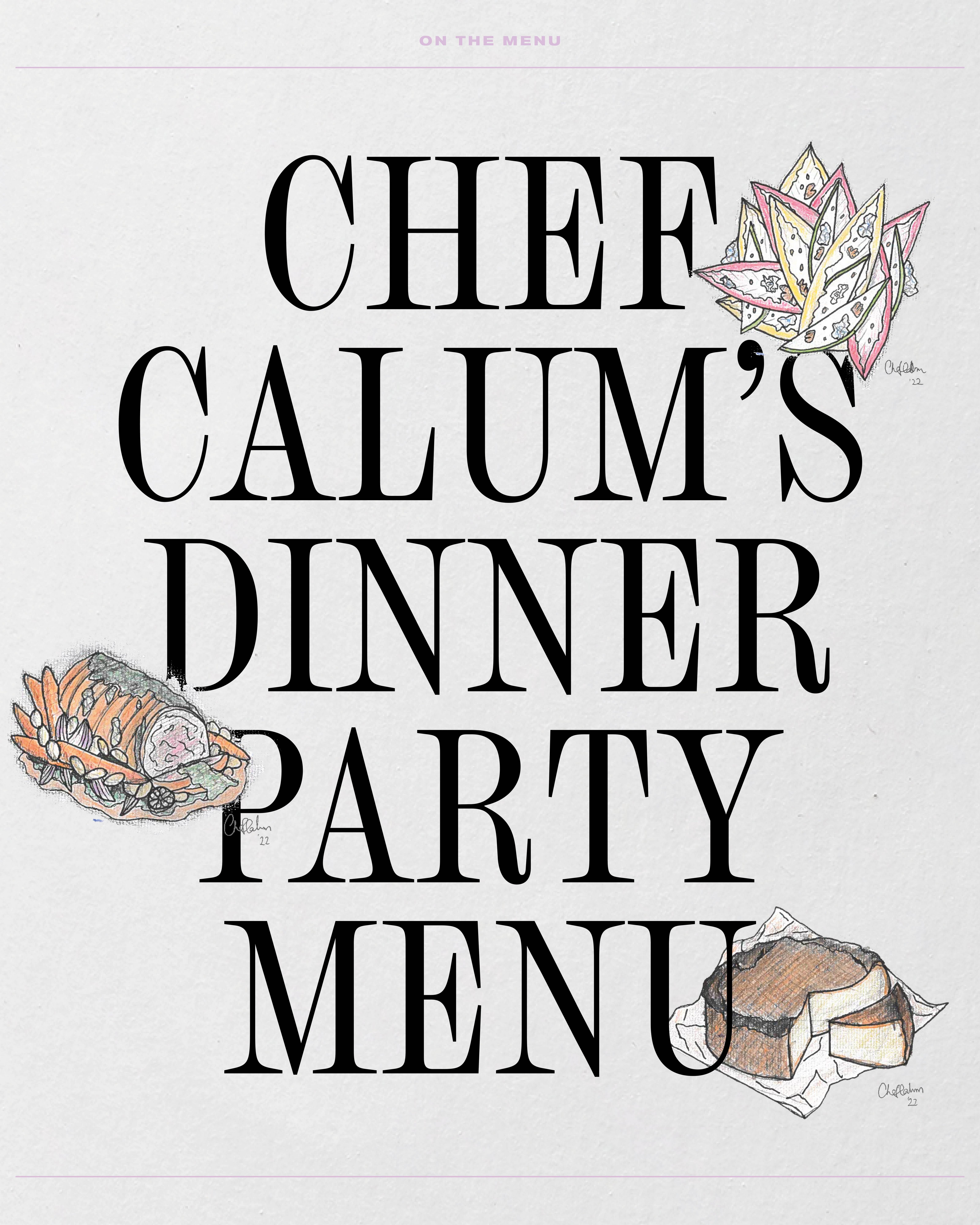 See You at Seven
The Ultimate Dinner Party Menu Ideas
How to win at dinner party hosting? Create an incredible menu that leaves everybody wanting more, then serve it in style.
By: Sophie Beresiner
The key to dinner party success is undoubtedly the food. People will come for the company, appreciate the effort, lust over the table setting but remember the meal. You need brilliant dinner party menu ideas to properly flex your hosting muscle, and if you're doing everything from canapes to dessert, you could probably do with a bit of expert advice to take the decision-making off your plate (if you'll pardon the pun). Chef Calum Franklin is a World-famous "pastry deviant", with a reputation for excellence due to his masterfully intricate pie designs, and high profile celebrity fans. We asked Chef Calum to help us plan the ultimate dinner party menu and we are suitably thrilled at the gastronomic prospect. Prepare to be an incredible host (with a some very impressed guests).
"Spanish is my favourite cuisine to cook at dinner parties as it's all just big bold flavours..."
CALUM'S SPANISH DINNER PARTY
(Feeds 8 guests)
The Canapés:
"Start the evening off with delicious bites that shine because of the quality of ingredients and simplicity, rather than fussiness. Skewer some pickled white anchovies that are rolled around juicy green olives and gunidilla chillies. Plate cured meats, salchichon de vic, iberico lomo and serrano ham with thin slices of Manchego and crusty white bread drizzled with a fruity olive oil. Have more olives, always, Gordal are my favourite, in little bowls next to smoked almonds. Serve with a chilled sparkling English wine, Gusbourne is a favourite and Copenhagen Sparkling Tea for those abstaining."
The Starter:
Shaved pear, walnut & chicory salad with Picos blue cheese
"A well thought out salad is always a great entry into the seated part of a dinner party. Chances are that everyone will have fed well on canapes so it's a good time to temper pace early on. This is one of my favourite salads to eat, the balance of sweet pear with bitter chicory, the crunch of toasted walnuts and the slow, layered flavours of a great blue cheese to finish eat bite."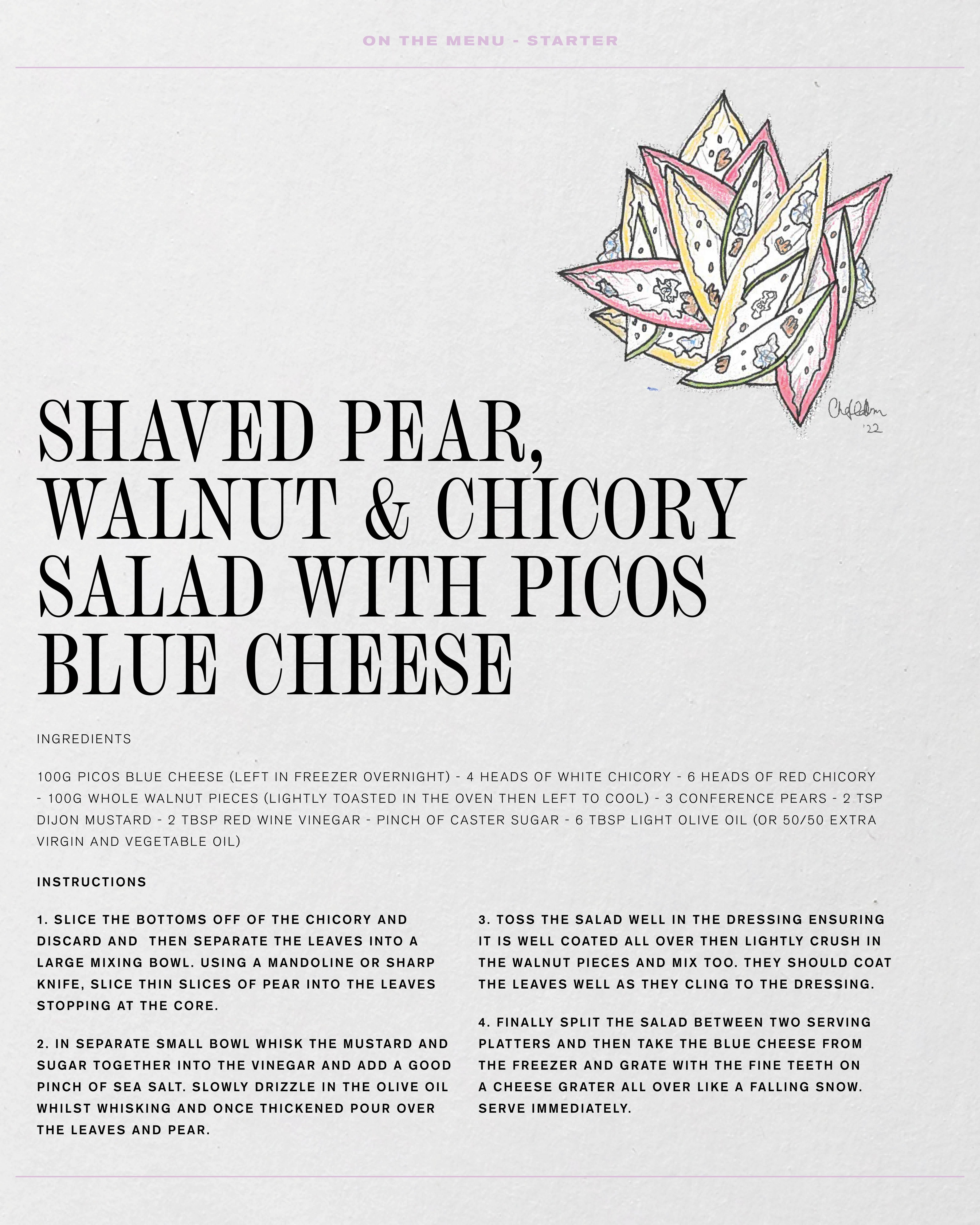 The Main Course:
Smoky lamb shoulder with braised root vegetables and green sauce
"Cooking a large piece of meat or fish makes sense for me at dinner parties, it takes away a lot of the stress of cooking many individual items, plating them all and rushing around when you want to be enjoying time with your guests. A slow cooked lamb shoulder is a forgiving ingredient that can be prepared some time in advance and warmed back through (in fact a good, long rest in its cooking liquor only benefits it). Here I would ask the butcher for a fully boned and rolled shoulder making it easier to serve and saving a bit of precious oven space."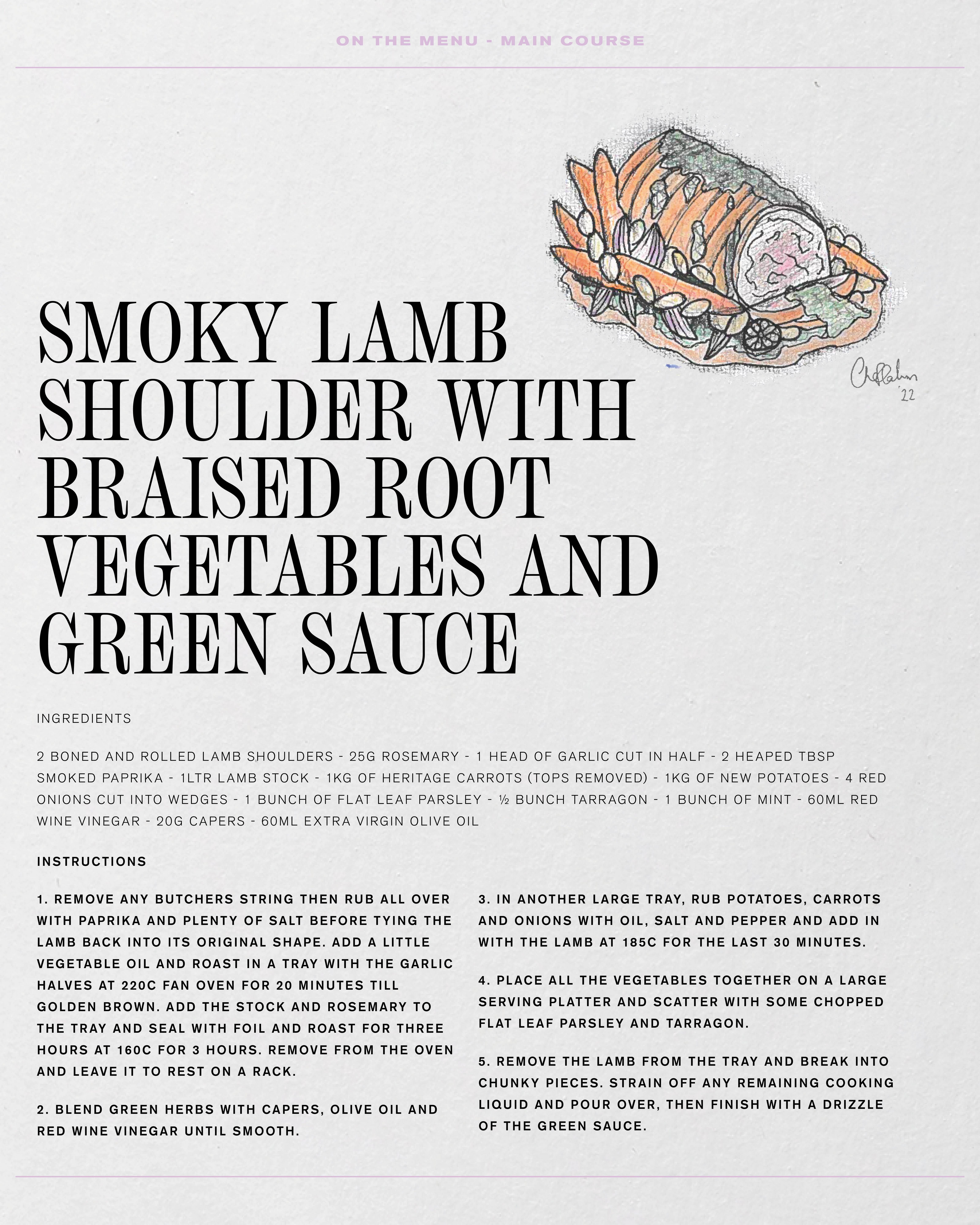 The Dessert:
Burnt Basque cheesecake
"Finishing a meal with this iconic dish from the Basque country has always had my guests asking for leftovers to take home. The burnt Basque cheesecake is also something that again, sits better prepared ahead of time so is perfect for entertaining. I like to serve it with some fresh berries and apricots (when in season) just coated in icing sugar and softened slightly in the oven."