Interview
Introducing
Grainne Morton
Discover the jewellery designer's personal story, as she lands exclusively at Liberty
Shop Grainne Morton
Born and raised in Northern Ireland, Edinburgh-based jewellery designer Grainne Morton works like a storyteller; translating found objects into one-of-a-kind pieces with a compelling narrative. An avid collector, Morton fuses buttons, Victorian charms and vintage trinkets to create modern, sculptural designs with a whimsical edge. As we introduce her jewellery exclusively at Liberty, Morton shares her own story.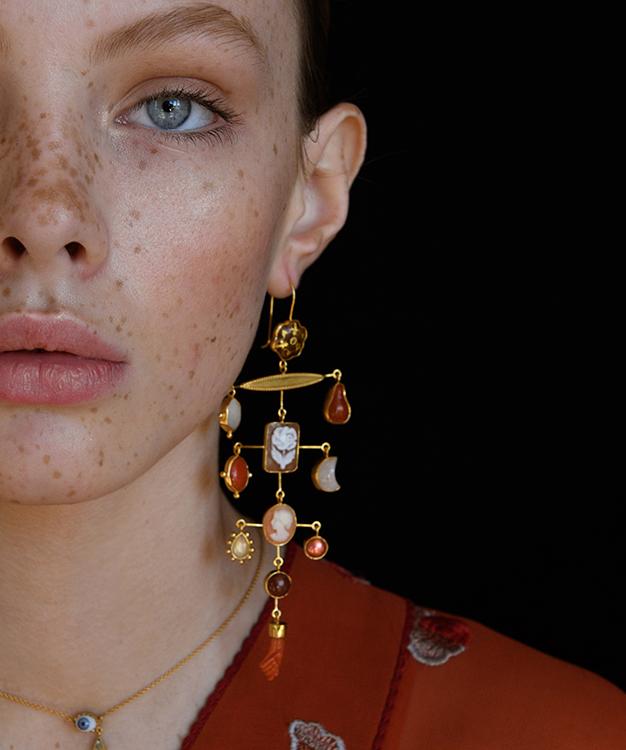 Who or what motivated your creativity?
My parents are both very creative. My mum was always mending things and a great knitter. She was obsessed with being individual and instilled that on me from a very young age. Dad was more technical – great at drawing. They both encouraged me to be creative.
How did this progress?
I was always making things. My parents both had great individual style. I became interested in clothes and accessories from a young age and would often make my own things whether it was jewellery or adapting my clothes – stitching patches and zips on jeans or drawing on shoes with a permanent marker. I have fond memories of being a kid and seeing trends, not having the resources (financially or the stores) and creating my own versions.
When did jewellery come into the equation?
At school my home was the art department and I had a strong desire to go to art college and to specialise in fashion. I loved clothes and had a real passion for style. However, the early stages of the course focused exclusively on design and lacked any making element. So, when I tried jewellery as part of my first-year foundation, I connected immediately to it because of the hand skills/making element, and the small-scale, almost miniature nature of the work.
How would you describe the aesthetic of your jewellery?
I'd describe it as unique and eclectic, with a story that is born out the use of different elements and colours sitting together.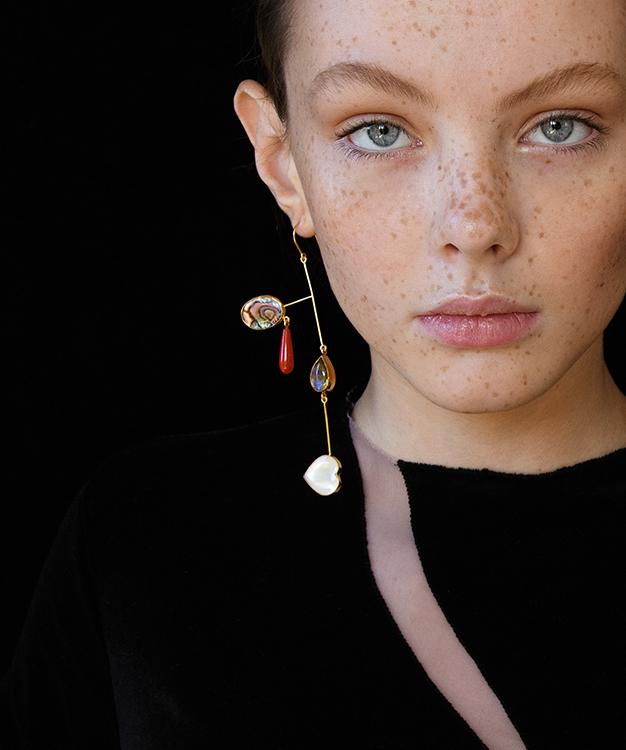 Where do you source the objects that make up your pieces?
I source the objects at antique fairs and markets and also from a range of suppliers from around the world.
Is there anything you're drawn to in particular?
I like things that are un-obvious. Something that it may have never been used in a piece of jewellery before, or for a very long time. I like unusual shapes and materials and objects that have depth of colour/texture. I love finding items that are old, as I feel this emphasises the time taken to create something and adds to my ethos that artisanal making produces an unrivalled depth of quality.
Can you tell us about the other materials you use?
I've always used buttons in my work; mother of pearl buttons to begin with. However, the market became somewhat saturated with the incorporation of buttons in various design objects. So, although I still use buttons, I've pushed back in time to source rarer and older buttons from Georgian, Victorian and Edwardian eras. Mixing these more intricate buttons with precious and semi-precious stones enables me to produce something fresh and 'one-of-a-kind', which I think is truly exciting.
I love finding items that are old, as I feel this emphasises the time taken to create something and adds to my ethos that artisanal making produces an unrivalled depth of quality.
Your pieces are unique - where do you draw inspiration from?
My inspiration stems from my time at art college in the early '90s. I didn't want to make jewellery from metal, or metal and stones, which is very much the traditional way. I wanted to use colour and more unusual materials, which I began by framing in miniature compartments, mainly in the form of brooches. My work evolved over time and I began to explore taking the items out of their compartments and setting in a range forms, moving to earrings and necklaces. I'm also inspired by Georgian and Victorian jewellery, in particular the chandelier earring shape. It's such a bold and colourful shape and looks beautiful in old paintings. I wanted to bring this style back, but in more contemporary way.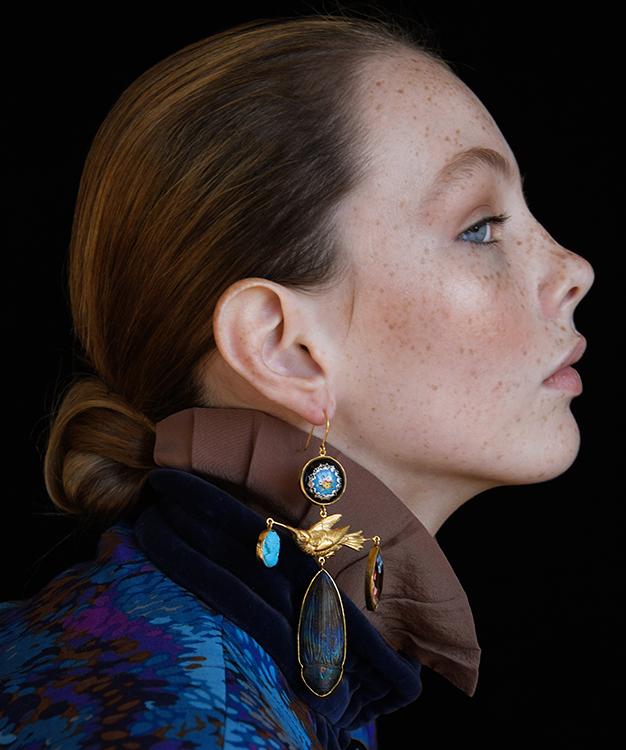 Is there a feeling you hope to evoke from the wearer?
I want my wearers to feel that my jewellery completes and accentuates their look or outfit. I want them to feel special! I also hope that they enjoy the feeling of making a personal connection with the piece and the elements within it. For example, feeling that some of the items can be their 'lucky charms', or that they gain a level of assurance or protection from some objects, like and eye watching over them.
Aside from your work, what keeps your mind occupied?
I think of my work as an extended hobby. I absolutely love my work so when I'm not in the workshop I'm often researching new materials or flicking through inspirational books. I love clothes. I have worn vintage clothes since I was a teenager. When I came to Edinburgh for College I think I spent more time vintage clothes shopping than working! I was obsessed with all the vintage clothes shops we are so lucky to have here. I loved the knowledge the owners had and would often go in and have lengthy chats with them about clothes and designers. I love frills, a ruffle collar in particular. I collect clothes by Annabelinda and Angela Holmes (Droopy Brown). They designed, manufactured and retailed their beautifully made clothes with exquisite attention to detail and avoided the mainstream fashion industry. Both women used Liberty Fabrics in their designs, which I've always been drawn to – anything with Liberty print.
What inspired your move to Edinburgh?
We spent a lot of time there with my Aunt and Uncle when I was growing up. Both are musicians, my aunt is also a glass engraver. They live in a tiny village outside Edinburgh and having spent a lot of time in the city, I decided to apply to Edinburgh College of Art.
Where are some of your favourite places to go, or things to do?
These days because I do work so much, I love to go walking in nearby woods – just to switch off. We got a dog last year so I have to walk her every day. I avoided getting a family pet for years but it's been a real joy. I absolutely love hanging out in New York. I go for work but like to think I get time to hang out too. I feel so completely happy there.