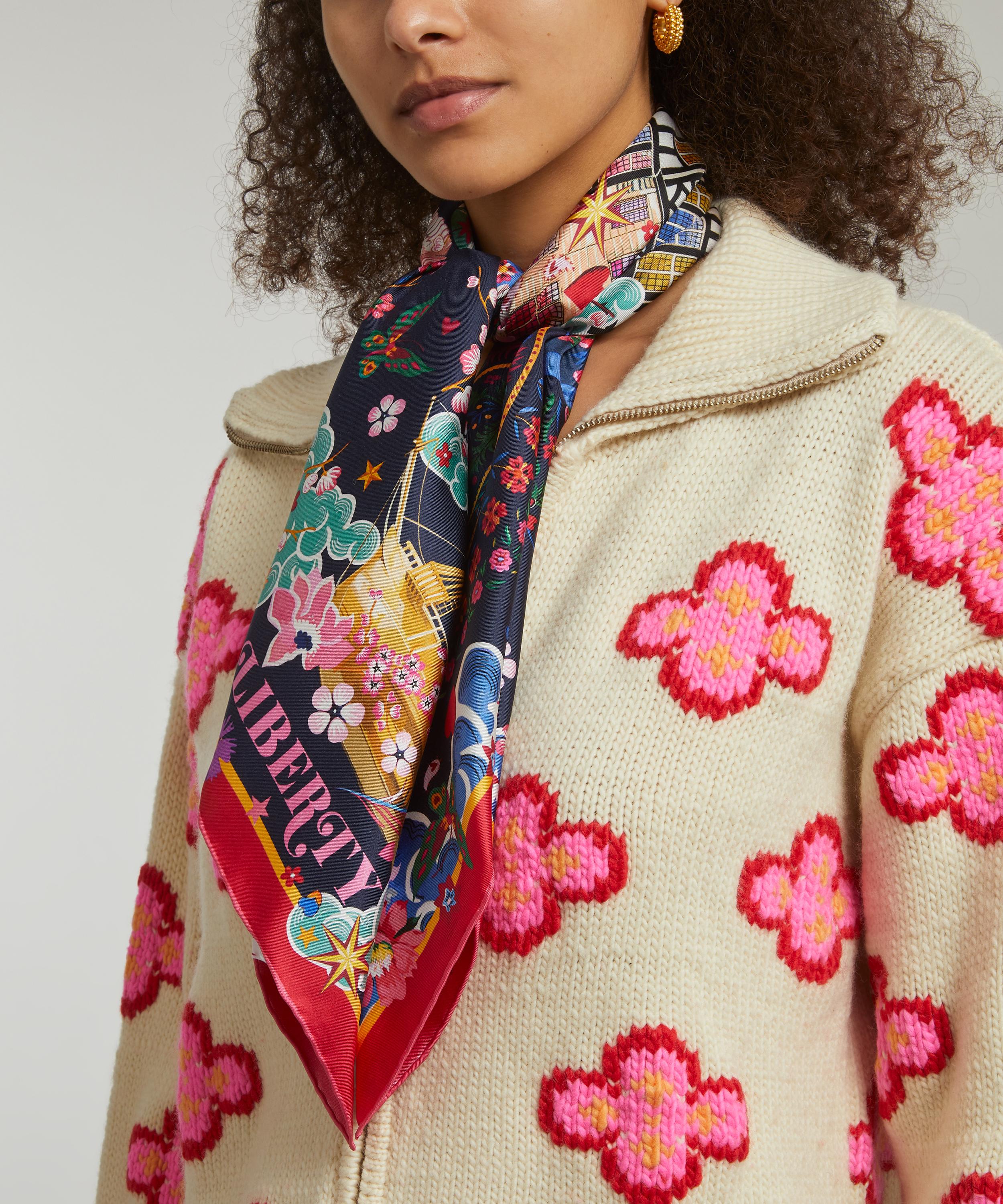 That's a Wrap: How to Style a Scarf
Forget the basics; here are the most elevated ways to wear a scarf this season
By: George Elliot
Accessories can either make or break an outfit, so knowing how to wear a scarf - the accessory we're all turning to now temperatures are plummeting towards single figures - is of vital importance. But we're not talking about the classic cravat-like knot or the over-the-shoulder wrap-around; there are far more interesting, fashion-forward ways to style this winter wardrobe staple. From bag scarves to the multiple ways of incorporating one into your hairstyle, here's how Team Liberty will be wearing scarves this season.
The Headscarf
Everyone is watching The Crown right now, and the much-anticipated return of this historical drama has cemented the humble headscarf a place on the list of the season's most popular accessories. But for a modern take on Her late Majesty's iconic sense of country style, join TikTok's tastemakers by tying a silk scarf like Liberty's Elysian Paradise, £235 around your hair and knotting it either underneath the chin or at the nape of your neck. For a little extra retro elegance, look to our sunglasses department for a pair of blacked-out shades to finish the look.
Shop now
Shop Liberty's Head Scarf Edit
The Neck Scarf
This season's shows made one thing clear: the neck scarf is back. Lightweight, usually square in cut and often patterned in vibrant prints, tie one loosely around your neck to elevate an off-duty jumper and jeans combination; unsurprisingly, Liberty's Hera Silk Twill Scarf, £250 is a particular favourite. Or, if you're opting for tailoring this festive party season - the power shoulder is among autumn/winter 2022's biggest fashion trends, after all - accentuate your suit's colouring with a tonal yet painterly pick. Either knot it like a neckerchief or treat it like a tie so that it sits under a collar or around a frilly neckline.
Shop now
Shop Liberty's Neck Scarf Edit
The Bag Scarf
Sure, it's a practical addition to your get-up, but sometimes the bag you choose to have by your side could do with a little dressing up itself. Enter the statement silk scarf. Option one: consider wrapping the scarf around the handle and tie at either end. Option two: if there's a shoulder strap or disused loop ring, thread the scarf through and knot so that it cascades down like a charm. Our final recommendation: tie into a bow around the base of one of the handles (this works best with larger bags, like totes and buckets).
Shop now
Shop Liberty's Bag Scarf Edit
The Belted Shawl
Sure, you can follow tradition by wrapping a scarf around your neck to cancel out the cold, but why not break with the usual and turn that winter warmer into a shawl? Perfect for throwing over your party dress just before heading out out, this cover-up-style scarf is just as handy when it comes to the office aircon wars, too, so take Liberty's Lady Amphora Silk Scarf, £250, drape over your shoulders and fix in place by buckling a belt around your waist. But for something a little outside the sartorial box, first slip into a trench or belted overcoat, cloak the scarf over just one shoulder and then fasten your coat's waist-tie as usual. The result: top level street style.
Shop now
Shop Liberty's Shawl Edit
The Hair Scarf
Because the way you style your hair says just as much about you as the clothes you wear, introducing a vibrant scarf into your hairstyle is an inventive way of showing your individuality. The trick here is to go for a scarf that's on the smaller side and not too bulky, just like Liberty's Persian Flower Silk Twill Scarf, £95. Then, you'll need to decide on a way of tying the scarf that suits your look. For an upgraded plait, consider the scarf as an extra strand of hair and intertwine it throughout. Looking for an update on the classic ponytail? In this case, knot the scarf over your hair band so that it falls downwards with the hair. But if you like your hair down, forget the bog standard headband and instead wrap the scarf over and behind your head, knotting it so that your hair hangs loose over the top.
Shop now
Shop Liberty's Hair Scarf Edit