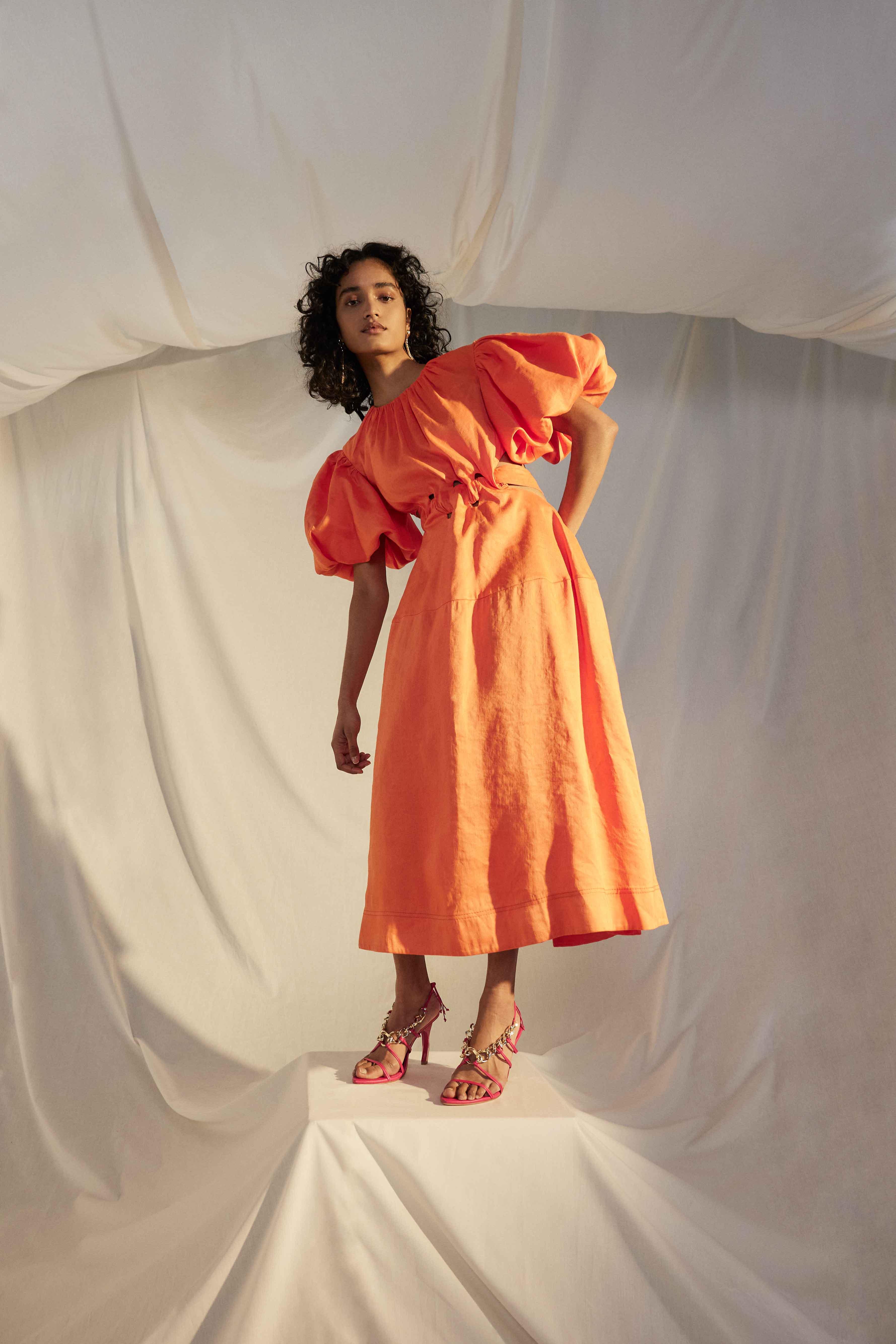 The Best Evening Dresses for Sundown Splendour
Been invited to a formal gathering and need something suitably fancy to wear? Here's what to wear
By: George Elliot
For the fanciest events in your diary - be that a party or dinner at an exclusive restaurant you've been waiting to try out for months - only one wardrobe hero will truly rise to the occasion: one of this season's best evening dresses. The dressiest of dresses, perched at the top of fashion's formality scale, there's not one hard and fast definition of what an 'evening dress' looks like. In reality, they come in many shapes, sizes, colours and finishes. From those that tick off this season's biggest trends to gowns that prove wearing black is never boring, this definitive rundown of summer's standout evening dresses will help you decide exactly what to wear.
Fashion-Forward Finery
For those whose wardrobes appear distinctly of-the-moment, all the time, you'll be pleased to see there are many evening dresses that speak to the season's biggest fashion trends. For instance, you might opt for a dress that nails fashion's current love affair with asymmetry and off-kilter angles, or one that reflects the revival of historic silhouettes (think: oversized dresses that mimic the shapes of crinolines and panniers). Sheer gowns and lacy chemise once only found in the bedroom and extravagant embellishments are other trends very much accounted for, too.

Read more: the Biggest Summer Fashion Trends
Shop now
Shop On-Trend Evening Dresses
Rise and Shine
Any occasion that calls for an evening dress is your opportunity to shine, quite literally. From sequinned midis to minimalist slips cut from sumptuously soft, high-shine satins, revel in all that shimmers this season. Mini in length and decked from shoulder to seam in sequins, RIXO's Ronan Sequin Dress, £395 is one such conversation-starter.

Read more: Best Summer Dresses
Shop now
Shop Shiny Evening Dresses
Award Winners
Perhaps you were hoping to take your cue from the red (or should that be champagne-coloured) carpet at this year's Oscars. Sculptural silhouettes reigned supreme this time around and so too did shades of pink. To secure your place on the Barbiecore bandwagon, might we suggest going bold with RIXO's Benedict Starfish Jacquard Dress, £235? Many award-goers opted for white gowns instead, proving that this colour is no longer reserved for brides. RIXO's Liza Dress, £595, is Inspired by the golden age of Hollywood and trimmed with feathers. A dream for night's out.

Read more: How to Master Hollywood Glamour
Shop now
Shop Oscars-inspired Evening Dresses
Contemporary Cocktail Dresses
Practical, comfortable, but ultimately elegant, for decades the cocktail dress has long been a firm favourite of night time revellers. If you consider yourself a print-loving maximalist, how about trying La DoubleJ's Mini Swing Mezzaluna Dress, £490 on for size? It's patterned all-over in a geometric, 60s-style print that's suitably vibrant. Should you prefer pared-back shapes and subtle colour palettes, feast your eyes on the MELLOW PLEATS Pink White Midi-Dress, £550 by Pleats Please Issey Miyake, it's slick and minimalist, just the way you like it.

Read more: What is a Cocktail Dress?
Shop now
Best of Black Tie
Black dresses are far from boring, particularly those coming from the most exciting womenswear ateliers around. Take Cecilie Bahnsen's Beth Linen Plissé Dress, £1,300 as a case in point; architectural in silhouette and tailored from textural linen plissé, this sculptural maxi is far from conventional. Looking for something a little more slick? Turn to Totême's Draped Twill Cami Dress, £535. With svelte lines and a loose-fitting bodice that blends angular lines with soft sculptural ripples, it's the epitome of monochrome, maxi-length elegance.

Read more: Wearing Black in Summer: Too Hot to Handle?
Shop now
Shop Black Evening Dresses