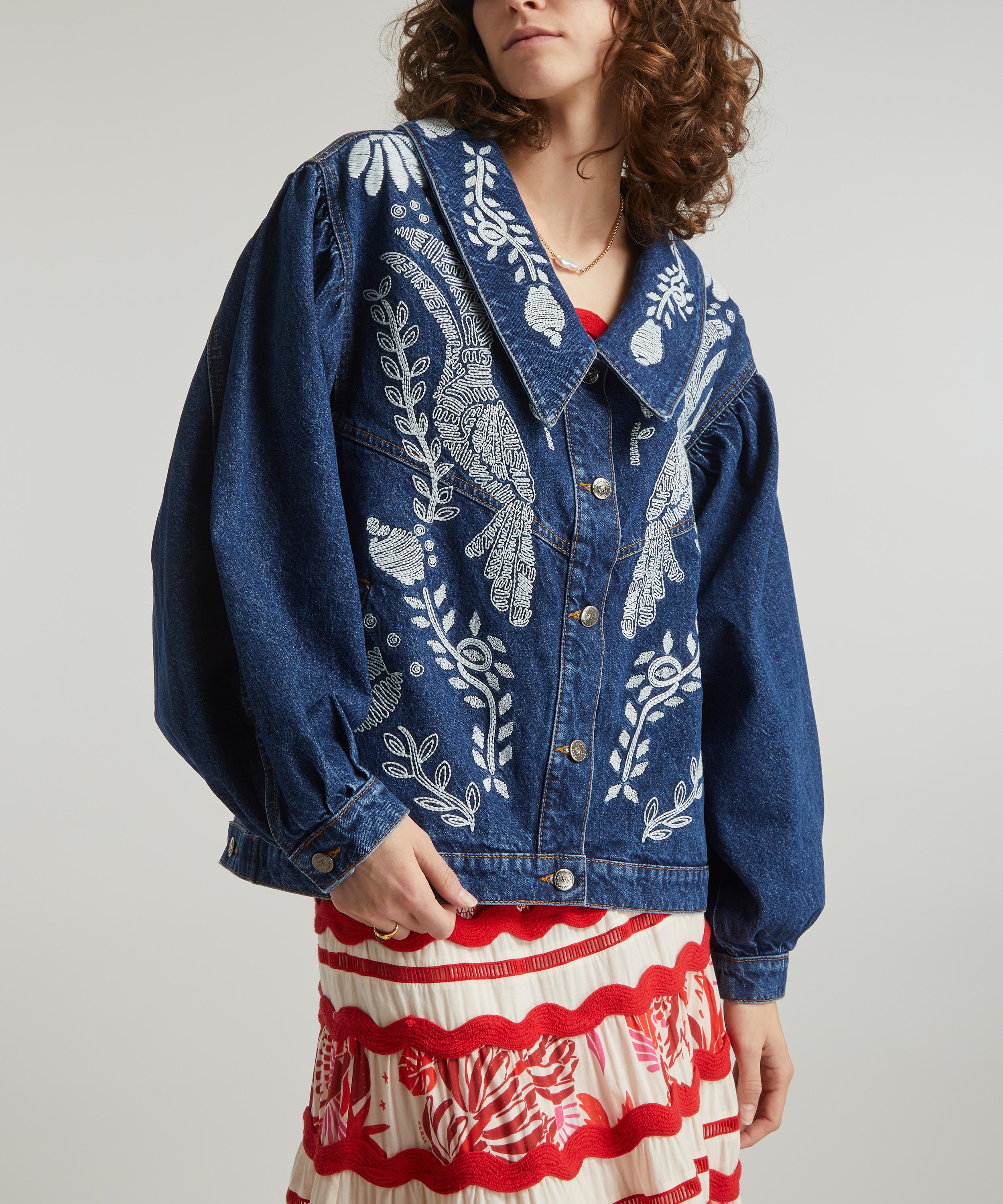 Fashion School: How to Style a Denim Jacket
From double denim to 90s grunge, get an A* in denim jacket styling with this Liberty fashion cheatsheet
By: George Elliot
First designed by Levi Strauss for America's workforce circa 1880, the denim jacket has been on a journey, transformed from workwear essential to emblem of 50s teenage rebellion, from 70s rock 'n' roll icon, to supermodel staple of the 90s and Y2K. Today, you'd be hard pressed to find a wardrobe that doesn't house at least one denim jacket. But while we can turn to its colourful history for styling tips and tricks, how do you wear a denim jacket in a way that feels distinctly of the now?
Double Denim
The question to ask yourself isn't so much if you should wear denim but rather how much. To master tricky double denim, firstly consider contrasting tones, mixing a light denim with something darker, or pairing different colour denims – blue and white, or black and grey work particularly well. But if you want to coordinate two pieces of denim in the same wash like Acne Studios' Hourglass Denim Jacket, £550 and Jeans, £310, try adding a third piece into the mix that's strikingly different in texture and colour, like FARM Rio's Macaw Scarf Shirt, £175.
Shop now
Shop Liberty's Double Denim Edit
Grunge Revival
Get ready to channel your inner Kurt Cobain and Courtney Love as 90s grunge is having a revival. It has the same angsty attitude as before, but feels a little more grown-up and with added polish this time around. Isabel Marant Étoile's Harmon Bleached Denim Jacket, £525 is a suitably edgy starting point. Loose trousers, distressed knitwear, graphic t-shirts and checked shirts were the sartorial keys to this punk-inspired look, styled in layers. Try stacking two to three pieces underneath your denim jacket, like a tee and open shirt combo or a dress and cardigan duo, and be sure to finish off your look with some chain-link jewellery.
Shop now
Shop Liberty's 90s Grunge Edit
Embrace Earthy Tones
There isn't an earthy tone that blue denim doesn't instantly mingle well with. Beige, terracotta, sage, cream; they're all ideal pairings for jackets like Fortela's Whitney Denim Jacket, £690. These organic shades are among the easiest and most complementary colours to work with, so hitting upon a harmonious mix of clothes to wear under your denim jacket will take minimal effort. To get you started, a truly fail-safe method is to adopt the minimalist's mindset and coordinate varying hues of a single colour, mixing pales with richness, dark tones with lights. Don't forget the tropical end of nature's colour palette though as lush florals, foliage prints and warm, summery shades are equally effortless to style.
Shop now
Shop Liberty's Earthy Tones Edit
The Smart-Casual Sweetspot
The 'jeans and a nice top' combo is ideal for those scenarios when we want to feel dressed-up but also comfy and ready for wherever the night takes us - be that the office or drinks with friends. But now that spring has officially sprung, there's another versatile, more breezy ensemble to brush-up on: the denim jacket and a trending dress duo. To start, pick-out a denim jacket like FARM Rio's Jungle Flow Embroidered Denim Jacket, £300 and as for the dress underneath, you could opt for something that carries the same blue hues of denim, but if you ask us? It's always a good idea to experiment with contrasting colours and bold patterns.
Shop now
Shop Liberty's Smart-Casual Edit