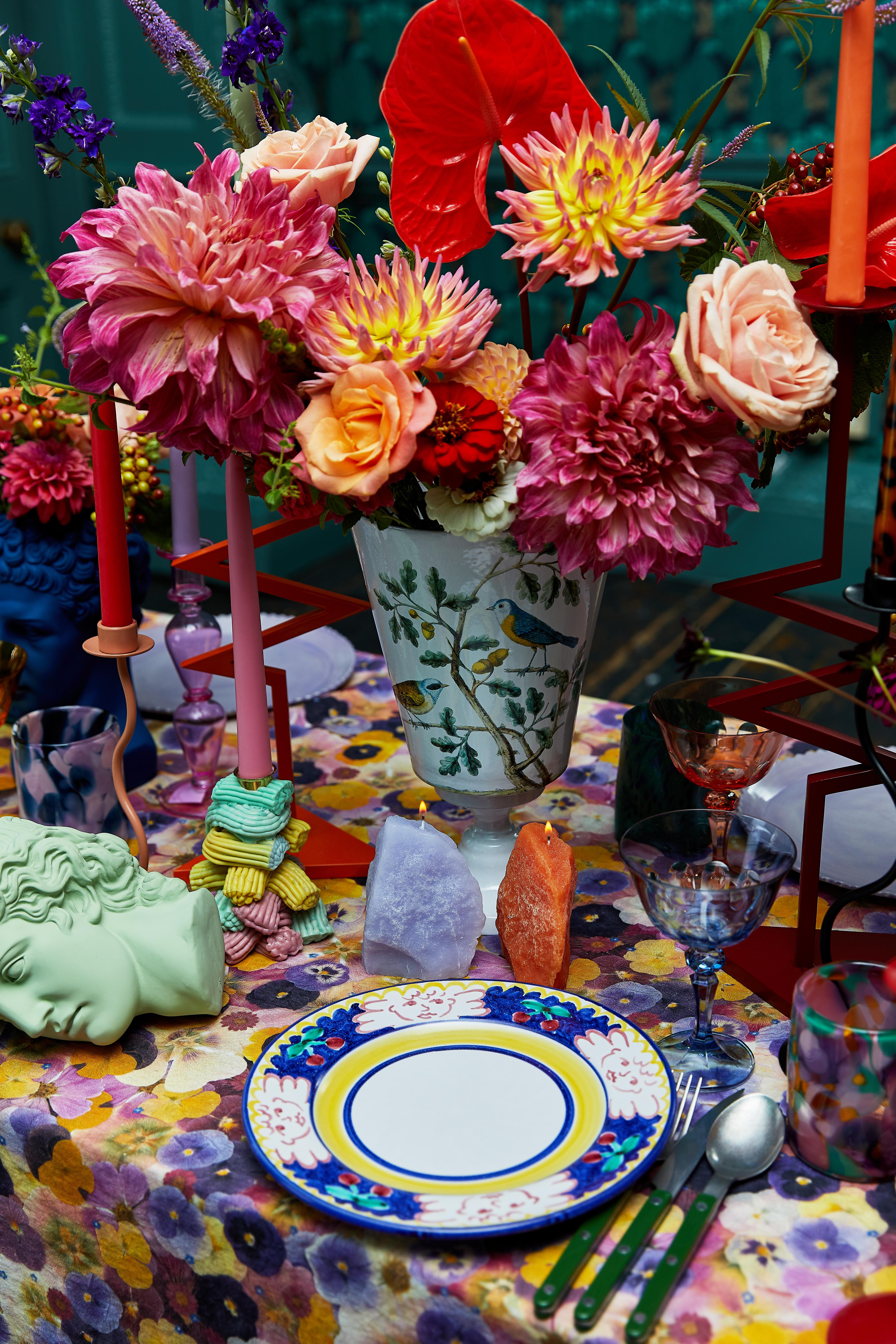 Bryony Sheridan on
How to Make Every Room a Masterpiece
Our Buying Manager for Home shares her tips for driving each room in your home to its full aesthetic potential
Shop Interiors
The curated home is all about a room-by-room approach, and no more so than the spaces that serve as focal points for entertaining. From the entrance hall to the dining table, Liberty Buying Manager for Home and all-round interiors expert, Bryony Sheridan, knows just how to make a big impression. Building upon artistic details, compiled with a masterful touch, she takes us on a ground floor tour of the ultimate home for hosting…

Follow @bryonyrae on Instagram
Treat the dining room as an extension of your personality; an opulent space for celebrating, where you show generosity and love through feasting. Whether it's a kitchen supper or a grand dinner party, the fun is in selecting the crockery, glasses, cutlery, flowers, and table objets. If you're not looking down, there should be something on the walls to draw your eye away and reflect candles at night; mirrors work brilliantly, as do the milky glazes of ceramics.
Gone

are the

days

of

'Sunday Best'. Show off your personal collections, be

it

heirloom crockery,

or a

kaleidoscope

of

coloured glass.
Gone are the days of 'Sunday Best'. Show off your personal collections, be it heirloom crockery, an extensive set of Astier de Villatte, or a kaleidoscope of coloured glass. Find a palette that suits the mood and build from there – soothing greens and blues work for me, conjuring images of the sea. As evening draws in, the candles make it moody and twinkly. I love print play, so am never afraid of clashing prints. Flowers are a must; keep arrangements low to the table with a feature space on a mantlepiece. I place flowers and create my tablescape before guests arrive.
There are a few simple hacks that ensure practicality – and which guests never need see. I add a heat protective layer under the tablecloth which lets me place from oven to table. Food is always reflective of my style: maximalist and colourful. If you're short of space, a demi-buffet concept is a winner.
This is your space to show off. If you're lucky enough to have a mantlepiece, focus the room here, with an oversized mirror or big art piece overhead. It's easy to change the mood with mantlescaping. A coffee table works just as well – add artful objects and touches of nostalgia. I like to evolve my space; our homes should adapt with our needs and mood. I am forever finding new art, a cushion, or a vase that I re-centre the room around. If you're creatively minded, this will come naturally but if not, just play around until it strikes a chord.
Investing

in

mountains

of

cushions gives you

a

base

from

which

to

shake things up, while ensuring it's

a

space you want

to

relax

in

.
To ground your space, choose one colour and leverage your prints. If you have a really strong pattern, try picking a muted tone from within it as the room's palette; you can use this to contrast tones and objets referencing other elements of the print. Balancing is the desired effect; you want the space to have pause moments – not every corner needs to be full on.
Investing in mountains of cushions gives you a base from which to shake things up, while ensuring it's a space you want to relax in. I always choose a plain sofa with statement print on smaller furniture, and cushions are the glue that holds everything together. Lighting makes your sitting room and I only ever use lamps. Remember, the television should never be the first thing you see when you enter a room. If you have one, it should be as discreet as possible, definitely overpowered by objets and art.
The hallway is the pause point between all your rooms and should be decorated in a way that provides a sense of synergy between the spaces that lead off it. There are no rules here; either cram the hallway full of art or create a moment of tranquillity as you enter the space.
There

are

no rules here; either cram

the

hallway full

of

art

or

create

a

moment

of

tranquillity

as

you enter

the

space.
If there was ever a place to create a gallery wall, the hallway is it. Often light is an issue in the hallway, so I would suggest using a colour on the wall that gives the illusion of brightness – mirrors can help, and I particularly like clever placements so you can view art at different angles. I am known to theme my art; hallways tend to be portraits and nudes, so as you walk through, you never know you might see – or bump into!