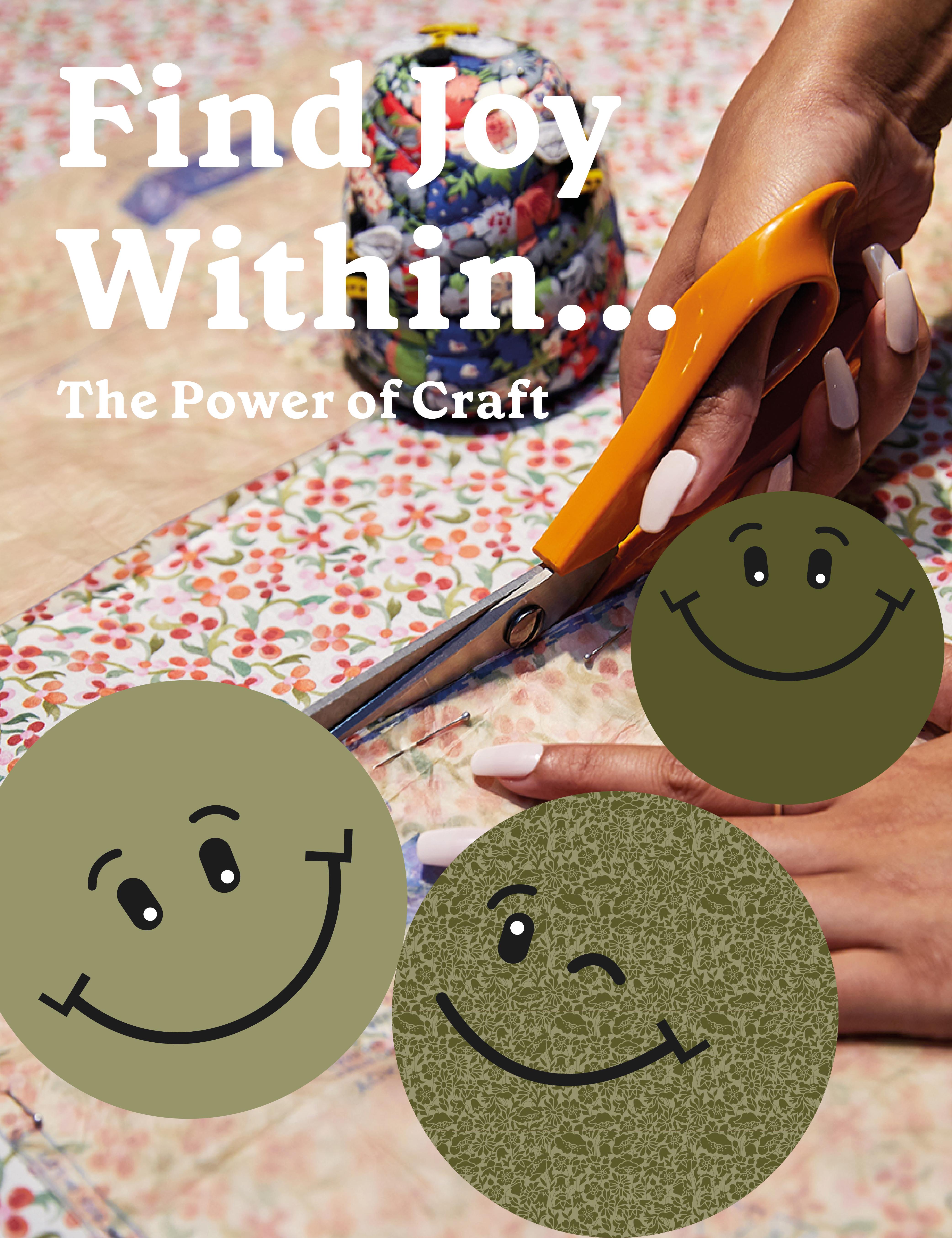 Find Joy Within
Craft Therapy: Why Making Things Is Good for You
Liberty urges you to seek solace in the brow-unfurling and shoulder-lowering power of craft
By: Shannon Peter
There's something rather therapeutic about starting a new craft project, about setting aside the time to plot and plan and dream up a new creation made by your very own hands. And that's before you've even begun the making. That's the power of craft. It offers you a chance to escape the stresses of daily life, by delving into your imagination, and utilising the creative corners of your brain that – for far too many of us – have been left dormant since the art classes of our school days.

In fact, the benefits of craft therapy for adults are widely documented. Some say that craft can help lower stress levels, giving you an outlet for creative expression and allowing the more logical side of your brain to switch off for a moment. It also offers a break away from the to-list conveyor belt, a chance to concentrate on something that's purely for enjoyment, rather than any professional gain. And then there's the sense of pride that comes with completing (and showing off) a finished item, finding a place for it in your home or wardrobe, or even gifting it to someone else.

So what could be a better antidote to the sudden cold spell than to start a new craft, or return to an old favourite? But which to pick? Might we suggest you start with something fabrics-based? Our third floor is a treasure trove of extraordinary fabrics – each one hand designed and printed on the finest bases – so you needn't look too far for inspiration of what to make next. The key is simply finding the craft to suit your energy. And with that, we can help…
Dressmaking can seem daunting, but it's a lot more accessible than you might think. You just need to have vision. It requires you to be able to look at a large square of fabric and imagine it as something entirely different – a garment with arms, or legs, or pockets, or cuffs! If you like working on a large scale, and can follow instructions closely (you'll first need to learn how to cut a pattern), then you could very well have a career in dressmaking ahead of you.
Best for Experimentalists
Now, this isn't to say that not all fabric crafts offer you creative freedom, but there is definitely plenty of scope to push the, well, needle when it comes to embroidery. It's like drawing on fabric, meaning the possibilities are pretty endless. To start with, you could master the art of words and letters, before moving onto something more freeform like floral motifs. Once you get the hang of it, there's no limit to what you could embroider. A self portrait, perhaps?
Best for Colour Obsessives
Throughout our daily life, we're constantly pulling together colour palettes, sometimes without even noticing – whether you're choosing what to wear in the morning, or which cushions to dress your sofa. If you enjoy grouping together tones to make a coherent theme, quilting could be for you. It requires you to choose a selection of prints (although we can help with that) that, when pieced together, create one cohesive (and sentimental) piece, like a classic patchwork or contemporary puff quilt.
Given their larger, more industrial nature, upholstery projects tend to be easier for those with dextrous hands and a logical, practical brain. Picking your fabric is the easy part, the challenge (for those who wish to accept it) is learning how to manipulate fabric so it seamlessly hugs the curves and contours of whatever you're covering. And that sometimes takes brute strength and a firm hand.