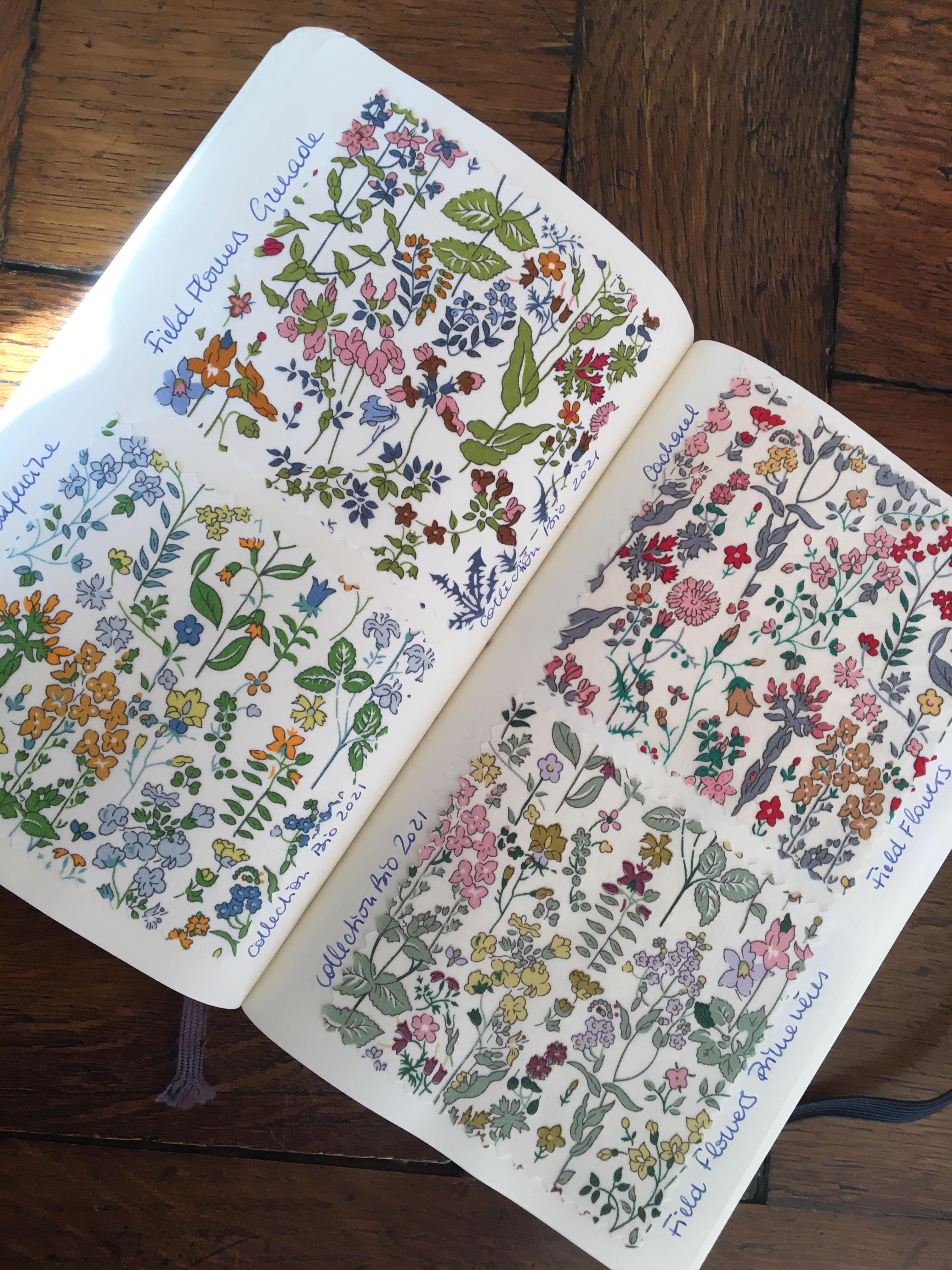 Name A Liberty Print
A Chat With…
Karen & Florentine
We speak to fabric fans Karen and Florentine – two friends who took the opportunity to become part of our design heritage, by naming their very own Liberty prints
Name A Liberty Print
In November 2020, the Liberty Fabrics design team offered customers a way to become part of our brand's 145-year history, leaving a legacy within the treasured Liberty archive – with all proceeds going to the '1000 Women' initiative led by The Sophie Hayes Foundation, supported by our 'Liberty, For Life' programme. To celebrate offering this opportunity to customers once again, we spoke to Florentine and Karen, two friends who jumped at the chance to choose and name their own prints that will appear on Liberty Fabrics and live on in our archive forever.
Florentine and Karen, can you tell us a little about yourselves?
Florentine: I am French, my husband and I live in Paris with our five kids and our dog. I sew, knit, and embroider a lot in my spare time, and I have been wearing Liberty dresses since childhood.

Karen: I'm half French, half Danish, and I live in the countryside. Like Florentine I have been wearing Liberty forever, my mother sewed amazing Liberty smocked dresses for my sisters and me. She taught me sewing, embroidery and smocking. I started to teach the art of smocking, first in Paris and elsewhere in France, but now also on the internet. Florentine and I met through the blogs around 2006, we have a lot in common especially the love of Liberty Fabrics! On my blog, called 'Liberty Addict', I write about Liberty prints: history, new collections, DIY, etc. I love to find the names of old vintage prints, often on Instagram.
I have a Liberty Book, in which I glue a small square of each Liberty print I find… I now have 10 Moleskines full,

and

will probably need to start a new volume very soon!
What made you decide to participate in our Name A Liberty Print charity scheme?
Florentine: When I saw that we could have the opportunity to follow all the creative process and name a Liberty print, I couldn't imagine doing it without my dear Karen. We are both passionate about the quality of Tana Lawn since childhood and ever since we've known each other, it is our favourite subject: where to find it, what to make with it – and when I learned that it would help women in need through 'Liberty, For Life', I didn't hesitate any further!

Karen: It was a Christmas present from Florentine and a total surprise, I'm so happy to be part of this amazing adventure. Because of my passion for Liberty prints of course – but the charity part is important too.
What kind of print did you choose, and why?
Karen: A ditsy floral on dark background – I've always loved florals but I'm a dark background lover, I wear them a lot.

Florentine: Mine is going to be a more botanical pattern, that reminded me of a Liberty dress my grandmother had made for me when I was eight years old, that I actually still own – it kind of struck me when I saw it. A classic with a twist.
Do you have plans to make something special from your Liberty fabric when it launches?
Florentine: I'm going to sew it right away! I'm already searching for the best pattern to use.

Karen: Sew it of course, probably with smocks, and maybe also embroider the design on plain fabric because I think it would work quite nicely. I will also sew something with Florentine's print, which I love too. And of course I will include the two designs, in all the possible colourways, in my Moleskine Liberty book!
What's your favourite print memory?
Karen: Shopping for Liberty fabric with my mother in Paris when I was beginning to sew, I was still in high school. I remember we bought a piece of a blue print in Varuna Wool, and I made a scarf of it.

Florentine: For a special photo shoot for a French sewing-pattern brand, I sewed seven different outfits in one month in Liberty fabric for my whole family. Such an adventure!
Which Liberty design is your favourite, and why?
Karen: SO many – it's a hard question, it would be easier to list the very few I dislike! My classics are mainly florals: Field Flowers, Floral Eve, Wiltshire, Theodora, Mitsi, Wild Flowers, Capel, Elysian, Fitzgerald, Margaret Annie, Claire Aude, Poppy & Daisy, Chive, Floribunda, Meadow… I'm also fan of Strawberry Thief and its aquatic version Akinobu (from the 2010 Seasonal collection). And then also old seasonals such as Joyride, Guisti, Leo Scarlet, Hanako, Ellie Ruth and Childhood Treasures.

Florentine: The ones I really like at the moment are Strawberry Thief and Lodden: Not too flowery, with a more grown-up look. But I love a lot of different prints: my bridal bouquet was made out of Liberty butterflies!
When you Name A Liberty Print, 100% of the proceeds will go to the '1000 Women' initiative led by The Sophie Hayes Foundation, which we are supporting through our Liberty, for Life programme. '1000 Women' carries those freed from slavery in the UK into the next stage of their lives, tailoring each programme to an individual case - it only costs £1000 to empower one woman though to sustainable freedom. By naming a Liberty print, you are giving a woman freed from slavery the chance to find Liberty, for life.