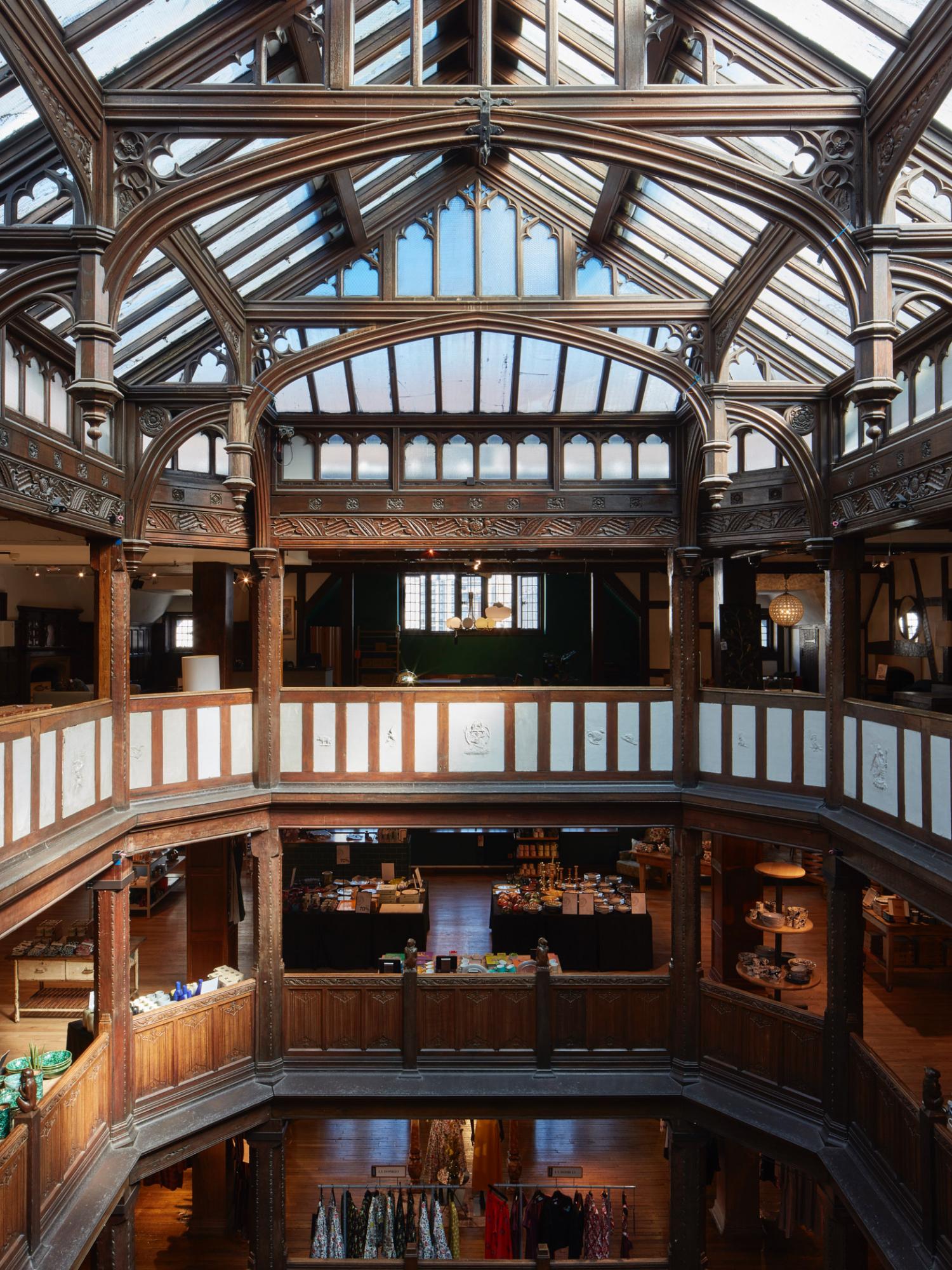 Home Of The Artistic Shopper
No Place Like Liberty
A London landmark unlike any other – Liberty's historic Grade II-listed Tudor building was designed with warmth and welcome at its heart
Shop Liberty Brand
By: Jess Johnson
Located between the classical Beaux Arts façades of Regent Street and the bright lights of Soho, the Liberty Tudor building is a true London icon. Visitors who step through the heavy carved wooden doors will discover a unique layout – created to reflect founder Arthur Lasenby Liberty's idea for an emporium that felt more like a home than a store.
The Liberty flagship was designed by architect father-and-son team Edwin Thomas and Edwin Stanley Hall and constructed in 1924, offering a one-of-a-kind monument to the brand's spirit of eccentricity, originality and craftsmanship – from the base of its foundations right up to the tip of its gabled roofline. Built according to the Arts and Crafts design philosophy of high-quality materials and first-rate artisan skills, the building's 'Olde England'-inspired aesthetic echoed Arthur's admiration for the Tudor period's traditions of master craftsman guilds.
Liberty's Tudor building was imagined not as a grand mansion but rather as a series of smaller interior rooms, like a constellation of miniature shops held within – the iconic façade, constructed from more than 24,000 cubic feet of ships' oak and teak timber taken from two decommissioned battleships, was designed to resemble a line of timbered shops like The Rows in Chester, a historic walled city in the Northwest of England. Internally the store's layout is assembled around three large central atriums surrounded by smaller arrangements of rooms – with a scale and setting made to feel snug and domestic, rather than aloof and imposing.
Every room is designed with its own distinct character, including fittings such as wood panelling and Delft tiles. The heavy iron-framed windows found throughout the store were made using traditional preindustrial blacksmithing methods – inspired by the windows of ancient cottages, dreamt into a grand scale – and filled with 1,550 window 'lights', including 215 unique hand-painted illustrated panes. All the store's fittings and furniture were made by Liberty's own skilled artisans in their Highgate workshop, with a team of twenty specialists working for 18 months on the carving alone. To make them truly feel like home, the rooms of Liberty were finished with working fireplaces, served by the tall and twisting redbrick chimneys that define the building's famous skyline profile.
The fireplaces were installed to act as a focal point for the room sets originally created by Liberty's shopfitters and designers – to conjure up the store's indefinable draw, sparking the imagination of customers by displaying furniture, carpets and ornaments for them to buy and recreate at home. Modern-day visitors to Liberty can still find them dotted around the store – with 16th and 17th styles at the Basement, Ground, First and Fourth floor levels, and a surviving 14th century French style design complete with original seating alcoves in the Basement. These fireplaces are still used as central features to display the latest homewares and art that the store has to offer, from pastel-hued candles and hand-painted trinket trays to oversized vases cascading with flowers.
The Liberty store doesn't just act as a home from home for customers and staff – it is also the dwelling place for a menagerie of other permanent characters. Hidden away up on the roof is the contemplative stone profile of a grotesque, traditionally thought to guard buildings and protect those inside. Inside the building you'll find carved wooden animals such as the cheeky monkey, the frog on the stair and the hungry bear, inspired by the compendium of creatures found in medieval Bestiaries – Liberty legend has it that when the last light has been extinguished in the store at night, the animals awaken to make merriment and cause mischief.
From secret nooks to unexpected companions, Liberty has a wealth of unique features for visitors to discover as they make their way from each intricately-designed room to the next – continuing to capture Arthur's dream of a magical store that still feels like home.