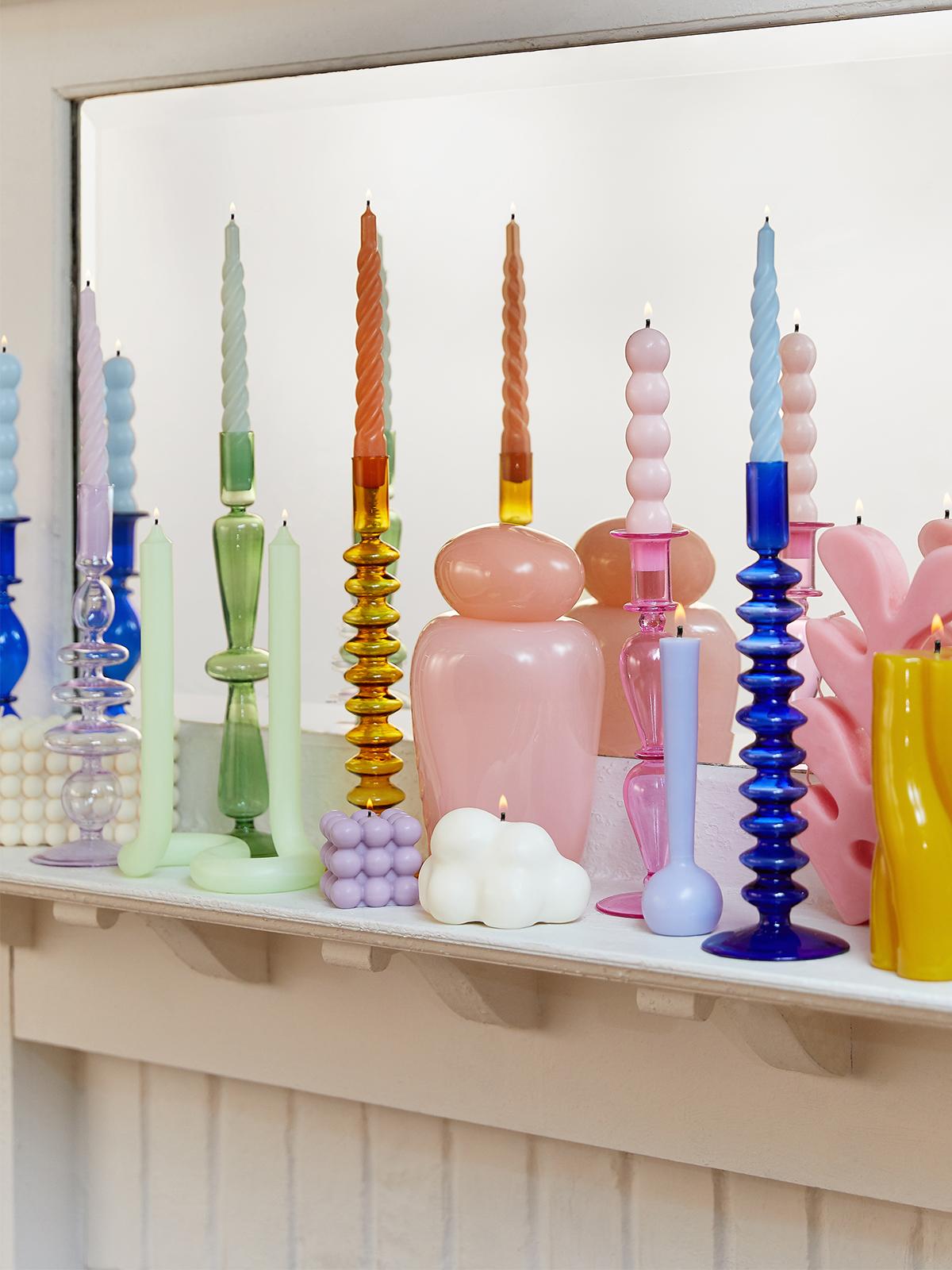 Artful ornaments are a sure-fire way to boost the ambience of your home – especially when they imbue the space with mood-defining scents, as luxury candles do. No matter your interiors style, our Home edit of decorative candles has designs to delight and inspire – from bubble candles brimming with fun and escapism, to bendy candles begging to join a maximal table setting. So without further ado, allow us to introduce our beautifully crafted selection…
FLUFf Wax
Drift away to your own personal dream place with cloud-like wax creations from FLUFf Wax. The independent British label's sculptural designs let you play with proportion, each crafted by hand for buildable impact against any surface.
Shop FLUFf Wax
Foam Home
Stackable shapes, immortalised in wax, Foam Home's bubble candles reimagine the tactile quality of soft clay or foam objects in a new medium – and one that's entirely vegan and cruelty free. Create your own art corner, combining sizes and colours in new experimental formations.
Shop Foam Home
Lex Pott
With their unmistakable twisted forms and vibrant colours, Rotterdam-based Lex Pott's cult candles bring a playful interior edge. Self-supporting with sleek, modern styling, consider it a new wave candelabra – poise them as table centrepiece or as the focal point of your mantelpiece.
Lex Pott
FEST
Designed in Amsterdam, FEST creates art-inspired objects in wax, working with abstract arrangements and bold curvature for a visually exciting effect. Moulded in paraffin wax, add to an eccentric table edit for a dynamic accent.
Shop FEST
Fairholme Studio
Awash with inspirational shades and a sought-after handmade aesthetic, Fairholme's cult taper candles are room-elevating essentials. Traditionally hand-dipped in the UK, their elegant silhouettes and punchy hues capture a sense of the unique – group them as part of your own curated offering.
Shop Fairholme Studio
Still in need of interior inspiration? Our expert Ioan Pop is on hand for bespoke tips and advice. Book in for a complimentary appointment, virtually or in-store.