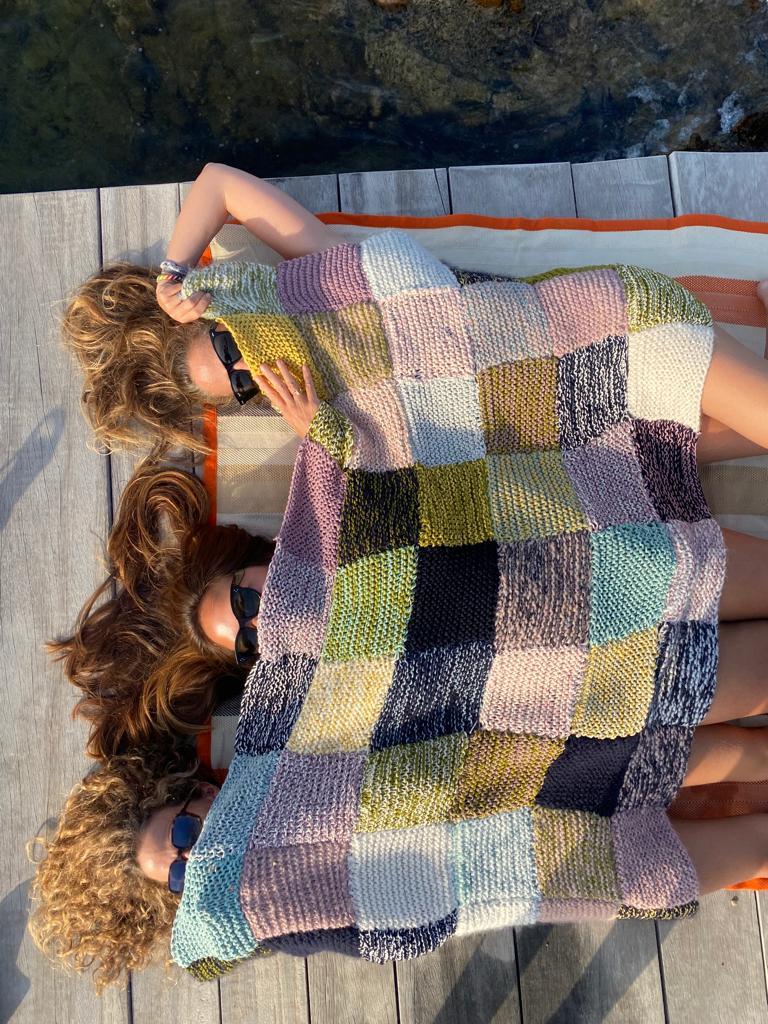 #LibertyCraftClub
Knitting with Wool and the Gang
Make your own beautiful patchwork blanket, with the knit-and-purl wizards at Wool and the Gang
Shop Wool and the Gang
By: Jess Johnson
As part of the #LibertyCraftClub, our community of creatives share tutorials for easy and accessible craft projects to complete together. For this instalment, the yarn-lovers at Wool and the Gang shows us how to create a simple yet striking patchwork blanket, using their Come Together Blanket pattern.
You will need:

Leftover yarn – quantity dependent on blanket size. The Wool and the Gang knitters used 6 x balls of Shiny Happy Cotton yarn, 6 x balls of Billie Jean yarn and 6 x balls of Feeling Good yarn
1 x pair of 8mm (US11) knitting needles
1 x sewing needle
We would normally tell you

to

make

a

tension swatch before you start, but

for

this pattern, the squares

are

the same size as

a

tension swatch. So check your tension, make your first square,

then

simply measure it.
You can mix any colours together

to

create this unique blanket,

and

use

up

all your scrap yarn!
Cast off your stitches, leave

a

40cm/15.8" length each

of

yarn, then cut your yarn

and

secure your last stitch.
After knitting your patchwork pieces, finish

by

working in any loose ends

and

then stitch them together using the horizontal

and

vertical seam techniques outlined

in

the Come Together Blanket pattern – you

can

even make your patchwork pieces while on-the-go,

and

then assemble them

at

home later on.
Voila! A beautiful blanket to treasure, made entirely from scrap yarn. Create a cohesive colour scheme, or go eclectically multi-hued – the choice is all yours.