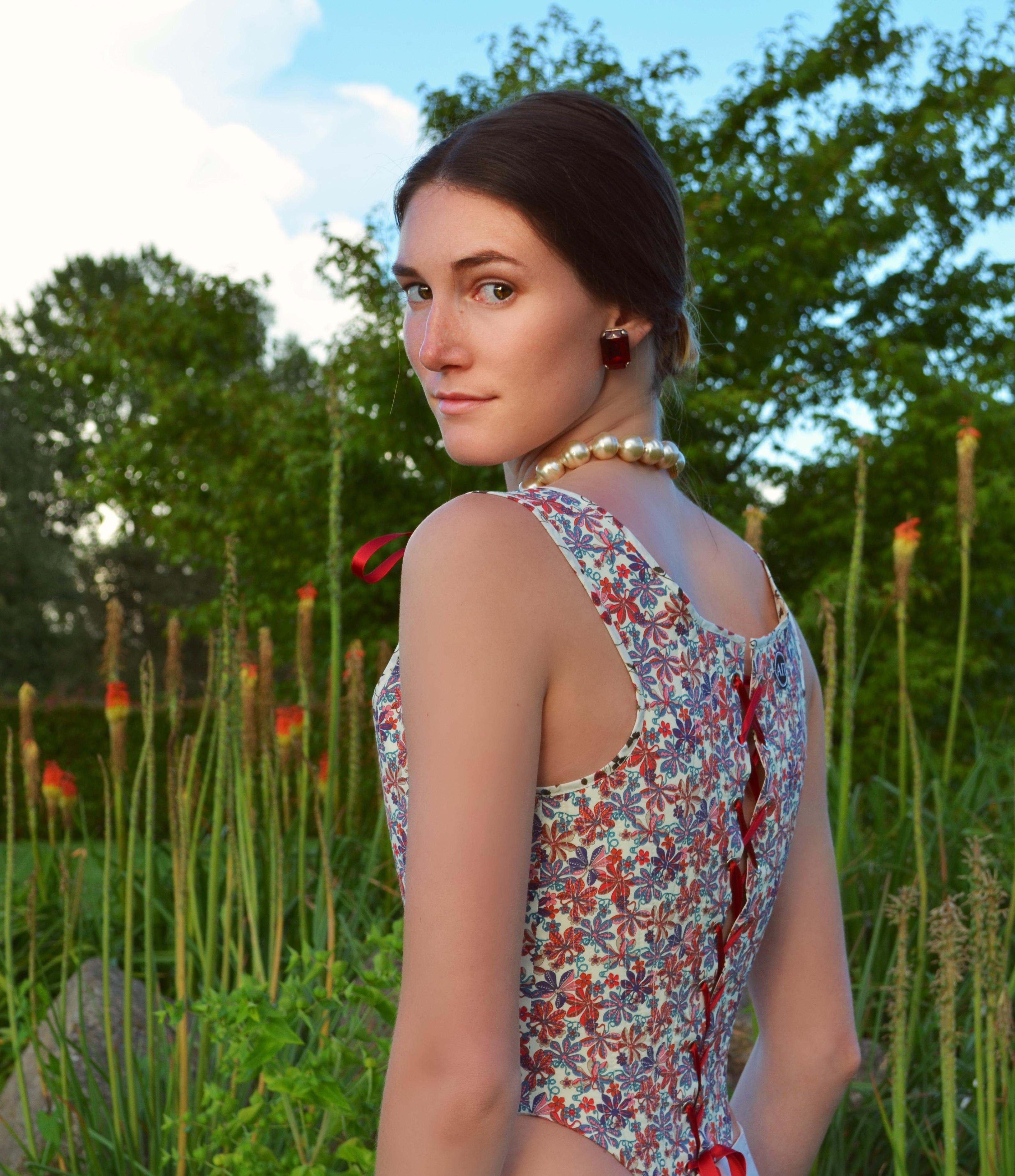 Our Liberty Fabrics Makers
A Chat With…
Alice Pons
Celebrating the worldwide creative community of Liberty Fabrics makers
Shop Liberty Fabrics
By: Jess Johnson
Our global network of @LibertyFabrics designers and textile artists provide a constant source of inspiration, combining imagination with unique talent and skill in their use of our iconic fabrics – and here at Liberty HQ, we always love to see what you've been making. In this instalment of the Liberty Fabrics Makers series, we chat to Alice Pons – an Italian fashion designer based in her hometown of Milan, who launched her eponymous womenswear brand specialised in corset making after graduating from the London College of Fashion in 2018.
Your collections combine antiquity and modernity – what are your key creative inspirations?
I spent my childhood in Milan, immersed in the art and rich history of my country – this fascination in artistic expression is the underlying inspiration for all my work. All my collections aim to take concepts entrenched in tradition and antiquity, and drag them forcefully into the modern era through bold and innovative design. I always get inspired by visiting museums and art galleries around the world.
I am passionate about

a

lot

of

artistic movements,

and

draw inspiration from Renaissance, Baroque, Rococo, Neoclassicism

and

Romanticism.
How many people are part of your team?
As the design director, I work on the creative process of all my collections – I am usually helped by a few university interns every year. I have all my pieces made by three skilled Italian seamstresses, all based in northern Italy. As we are such a small brand for now, I also have to dedicate myself to the business side of the brand – including all the digital marketing, social media promotion and website management.
Can you tell us about your designs made with Liberty Fabrics?
For Spring/Summer 2021, I have created some new pieces in pure Italian cotton. I chose four different Liberty prints from my local store in Milan and I used them to make two reversible 18th century corsets, so that both could be worn in two different ways.
Why do you love Liberty's Tana Lawn™ cotton?
I found this unique cotton perfect for making corsets as it is extremely soft on the skin, with a silk-like touch.
My favourite Liberty print

is

Love Letters – a modern design painted with watercolours

and

inspired by classic tattoos, with ribboned dedications

of

love

and

hope.
Is sustainability and ethical practice important to you?
All my products are designed and manufactured in Italy. Choosing to produce domestically and sourcing materials from Italy, not only contributes in cutting down a product's environmental impact by decreasing the freight emission of each item, but also aims to sustain my country's economy and help Italian manufacturers and small industries. I also chose to use only 100% recyclable and reusable packaging, in order to be as sustainable as possible.
Where has it been exciting to see your designs featured?
My designs have caught the eye of high-profile stars – photographers, models and actresses. In 2019, my designs were also featured in the 'Antisocial' music video by Ed Sheeran & Travis Scott – after that, my corsets became really popular with singers, for live shows and music videos: Jorja Smith, Mabel, CC Clarke, Rina Sawayama, Nathy Peluso, Charli XCX, Eliza Lovechild, Ella Eyre and the member of Little Mix group Jade Thirlwall have all worn my creations.

In the past two years, I have seen my collections featured in more than forty magazines – what really excited me was to see my designs published on Vogue Spain, Vogue Portugal and i-D magazine. I have also exhibited my collections across the world including London, Milan, St. Andrews, Durham, and in China and South Korea.
What's next for your brand – are you working on anything exciting at the moment?
I am now working on a very special project – I am designing a new collection, entirely sustainable and made of recycled materials that I have been collecting for the past three years. I have been planning it for so long, and I am really looking forward to it.
@LibertyFabrics lovers – we always want to see your creations. Upload and tag us with #LibertyCraftClub, so we can see what you've been making, and maybe we'll feature your work in our next series instalment.