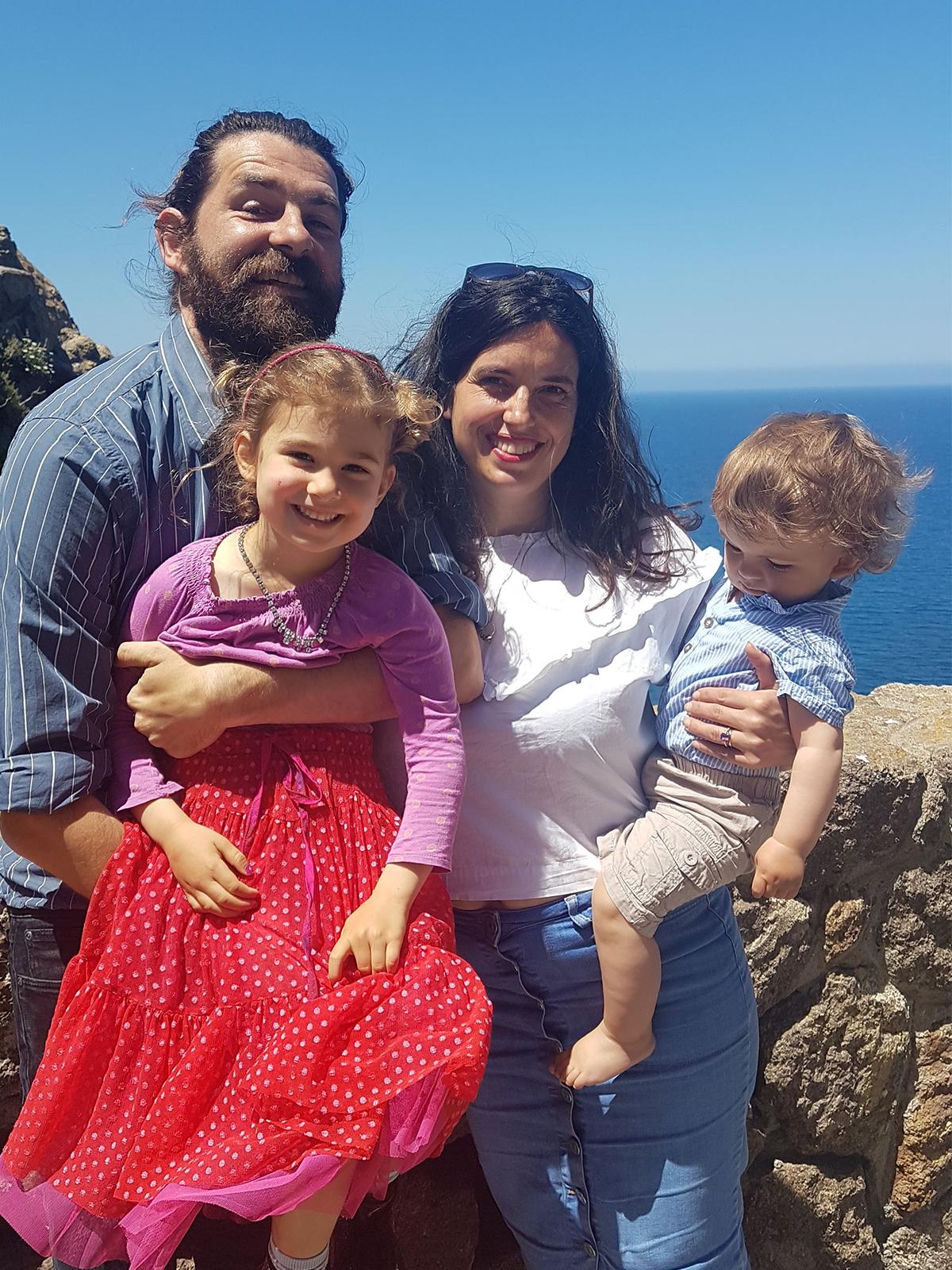 Motherhood Diaries
Rebecca Monserat
We talk to the co-founder of imaginative children's bedding brand Forivor about all things motherhood
Shop Forivor
By: Erin Irwin
Motherhood Diaries is a testament to modern-day parenting; from life-changing tribulations, to joyous milestones - and all the chaotic bits in between. Each month, we'll uncover a refreshingly honest account from the Liberty community, with the aim to support women who might otherwise feel frustrated, isolated or overwhelmed. Here, we invite all maternal figures to speak openly about their journey to motherhood, find light in each narrative and ultimately, a sense of solidarity.
Inspired by her work with British designer Katherine Hamnett and the Environmental Justice Foundation, Rebecca Monserat founded Forivor in 2016, alongside illustrator Alice Ruby Ross. A businesswoman, environmental advocate and mother to Remie, six, and Taryn, two, Rebecca speaks openly about her own motherhood journey, from the challenges of maintaining a healthy work-life balance to the importance of living in the moment, untethered from technology.
First and foremost, motherhood for me means unconditional love. It also means a wonderful and occasionally overwhelming responsibility to be guardians of tender young soles. A responsibility to try my best to guide them into compassionate and well-rounded adults and in this process learn a whole lot more about myself too. Motherhood is wonderful for so many reasons, but I love that it takes me back to my own childhood and lets me experience the world again through innocent eyes.
I always saw kids in my future, but it equally wasn't my sole focus especially as I always questioned whether or not it was the right thing to do morally considering the state of our planet. I spent my twenties living in Paris and generally living life to the full. I'm grateful for all I experienced before I had my daughter Remie at 34. She's now six and is always asking me to tell her stories of my adventures, and I look back and realise how lucky I am to have had such a rich life so far.
It took us quite a while to conceive Remie. I ended up using acupuncture and cranial osteopathy to help my body prepare and then finally I became pregnant after a three-week break from my job. It seemed so obvious to me afterwards that stress could have been one of my barriers to conceiving. My pregnancies themselves were straightforward after that and I'd say I really enjoyed them apart from a bit of dreaded nausea and the discomfort at the end but perhaps that is romantic hindsight! I remember climbing the Sugar Loaf Mountain in Wales where I live when I was about 36 weeks pregnant with my son Taryn who is now two and just being in awe of the female body and what we can do.
I loved being pregnant, particularly once my bump was showing, I'd never been comfortable wearing tight clothes as I'm on the curvier side, but I loved wearing tight dresses to show off my bump. I often wish I could be pregnant again, but I am definitely not having any more children for environmental reasons and because of the kind of births I had. I found pregnancy was an amazing reminder to celebrate myself as a woman. I feel so lucky that I had the chance to carry a baby, that I was able to be the creator of two incredible humans, and to be part of something that is so ordinary but yet so miraculous. Something that connects us to our pasts and to our futures.
I'd never

been

comfortable wearing tight clothes

as

I'm on

the

curvier side,

but

I loved wearing tight dresses

to

show

off my

bump.
I don't feel like I faced any outside pressure during my pregnancies, but I do know that I have put a lot of pressure on myself at times. It's hard not to. You want to give your child the very best of you and the world and unfortunately life is just not like that, but I think as women we fail to remember that enough. It's equally important for our children to see us struggle and not get things right as it is for them to experience all the magic that life has to offer. I just want to make sure that love underlines everything, even the harder times which we all surely have.
My births were both challenging in their own way and now I wish I had paid more attention to that intense transition into motherhood which for me was overwhelmingly amazing and traumatic in equal measure. After a very long labour and difficult birth where I lost a lot of blood I was completely depleted, I never dreamt for a minute that my baby wouldn't be able to breastfeed, but Remie had a tongue tie and just couldn't. That really broke me after the birth but somewhere I found the energy among the beauty of it all and the all-encompassing love to persevere. Three weeks of support from amazing friends, breastfeeding counsellors and a lot of determination later baby Remie thankfully was happily breastfeeding. I don't know what can possibly prepare you for that, but I wish I had known that what I was experiencing was normal too. Thankfully, my little boy Taryn took straight to the breast but again I needed time to recuperate from heavy blood loss and I know l am not the only woman whose body needs a lot of recuperation after giving birth. I do think there is a lot of work to do to encourage women to understand and feel comfortable taking the time they need to let their bodies recover and spend time quietly with their baby.
The most challenging part

of

motherhood

so far

has

to

be trying

to

grow a business

and

be

the

kind of mother I want

to

be.
My husband and I studied hypno-birthing together which completely changed my outlook. I had been really anxious about the birth but after doing the course I ended up feeling really confident and even deciding to have a home birth which was an amazing experience even though I did end up having to have Remie in hospital in the end. Looking back, I wish I had focused more on preparations for the fourth trimester which were much more challenging than the pregnancy itself but perhaps is glossed over with the perception often being that women should be back to normal and getting on with life as quickly as possible. One of my best friends has just become a postnatal doula and I love hearing her talk about her work and imagining how lucky those women are that get to have someone like her guiding them through those precious weeks and months after the birth. Now my children are older I always find reading Kahlil Gibran's 'On Children' a very good reminder of our role as parents.
The most challenging part of motherhood so far has to be trying to grow a business and be the kind of mother I want to be. My mum was dedicated solely to us, and I know how special that was for me to have her always available. I've tried to overcome that by working at nap times, after bedtime and trying to include my children in daily activities like cleaning, cooking and of course walks in nature that are such an essential part of daily life for me. I also couldn't have managed without Alice (my co-founder), she loves my kids and never minds if they are tagging along to trade shows or meetings. For the first few years of the business, we went pretty slowly as I wanted to make sure I was around for my kids while they were still young, but now they are a little older, it feels like we are ready to commit more time and energy. I go through waves of feeling like I have the balance right and waves where I feel like I need to do better on both fronts.
I haven't

let

family life stop

us from

having adventures whether

it's

going on long walks

or

heading

off on

big trips.
I was very lucky that I had some close friends living nearby who I used to do work swaps with. It was brilliant as we would spend the day together at one of our houses, with one of us looking after the babies while the other one worked and vice versa. Although this isn't for everyone, I really didn't want to be separated from Remie and it meant I could be around her with the added bonus of getting to have lunch with my friends. With Taryn I did try using a childminder, but it just wasn't for me or him. I hated leaving him unless he was 100% happy and so we muddled through with me working at nap times and at night. I had to be mega organised in that first year of having two kids as my husband was away all week working in London while I was on the side of a mountain in Wales holding the fort. I look back now and can't believe I managed to keep everything together. Despite all the tragedy that COVID-19 has brought to so many, there were some hidden blessings for my family as my husband was forced to stay home which has meant he's dropped his hours down and we now share childcare much more equally.
While I'd love to say my social life didn't change, in reality it had to and although there is a part of me that craves that freedom of pre-family life I still do get to indulge (pre-Covid) in the occasional night out. In other respects, I haven't let family life stop us from having adventures whether it's going on long walks or heading off on big trips. In 2015, when Remie was just six months old we travelled across Canada and America by train and after deciding not to fly as a family anymore for environmental reasons in 2019, we travelled all four of us on the train and the boat to Sardinia to my nieces christening and it was a brilliant adventure that I can't wait to do again one day.
I would tell my younger self to put my phone away more. In fact, it's what I need to tell myself now too, more often than I'd like to admit. I think phones are probably the biggest distraction and barrier between parents and our kids and really is a challenge of our generation. They are so useful when you have your own business as you can work when you are doing stuff with your kids, but the flipside is you are often not in the moment and that's all they really want. For you to share in their joy of a leaf or a shell or a pebble and we often miss it if we are just 'checking something quickly' - something I hear myself say too often!
I have so many favourite Liberty kids brands. For Christmas, I bought my daughter a Liewood water bottle with a cat print on it and a beautiful Verity Jones Liberty print headband which we both love - I want one in my size! I've invested in quite a few Mini Rodini pieces over the years for my kids as the quality is amazing and their designs are aimed at both children and parents which I love.