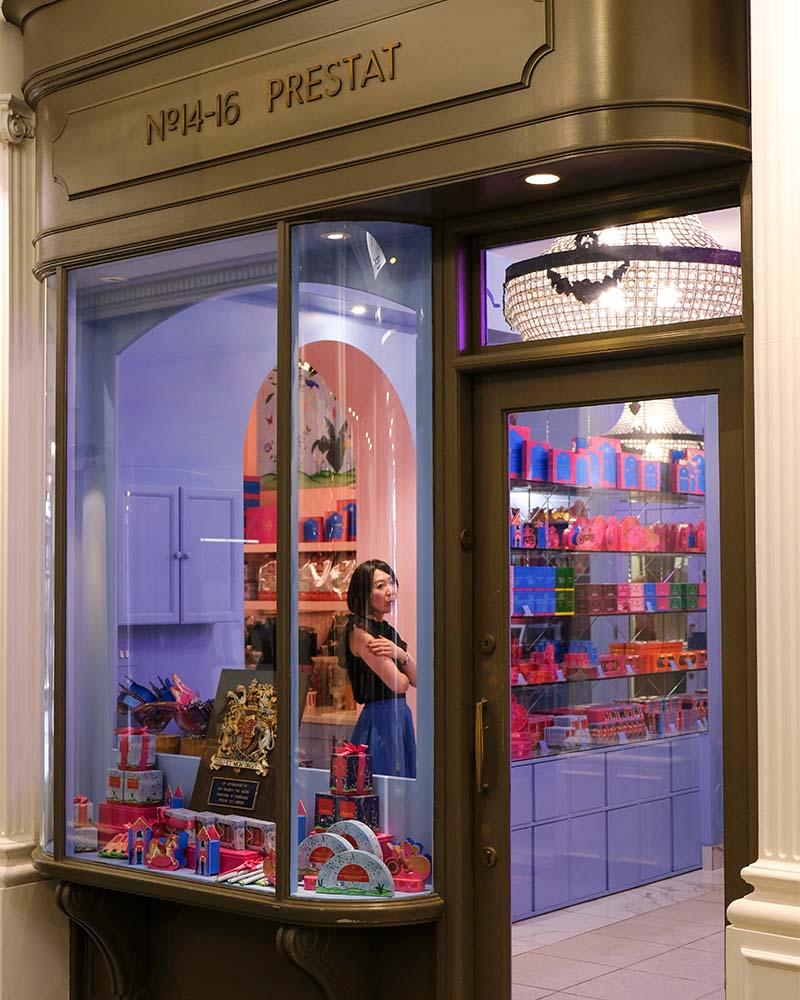 Meet the Producers
Prestat
As inventors of the chocolate truffle, Prestat has a history as rich as Liberty's – COO Micaela Illy reveals the key to the brand's unrivalled taste and quality.
Shop Prestat
By: Erin Irwin
Our Meet the Producers series is a testament to the skilled artisan makers behind Liberty's delectable food and drink offering. Each month, we'll spotlight a different British brand, giving you the chance to get acquainted with some of the finest micro-producers this nation has to offer.
Established in 1902 by the creator of the first chocolate truffle, Prestat is one of the world's oldest chocolate businesses. Its skilled chocolatiers use the finest ingredients to handcraft artisanal delights, founded on passion, grandeur, and eccentricity. Now owned by Domori, we discover how this royally approved brand continues to revive and modernise, while staying true to its heritage and unique, characteristic spirit.
Can you tell us a bit about Prestat's rich history and how it all began?
Prestat has a longstanding history of premium truffle making in the heart of London, dating back to 1902. The company was first established by Antoine Dufour, legendary creator of the chocolate truffle, who opened his first shop in central London on South Molton Street.
In 2019, Domori, part of the Italian Gruppo Illy, purchased Prestat with the mission to create deep supply chain synergies with their current chocolate operations. Prestat became the only sizeable UK artisan chocolatier to have complete control of the chocolate making process from tree to truffle or bean to bar, using only Domori's acclaimed single origin couvertures for all its production.
Where are you based?
All our truffles and chocolates are produced in our factory in Park Royal, West London. We also welcome our customers to our flagship store in the historical Prince's Arcade just off Piccadilly Street.
Prestat products have always been appreciated for their colorful and elegant packaging. How has the design process changed since the business was founded?
Prestat's whimsical, colourful and uplifting packaging originates from the London theatre scene. There have been multiple evolutions of the signature design, yet always respecting its characteristic spirit. We are currently working on the latest evolution of the Prestat design, staying true to the authentic identity of the brand whilst bringing in some new ideas and creativity.
We seek uncompromising quality

in

everything we do

and

make.
Where do you source your ingredients from?
We seek uncompromising quality in everything we do and make. Prestat utilises only the finest cocoa from Domori and their controlled supply chain, working closely with farmers to select the best beans from Colombia, Ecuador and Costa Rica. We aim to work with local and sustainable suppliers for our other raw materials and are continuously improving our procurement practices to reduce the environmental impact of our business and ensure ethical and socially responsible sourcing – it is a long continuous journey of change, to which we are fully committed.
What does your production team look like?
Our operating team, who we must gratefully thank for Prestat's long standing quality, is composed of approximately 80 people, many of which have been with us since the acquisition of the Park Royal facilities. The team, trained internally by the most experienced members, is split across production and packing – we highly value our diverse team, with more than 15 nationalities represented.
Can you talk us through your production process?
Most of our processes involve a lot of manual work, which we cherish and nurture as we believe it to be fundamental for the artisanal quality of our truffles. We begin with the recipe, a continuous creative and technical process which involves improving the quality of signature recipes as well as launching new flavours. The Domori chocolate we utilise, whether it's the Dark 73% or our Milk 38%, is a fundamental determinator of Prestat's unique quality and depth of flavor. To make our truffles, we start by cooking the heart of the truffle – the ganache. We then proceed by capturing the ganache in its chocolate shell. Lastly, we enrobe the truffles and add unique decorations by hand. The packing team ensure that each gifting box is meticulously packed to perfection.
What does it mean to be the holder of a Royal Warrant?
Prestat was awarded its first Royal Warrant in 1975 by Her Majesty The Queen, recognising the company as a supplier of chocolate to the British Royal Household. In November 1999, Prestat was awarded a second Royal Warrant by Her Majesty, Queen Elizabeth The Queen Mother, cementing its status as one of the most luxurious chocolatiers in the world. We feel extremely honoured and privileged to have held two royal warrants throughout our history, a badge of great esteem and recognition that proudly exhibit British enterprises around the globe. It motivates everyone who works for us.
How does your brand philosophy reflect sustainable practice?
Prestat's mission is to enrich human connections by creating premium uplifting chocolates for moments of shared joy, in an authentic, spirited, and ethical manner. In practice, this reflects our focus on social responsibility which starts from within our corporate culture and employment practices. From valuing diversity, to hiring from less privileged backgrounds, to offering training opportunities, we continuously strive to create value for our team. We also work with our community to extend this philosophy outside our factory – as an example, we have long supported The Queen Elizabeth Scholarship Trust and its mission to foster British craftmanship. Environmental sustainability is currently reflected in our chocolate short, traced, bean to bar supply chain, our waste reduction practices, and the overall preferred choice of sustainable or environmentally friendly suppliers.
How do you come up with your flavours?
Our new product development team are artists more than chocolatiers – their creativity is inspired both from traditional best kept recipes, which we work to revive and modernise, to an obsessive attention to new market trends, flavours, and ingredients.
Why did you choose to stock at Liberty?
Liberty is an iconic retailer which Prestat has cherished for many years. As a legendary hot spot for Londoners, being able to showcase our brand at Liberty emphasises Prestat's longstanding London born heritage and spirit. Liberty's pursuit of craftsmanship, design, and creativity could not be more aligned to Prestat's own philosophy.
Liberty's pursuit

of

craftsmanship, design,

and

creativity could not

be

more aligned

to

Prestat's

own

philosophy.
Lastly, what's next for Prestat?
These are incredibly exciting times for Prestat. The leadership team has recently been renewed, with Micaela Illy joining as the company's COO. The crystalline mission for the years to come is focused on two pillars. Firstly, foster and enliven the Prestat brand, cherishing and leveraging its more than 100-year-old London based history and its truffle's masterful craftmanship. Secondly, to uplift the company's commitment to social responsibility and improve the environmental impact – this will be executed with increasing focus and dedicated measure to the firm's stakeholders, to the introduction of sustainability practices such as less packaging designed to reduce resource use, to a new suppliers code of conduct, to energy efficiency measures and carbon tracking.