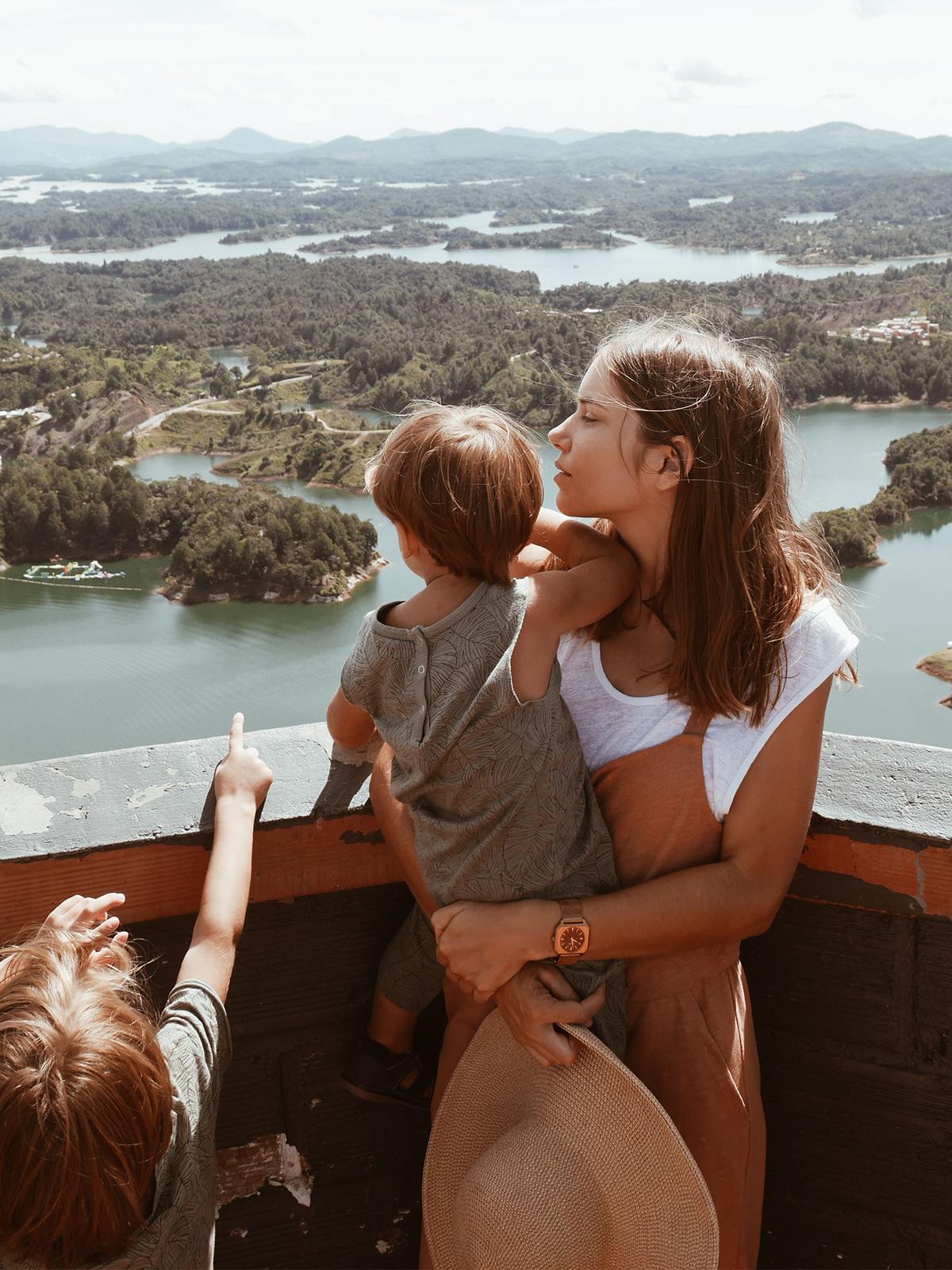 Motherhood Diaries
Isabelle Gavray
We talk to the founder of sustainable kids' watch brand Mini Kyomo to discuss all things motherhood
Shop Mini Kyomo
By: Erin Irwin
Motherhood Diaries is a testament to modern-day parenting; from life-changing tribulations, to joyous milestones - and all the chaotic bits in between. Each month, we'll uncover a refreshingly honest account from the Liberty community, with the aim to support women who might otherwise feel frustrated, isolated or overwhelmed. Here, we invite all maternal figures to speak openly about their journey to motherhood, find light in each narrative and ultimately, a sense of solidarity.
Eager to find the perfect watch for her son, entrepreneur Isabelle Gavray, decided to design one herself – and so Mini Kyomo was born. A successful business owner and soon-to-be mother of three, Gavray shares an honest account of her own motherhood journey, from the struggles of uprooting young children, to trusting your instincts and the importance of female friendships.
I have always known that I wanted to be a mother. To me, motherhood means wanting to be the kindest version of yourself, seeing the world through your children's eyes and being reminded every day of what really matters; to live in the moment. Being a mother of small children also means being tired and never left alone, but then realising in one loving or funny moment that it's all worth it. Having your heart always filled with love is the best feeling in the world.
To me, motherhood means wanting to be the kindest version

of

yourself, seeing the world through your children's eyes

and

being reminded every day

of

what really matters;

to

live in the moment.
Right now, I'm in the middle of my third pregnancy and I've loved each and every one of them despite the tiredness, nausea and discomfort. Being pregnant makes me feel more emotional. Some days I struggle with my mood but most of the time I feel more sensitive in a good way, connected to my instincts which is a great feeling.
The first year into motherhood completely transformed me. At first, I changed because I was concerned about my son's wellbeing, but I ended up becoming more confident in general, not only as a mother. I learned to really listen to myself, I became much more connected to my intuition and when my second son was born, I felt much more at peace.
Life post-pregnancy has been challenging for many reasons. My firstborn was a high need baby and when he was only two months old, we moved from Mexico to Verona, Italy because of my partner's new job. I didn't know anyone, and my partner worked a lot, so I had little in way of support. I wanted to start a new business but felt frustrated at the lack of time I could dedicate to it and was never able to accomplish much in a day. After seven months we decided to move to Barcelona (a city that I have always loved) and I immediately met some amazing mothers who are still my friends today. When I had my second baby, two years after the first, everything felt completely different. I felt more supported and more confident as a mother. I had a wonderful home birth and for the first three months I had no goals other than sleeping, breastfeeding, taking care of my newborn and spending quality time with my eldest son – so that's what I did, without any guilt; I really enjoyed that period!
I'll never be

a

Pinterest-perfect mum who lives

in a

super tidy house, bakes cakes

and

makes crafts with her children every day

and

I'm ok with that!
My partner's role changed a lot in the first two years of us becoming parents. For the first three months after the second birth, he was less busy with work and assumed 100% of the domestic duties. Today, I can say that we share all household duties evenly, and the mental change that comes with this is important. My partner isn't 'just helping', he is in charge as much as I am. It may seem obvious, but I can see around me that in many families, women are still burdening themselves with the largest share of domestic duties. Two things allow me to balance work, domestic duties and childcare: equal distribution of the chores with my partner and embracing the chaos! I'll never be a Pinterest-perfect mum who lives in a super tidy house, bakes cakes and makes crafts with her children every day and I'm ok with that!
I was 27 when I gave birth to my son, and the first in my group of friends to have a baby. Right after giving birth, I felt pressure to go back to my life pre-pregnancy, to keep up the same rhythm, lifestyle, work and social life – basically to pretend as though nothing special had happened when I was living the most transformative experience of my life.
If I could give any advice to my younger self, or any mother-to-be it would be to TRUST YOURSELF. Nobody knows your baby better than you do. I learnt to set healthy boundaries with others and became more assertive.
There are so many Liberty Kids' brands that I love. My particular favourites are Bobo Choses and Oeuf NYC for clothing and Liewood and Olli Ella for their cute accessories!