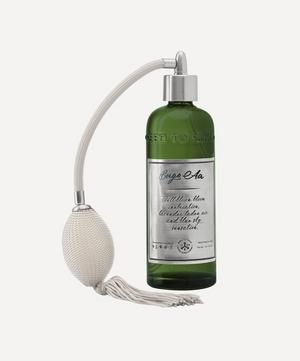 SEED TO SKIN
Winter Smoke Room Spray 150ml
This product earns 405 loyalty points
Editor's Notes
This Winter Smoke room spray from SEED TO SKIN tells the tale of an idyllic winter at Borgo Santo Pietro – the 13th century Tuscan estate-cum-five star retreat on which the brand was born.
Notes of cedar, spice and languid smoke give pause for retreat by the fire. It recalls woodland walks, medieval stories by a roaring hearth and the taste of autumn fruits savoured in your favourite setting. Intensely rich and warming, this perfectly balanced blend of spices, woods and powerful musky undertones will be spritzed and enjoyed throughout this season and beyond.
Read more
Read less
Features
Natural

Cruelty Free

Sustainable Packaging
150ml
Room spray
Notes: Cedar, Spice, Smoke, Wood, Musk
Signature green glass bottle with atomiser
All-natural, active ingredients grown on the founder's Tuscan estate and surrounding areas
Organic
Cruelty free
Read more
Read less
Ingredients
Ethyl alcohol, (R)-p-mentha-1,8-diene (Limonene), reaction mass of 1-(1,2,3,4,5,6,7,8-octahydro-2,3,8,8-tetramethyl-2-naphthyl)ethan-1-one and 1-(1,2,3,4,6,7,8,8a-octahydro-2,3,8,8-tetramethyl-2-naphthyl)ethan-1-one and 1-(1,2,3,5,6,7,8,8a-octahydro-2,3,8,8-tetramethyl-2-naphthyl)ethan-1-one, α-hexylcinnamaldehyde (hexyl cinnamal), Essential oil of Canarium Commune (Burseraceae) obtained from gum by steam distillation, Linalyl Acetate, Linalool, Eugenol, Pin-2(10)-ene, [3R-(3α,3aβ,7β,8aα)]-1-(2,3,4,7,8,8a-hexahydro-3,6,8,8-tetramethyl-1H-3a,7-methanoazulen-5-yl)ethan-1-one (Acetylcedrene), (1S,5S)-2,6,6-trimethylbicyclo[3.1.1]hept-2-ene, Caryophyllene, Bulnesia Sarmienti, ext., Geranyl Acetate, Cinnamaldehyde (Cinnamal)
Read more
Read less
About Seed to Skin
SEED TO SKIN is the breakthrough skin care line from cosmetologist Anna Buonocore and Jeanette Throttrup, a naturalist and founder of 13th century Tuscan estate come five-star retreat Borgo Santo Pietro. Unfaltering in their belief that a skin care line could combine all-natural ingredients with advanced science, SEED TO SKIN was born. At Borgo Santo Pietro's onsite laboratory, the duo, along with spa manager Tracey Mallalieu, developed an advanced molecular delivery system which deposits all-important vitamins and minerals where they're best absorbed and retained by skin – positioning each potent product in the range at the height of its effectiveness.
Read more
Read less