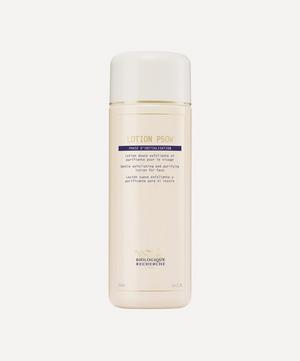 Biologique Recherche
Lotion P50W 250ml
This product earns 629 loyalty points
Editor's Notes
Lotion P50W is an exfoliating acid toner from French clinical skincare brand, Biologique Recherche – suitable for sensitive, thin and reactive to normal skin types.
Founded over 40 years ago with a vision of developing formulations for skincare professionals, Biologique Recherche has a reputation for impressive results based on a clinical approach. Offering a range of four different P50 Lotions, each providing the same core benefit but with slight changes dependent on your skin type, these acid toners gently exfoliate the skin. Lotion P50W has a gentler approach than the other iterations making it suitable for thinner, reactive and normal skin types. Formulated with arnica for its anti-inflammatory and healing properties, this chemical exfoliator soothes while purifying, regenerating and maintaining the pH of the epidermis. Gently renewing the skin over 50 days – hence P50, 'peeling' in '50' days – this lotion will leave skin smooth, clear and radiant.
To find out which formula is right for you, email biologiquetudor@libertylondon.com, call +44 (0)20 8159 6532, or visit the counter in-store on G and have your Biologique Recherche Skin Instant® determined by an expert.
Read more
Read less
Features
Apply SPF after application
Do not use on eye contour
Do not use if exposed to direct sunlight
Do not use Lotions P50 alongside AHAs or vitamin A formulas
Do not use Lotions P50 after invasive medical or aesthetic treatments up to one month
Do not use Lotions P50 after facial peel or medical laser treatment
Do not use on open wounds, burns, damaged or irritated skin
Do not use on sensitive areas unless given professional advice
250ml
Acid toner
Suitable for sensitive and normal skin types
Targets blemishes, acne, dullness, flakiness, fine lines, uneven skin tone and texture
Leaves skin gently renewed, purified and regenerated
Formulated with exfoliating, regulating and moisturising agents: Poly, Alpha and Beta-Hydroxy-Acid Complexes, Cider Vinegar, Phytic Acid, Sulphur, NMF
Formulated with purifying and sebum-regulating agents: Magnesium Chloride, Vitamin B3, Horseradish, Burdock, Capsicum and Panama Wood Bark Extracts
Formulated with calming agents: Arnica Extract
HOW TO USE
For the first two weeks of use, apply a few drops to dampened cotton pads with cold water, and press and release, patting the product all over face, neck and décolleté, once in the evening. Please do not rub and only pass over each area once. After two weeks of use, if the skin is not sensitive to the product, switch to dry cotton pads.
Read more
Read less
Ingredients
Citric, lactic and malic acids (AHA) , Salicylic acid (BHA), Gluconolactone (PHA), Cider Vinegar, Sulfur, Phytic acid, Magnesium Chloride, Horseradish extract , Vitamin B3 , Burdock extract, Capsicum extract, Soapbark extract, Arnica extract, Reconstituted Natural Moisturizing Factors (NMF)
Read more
Read less
About Biologique Recherche
Founded in Paris over 40 years ago with a vision of developing formulations for skin care professionals, Biologique Recherche has a reputation for impressive results based on a clinical approach. Combining the expertise of each founder – a biologist, a physiotherapist and a doctor – authenticity and performance is at the heart of each product and treatment. Containing high concentrations of botanical, marine and biological extracts, every formula is powerful, effective and innovative. Delivering immediate and noticeable results, its range of products are designed to suit a wide range of skin types and concerns.
Read more
Read less