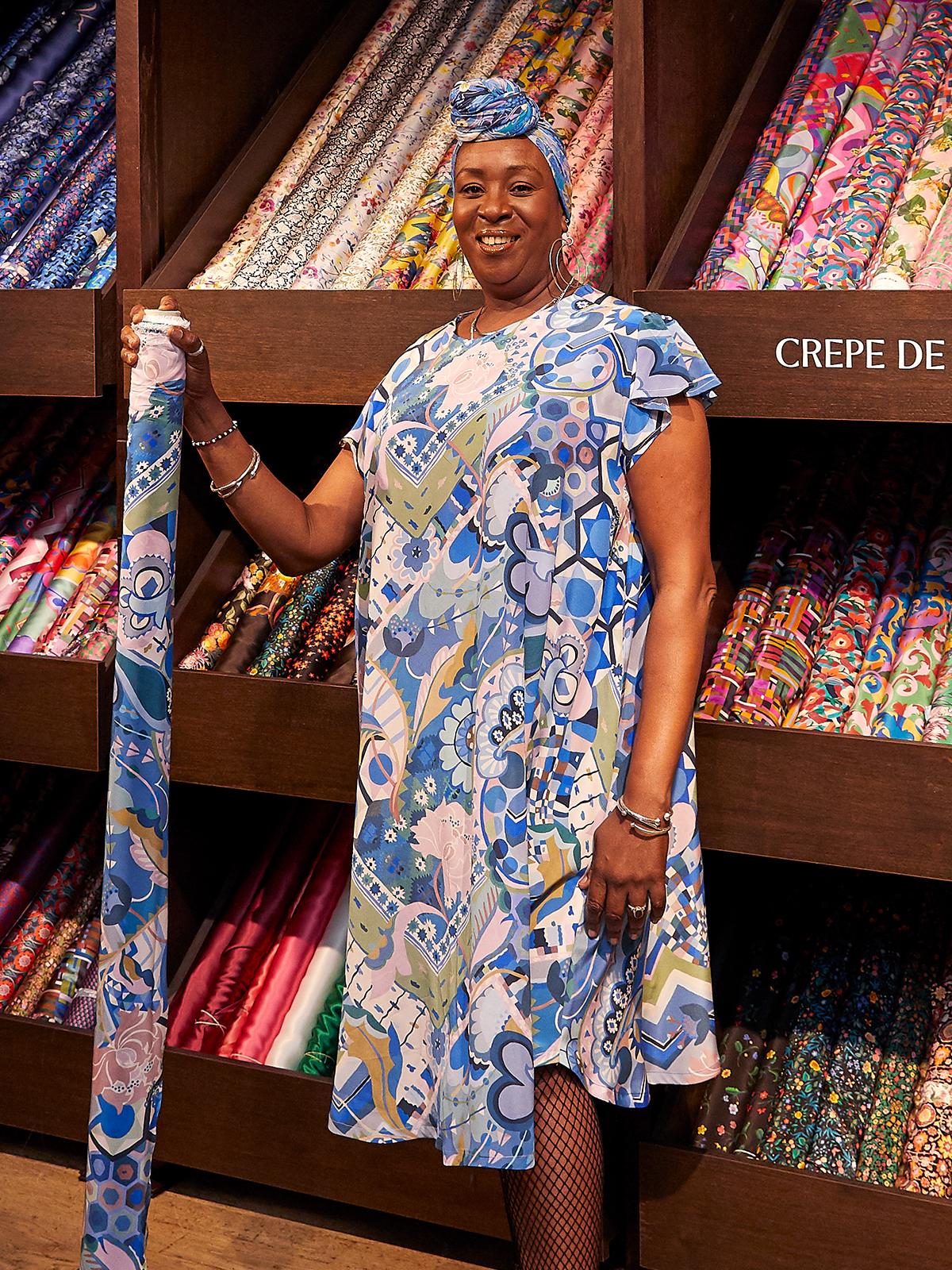 The New Collectables
Liberty Staff Makes
Our in-store dress fabrics department team know the Liberty Fabrics selection inside out – here, they show us their latest clever garment makes and new-season print favourites
Shop the collection
By: Jess Johnson
From advising on sewing different fabric bases to helping you find the perfect print to complement your next project, the Liberty dress fabrics and haberdashery department team are always on hand with a wealth of knowledge and expertise. If you can't pop in to visit them in store, read on below to discover what the team has been up to with their latest makes, featuring designs from Autumn/Winter 2021's The New Collectables range.
Hi I'm Julia, I've worked at Liberty almost three years now and I work in the dress fabric department. Before that I was in the Food Hall downstairs.

This is the Marie Antoinette fabric, which I chose because it has a lovely Rococo feel. And I love Tana Lawn™, it's so soft and versatile.

I made a shirt dress – I basically copied a pattern of a dress I already own, so now I have two favourite dresses. I added these mother-of-pearl buttons that I had at home as well.

My favourite memory at Liberty is quite a recent one – after the third lockdown we were prepping the shop, making sure everything was looking perfect – everyone was so excited that we were finally open again.
I'm Eba and I've worked in the haberdashery and dress fabrics department for over three years. My team is the best ever, they make every day a joyous one.

From the new season collection I chose Marie Antoinette because I love the black and gold design, which is very intricate and detailed.

I used the fabric to make the Thea Boho Sleeve Shirt. It's my favourite of the Liberty sewing patterns – such a unique style and I love the ruffled sleeves.
My name is Meskerem Zewde and I have been working in dress fabrics for nearly two years. It's exciting to work at the best shop in the world – Liberty is a very unique and individual British store. I love Liberty's history, for instance its association with William Morris. I studied textile design, and this historical tradition flows throughout the company.

I have chosen Linen Garden from the new Autumn/Winter 2021 collection, on crepe de chine silk fabric. The prints have a very warm shade – feminine and traditional, like historical art works. Linen Garden reminds me of a costume design in the V&A Museum – an ivory silk satin dress embroidery with pearls, beading and gold thread needle work. Inspired by a 1920s vintage cocktail dress, I have decided to create my own tea dress from crepe de chine – this fabric gives a fluid effect and is elegant and feminine, with a lovely feel.

I also chose Osterley on crepe de chine silk, from the same collection. The print features a bleeding vine effect – I love the gouache paint used to paint the design, which gives a matte effect to the fabric. I was inspired by a '50s classic tailored shirt, which I decided to create in my own way – a classic blouse with a vintage feel, introduced with a contrast plain crepe de chine fabric for the cuffs, yokes and front details. It's traditional, but with a contemporary twist.
I'm Mãgė, from the dress fabrics department. I've worked at Liberty for around three years – my favourite time is always the happy people in the store over the Christmas period.

From The New Collectables collection, I chose Patchwork Canvas on crepe de chine, because it looks like a modern art painting.

I made two pieces, the 101 Trouser and Box Box patterns from Merchant & Mills.
I'm Alison, I work in the dress fabrics department. I have been at Liberty for over 30 years, I've worked in various departments, and now I'm situated in dress fabrics – the best department!

I have chosen Studio Bohemia, from The New Collectables – it's a celebration of Liberty's scarf heritage, inspired by 1970s archival motifs.

I made this swing dress. I made it from a pattern which I 'hacked' – basically I took the top of one pattern and adapted the sleeves so you get this frill design. And then I wanted a bit of looseness, to show off the actual design of the print.

My fondest memory is walking through the door of the building all those years ago and thinking, 'Wow, I'm going to work here one day.' And also, doing a photoshoot with my mum and my daughter wearing Tana Classics – incorporating that into my life was the best.
I'm Rachel, I've been in the business almost seven years – originally I was working in dress fabrics but then moved into haberdashery, as it gave me the opportunity to learn new crafting skills and implement my technical training on a more specialist basis.

I chose Revival from The New Collectables. Liberty is synonymous with florals, but I always find it refreshing when they interpret it in a way that isn't hyper-feminine. The green colour palette stood out to me – I always enjoy wearing prints that you could imagine being on your grandma's living room curtains in the '70s.

I made this simple dress using the Merchant & Mills Trapeze Dress pattern, which altered I slightly for a more streamlined silhouette. I made it without sleeves so I could wear a turtleneck underneath, in keeping with the retro style of the print.

We hold events in the haberdashery department where creatives from brands and customers alike can come in and network, show their creations, share knowledge and really show support for one another. I think it's wonderful that Liberty, being known for its creativity, encourages and provides space for its clients to continue that long-held tradition of a place where creative souls and minds meet.