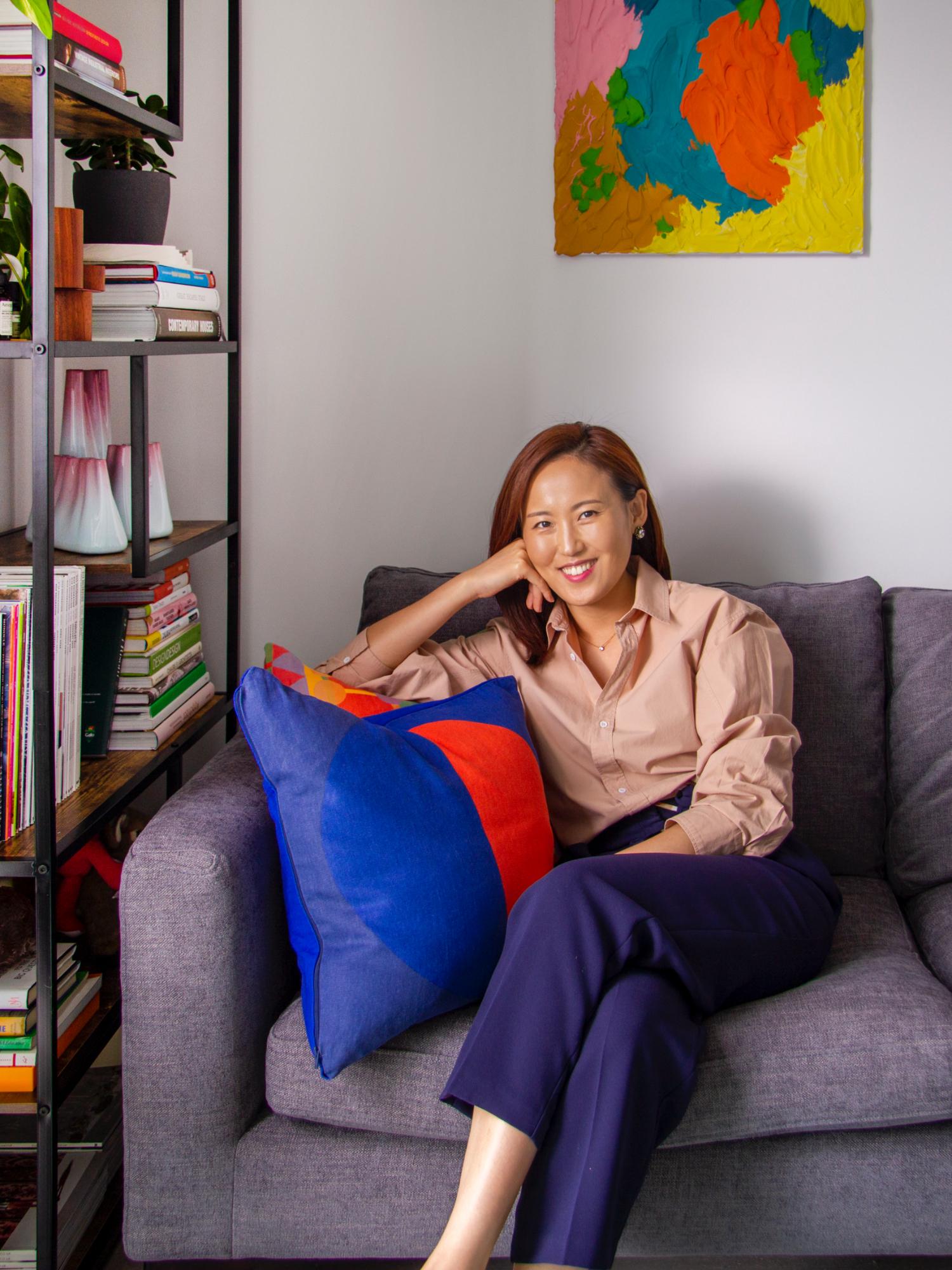 Home of the Artistic Shopper
Hyunhee Hwang
Hyunhee Hwang of interiors brand Extra&ordinary Design opens the doors to her London home
Shop Extra&ordinary Design
By: Erin Irwin
Known for her innovative approach to product design, London-based Hyunhee Hwang invites us into the modern home she shares with partner and fellow designer, Massimo Cappella. Jarring colour combinations and an impressive plant collection punctuate the apartment's contemporary exterior, seamlessly fusing art and function. The result is an inviting, harmonious space filled with stories to share. Join us as we venture inside…
How long have you lived in this house? Who do you share it with?
My partner and I moved in this modern apartment six months ago. Located on the 13th floor, it offers great views towards North London and is a great spot for taking in the beautiful sunsets.
What does 'home' mean to you?
Home means comfort and liveliness to me. Home should be a space where you can feel joy and fun with friends and family. However, it must also be a functional space to support my lifestyle which revolves around great quality rest and cooking.
How would you describe your interior aesthetic?
Simple and neutral but capable of being versatile with my great love for plants and creations.
Does this sit back to the aesthetic of your brand?
Not completely. My brand is about what I desire to create. My home is what I feel most comfortable with. I would say my current space is a blank canvas which offers room for the multiple, seasonal decorations that I create.
I often use

my

own products

to

decorate

my

home as it inspires

and

encourages me

on

an emotional level.
In which room do you spend the most time?
I mostly spend my time in the living/dining room eating, reading, and watching.
What's your entertaining style?
I love experiencing diverse things, so I often go out to restaurants, bars, and shops to see and experience different environments. London is the best place for me to explore various styles of cultural activities.
Are you influenced by your environment?
I am a visually driven person, so aesthetics and how things are arranged tend to impact me in both physical and emotional ways. Alignment and visual balance are very important when it comes to both designing and decorating. To be highly encouraged and motivated every day, I use my products to decorate my space. Most of the time, I only see my objects as commodities at work but displaying them in my own home gives opportunities to revive my ambition and appreciate the achievement.
How did you go about decorating/furnishing each room?
I truly believe that 'Form follows function'. So, for me, practicality always comes first. I then add in bits of decoration, fabrics, and lighting. I think it's the best approach when you don't have the luxury of excess space.
Do you have any go-to interior brands?
I don't really have go-to brands for interior design, but I love little, curated homeware shops. Even during holidays, I go and check local shops and see if there is anything I love, especially locally produced. Every item I own carries a memory from each trip. Eventually, my home will become a personally curated, harmonious space filled with stories to share with friends and family.
Do you have a favourite piece of furniture or objet?
I love my halo lamp. It's by furniture designer Massimo Cappella, who is also my life and business partner. It is minimal, sleek and highly functional and allowed me to extend my plant collection into our hallway, which is void of any natural light. Once the lamp is on everything else becomes invisible, so the object or plant displayed in the center looks as if it is suspended.
Are there any interior trends you're particularly into right now?
I appreciate all kinds of interior design trends. My style has evolved so much since I began in the design field. As an industrial designer from South Korea, I was into minimalism, perfection, and Bauhaus. After moving to London, I was exposed to a multitude of diverse trends from different cultures and disciplines which greatly influenced my own aesthetic. Now I am into a range of interior trends such as modern retro and eclectic simplicity which creates tension between two different worlds that are effortlessly layered in harmony.
Are you drawn to specific colourways or design styles?
I have always loved neutral tones, but in recent years I have become bolder with colour in both my design practice and in my daily style. Colour is one of many elements that I feel for as a designer. I tend to be drawn to well combined and finished things between form and colour. They might sometimes present energy, allure, or oddness which is hard to describe why I fall so much.
Where do you look for interior inspiration?
Magazines, other artists, and designers' work in other disciplines. I also take inspiration from museums, architecture, and stores. London offers it all.