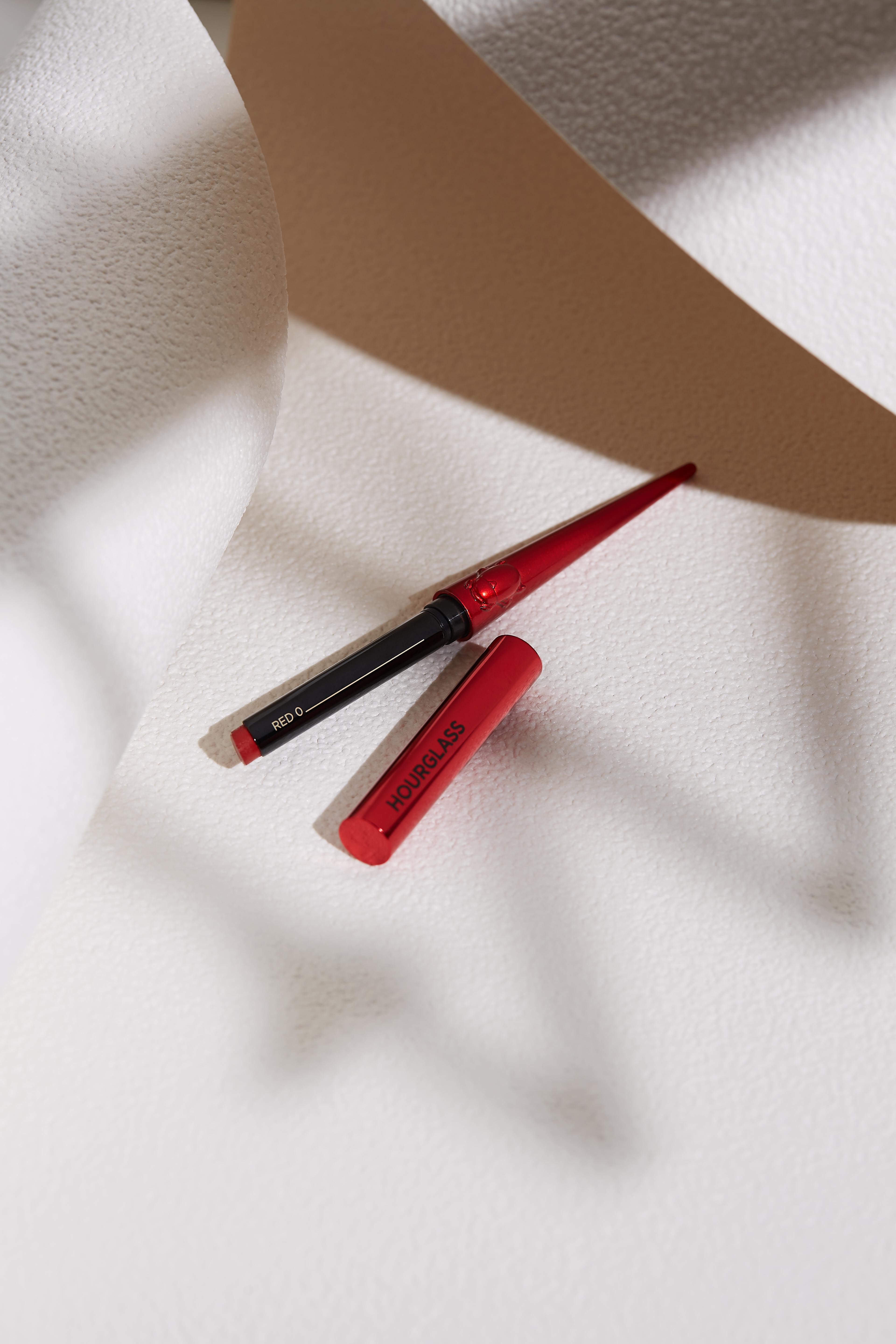 Hourglass
Red 0 Vegan Lipstick
Founder Carisa Janes celebrates a milestone moment for the conscious beauty brand, as it takes its biggest leap towards becoming fully vegan with a revolutionary red lip colour
Shop now
By: Sarah Dancer
An ethically-conscious makeup brand constantly striving for better, Hourglass taps uncharted beauty territory with a ground-breaking carmine-free red lipstick whose vibrancy outshines every one of its rivals – and here, the brand's founder Carisa Janes tells us how…
Red 0 symbolises Hourglass' commitment

to

animal welfare: zero animal biproducts, zero animals harmed
Of all the ingredients plunged into the ethical beauty debate, carmine is one of the most controversial – yet it still appears in the vast majority of today's colour cosmetics. "Hourglass developed Red 0 to replace carmine, the beauty industry's go-to red pigment made from crushed female insects," explains the brand's founder Carisa Janes, "with up to 1000 insects used to create just one lipstick." A shocking revelation for some, it begs the question as to why this ancient pigment is still so widely used in makeup. The answer is simply that carmine's extreme vibrancy has been – until now – irreplicable. "Finding a comparable substitute was one of Hourglass' greatest challenges in the transition to becoming vegan," Carisa adds. And while there's no shortage of vegan lipsticks out there, look close enough and you'll find that richer-than-rich reds aren't on the menu.
After over 170 experiments with over 30 pigment combinations and 17 full formulations, Hourglass' patent-pending carmine alternative, Red 0 was born. This specific ratio of FDA approved pigments almost exactly replicates carmine's brilliant crimson hue – a momentous feat not only for Hourglass, but for the beauty industry at large.
The shade Red 0 comes

from the

lipstick's namesake vegan ingredient,

which

gives

it a

brilliant red hue
An integral part of the storytelling process, it was important to Carisa that the lipstick's packaging reflected the spirit of the formula, and honoured the animal it exists for: "Red 0's polished red applicator is adorned with a beetle that represents Hourglass's commitment to animal welfare." And, as a special addition to the cult Confession Lipstick collection, it maintains the same sustainable design – "Also refillable, it is designed for interchangeable use with the entire collection of Confession refill shades."
A universal Hollywood red, at once sustainable, vegan and cruelty free – could this finally be the lipstick that ticks all the boxes? We think it just might be.