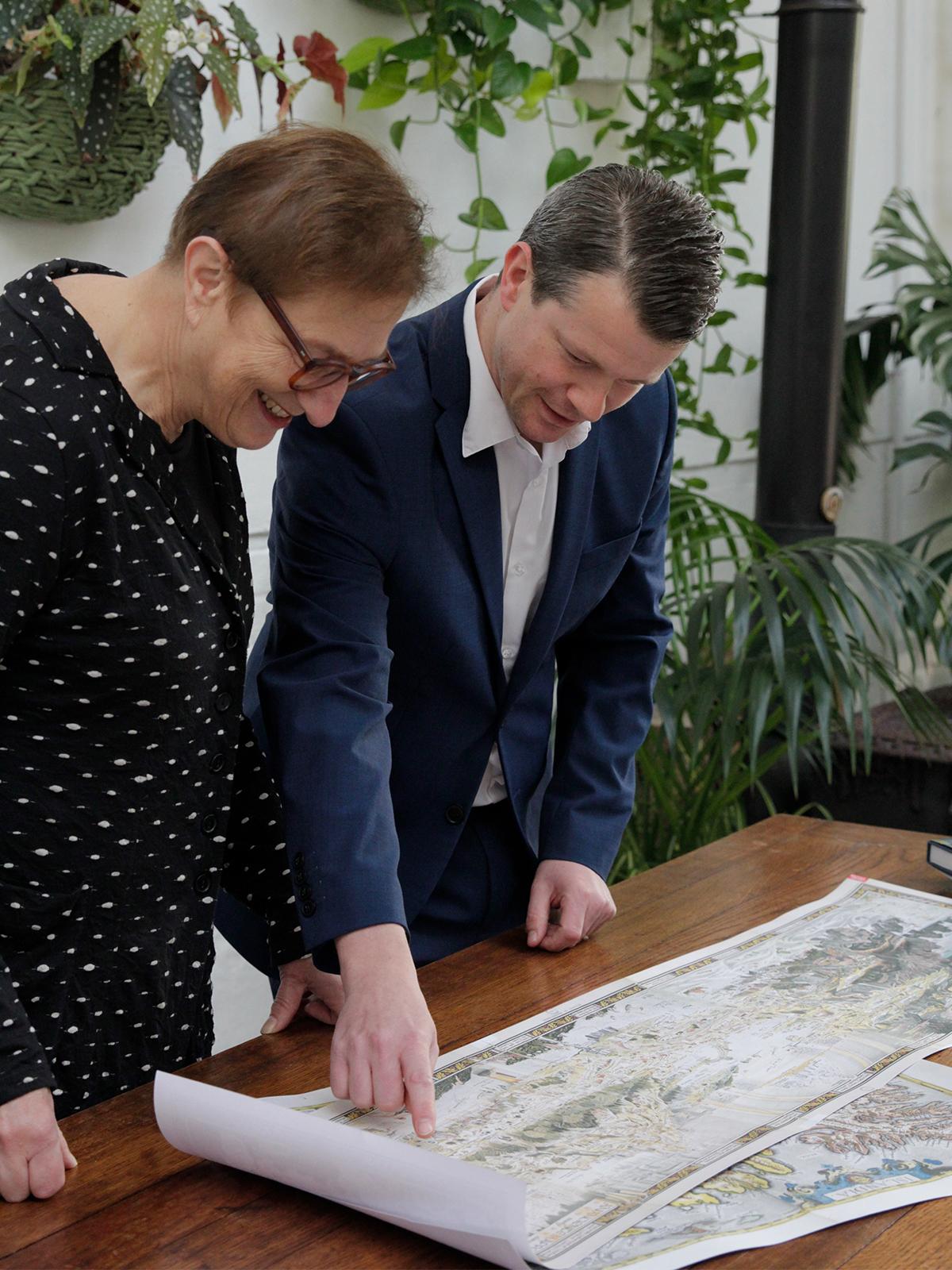 Liberty Fabrics x The British Library
Mapped Out
The story behind two new antiquarian map-inspired artworks from Liberty Fabrics, created in collaboration with the British Library
Shop the collection
By: Jess Johnson
For Spring/Summer 2021's Atlas of Dreams collection, the Liberty Fabrics designers and archivists worked with the British Library to create two unique new artworks. With antiquarian map curator Tom Harper, the team viewed an assembled selection of maps dating from the 15th to 20th centuries, drawn from across the British Library's incredible collection. The designers then redrew their favourites in the studio, translated into fantastical fabric prints.
The appearance

and

'presence' of early maps can be truly inspirational when experienced in person,

and

over the course of the afternoon the designs seemed to emerge from the maps' lines, colours

and

patterns.
The 'Story Island' print is based on a fantasy map dating from 1918, the 'Ancient mappe of Fairyland' by Bernard Sleigh. Large and colourful with a bird's-eye view, the map is teeming with intricate scenes and vignettes drawn from Peter Pan, Hansel & Gretel, King Arthur and The Odyssey. As Liberty archivist Anna Buruma notes: "There are obvious dark and light sides to this world, and our designers have managed to get those in without unbalancing the print. It sweeps and flows across the fabric – but has lost none of the detail of the original map."
When someone wears 'Story Island', they can while away the hours spotting the many fairy stories

and

myths depicted on the map.
'Sea Myths' was inspired by the sea monsters discovered on Italian and Netherlandish maps from the end of the 16th century. Library curator Tom Harper explains: "'The Liberty Fabrics designers extracted a number of intriguing figures and motifs from the map – I'm impressed because I hadn't noticed just how strong these elements were before, and I know the map very well indeed. They capture the sharp engraved lines, which is thrilling to see on fabric – it says a lot about the quality of the image, the printing process and the materials used."
SHOP THE PRINTS