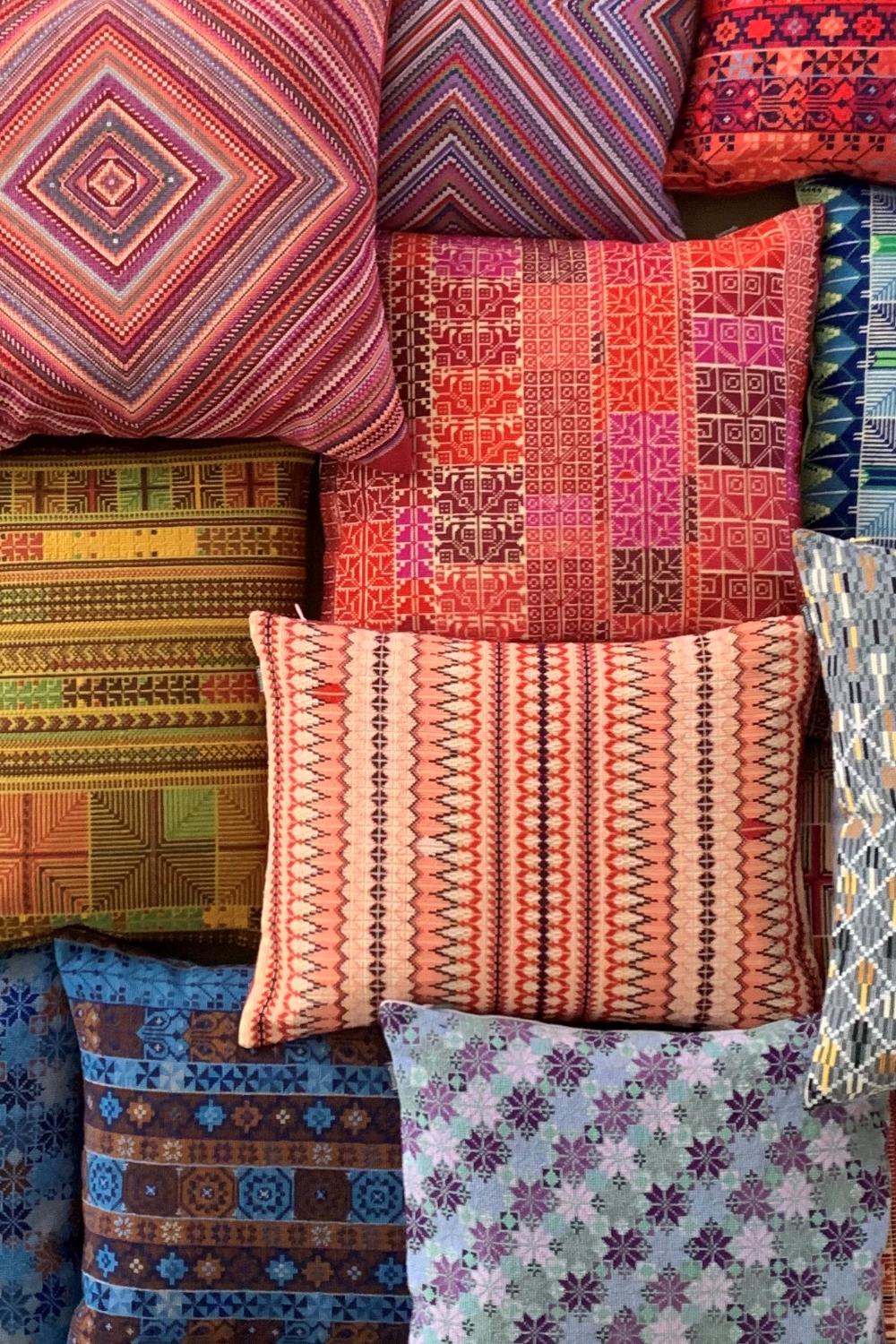 Our Liberty Fabrics Makers
A Chat With…
Kissweh
Every month, celebrating a different maker or brand from our global network of Liberty Fabrics creatives
Shop Liberty Fabrics
By: Jess Johnson
Image Credit: Nancy Pearce
The #LibertyCraftClub community is truly one of a kind – a worldwide network of talented creatives, makers and artists who use Liberty prints to create bold and beautiful designs, each with a unique sense of personality and style. It's no wonder that here at Liberty HQ, we are always excited to see what you've been making.
For this instalment of the Liberty Fabrics Makers series, we were excited to talk to founder Claudia and makers Hanan and Wafa'a from Kissweh, an embroidery studio based in Lebanon and Los Angeles. Named after the Arabic word for trousseau (the collection of embroidered garments and home linens prepared by a bride's family before marriage), Kissweh was founded by Claudia Martinez Mansell back in 2017, in part to create fair working opportunities for the talented craftswomen residing in the refugee camps of Lebanon. The Kissweh team work collaboratively to create homeware designs inspired by the rich folk art of traditional Palestinian needlework motifs – imbued with a multi-hued modern twist.
How does the team work together at Kissweh?
WAFA'A: First we liaise with Claudia for patterns, colours, and designs, which are then distributed to our specialised embroiderers. Each woman works from home and comes when in need for additional details, and keep us updated for the piece in her hands. I'm still in the early input stage, gaining a more in-depth knowledge of embroidery every day – I learn from every single woman here, and Hanan of course has all the knowledge, tips, tools and techniques that enhance every work we carry.

HANAN: Most of the team lives in Rashidieh, with a few women from other camps in Tripoli and Beirut. When I spread out the work I go either to centres, or we visit at home. When I go to Rashidieh I try every time to visit at least one or two women at home. We all came from the same environment – it's funny to just see how women from each camp have their own ways of experimenting, and of seeing pieces of work in her way.

CLAUDIA: There is a main group of around 30 women in Rashidieh refugee camp who embroider for Kissweh. They work from home, often in the evenings when house chores have been finished. Many have said that embroidery is when they disconnect. Pre-Covid, various team members used to meet and embroider together – I would receive photos of this and it would warm my heart.

Ensaf at Rashadieh coordinates the embroidery and the team keeps swapping designs as they like to do different ones, so they go rotating what they do. The lovely thing is that 20 years ago when I first came to the refugee camps to volunteer, I was a homestay in Ensaf's home, and she is the one who has also taught many how to embroider – I've known her for a really long time! So it all began with Ensaf and Hanan, and I'm happy that Wafa'a has joined the team as we are growing. In Beirut at Shatila refugee camp everything is sewn together, and there Zeinab and Malak are key to the team.
How do you choose your colours and layouts?
HANAN: I like to experiment from nature – for example maybe a fig tree that has a mixture of grey or brown branches with green-purple fruit, or something from the colour wheel. To be honest I see things in a spiritual way – I love life and joyfulness, so the mix should come from passion to do it. Kissweh is just like my spoiled child, I believe in this project and it's my way to escape from other tasks into my own land of creativity.
Embroidery is not just an identity

or

a way to earn a living, it is art for all of the team, as well as self-therapy

and

relief – we do it with love

and

passion.
CLAUDIA: I am always amazed at the combinations the team come up with, it really makes each pillow one of a kind. The thing that brings me the most joy is to see how we go designing and then developing and evolving together. Our aim has been to do traditional things, but to do it with colours and a style that makes it look very contemporary.
What inspires your designs?
CLAUDIA: The inspirations are a bit of a mix – some like, 'Ola', are replicas inspired by museum pieces where we have updated the colours. We named this design after Ola in Rashadieh camp, who was super creative and made the design even more amazing. Each time we do a model I feel the design goes through a number of developments that are a kind of conversation between the team, with each adapting and making it their own. The motifs we use are all traditional ones, and many have meaning. There are some amazing books, and we have taken our inspiration from those. Traditional motifs are symbols for different things – my favourite one is 'Old Man's Teeth', as the name makes me smile. The other one I love is 'Bottom of the Coffee Cup'.
Which are your favourite Kissweh designs, and why?
WAFA'A: I like 'Double Feathers' and 'Holy Mount' most. 'Double Feathers' is very special – it's heavily loaded with details but it still looks elegant and sophisticated. 'Holy Mount' adheres very beautifully to modern furniture – it's minimal, yet luxurious.

HANAN: I mostly love the 'Hanan' model – because Claudia asked me about my favourite embroidered pillow, then gave it my name!

CLAUDIA: Mine are 'Hanan' and 'Ola'. 'Hanan' is one that we designed from scratch and that has been evolving and become richer as the team has become more experimental. It was the first truly Kissweh design, not inspired by museum pieces or some antique pieces that are now our little library of designs.
Did you like working with Liberty Fabrics?
WAFA'A: Your fabulous fabrics are so much-loved because of their astonishing looks and smooth surface – I actually fell in love with Tana's softness, lustre, beauty, and luxurious look. Liberty Fabrics are so beautiful that I truly think they add value to the embroidery, as much as they take. Claudia's experiment to incorporate your Liberty fabric with our embroidery is quite genius.
The classic versions of Kissweh designs are so beautiful,

and

each one is unique –

but

with the addition of Liberty textiles, the pillows have gone beautifully insane!
CLAUDIA: When looking at antique pieces of Palestinian embroidery, one of the things that moved me is how people would patch things and mix different textiles to save the embroidered pieces – if an older women died, her embroidered dresses would be reused, the embroidery of a sleeve might become a pillow, with some other material added. Some old pieces combine different textiles and embroideries in beautiful ways, and we wanted to recreate this idea – it is an exciting development for us to do this with lots of different Liberty patterns!
Liberty Fabrics lovers – we always want to see your creations. Upload and tag us with #LibertyCraftClub so we can see what you've been making, and maybe we'll feature your work in our next series instalment.