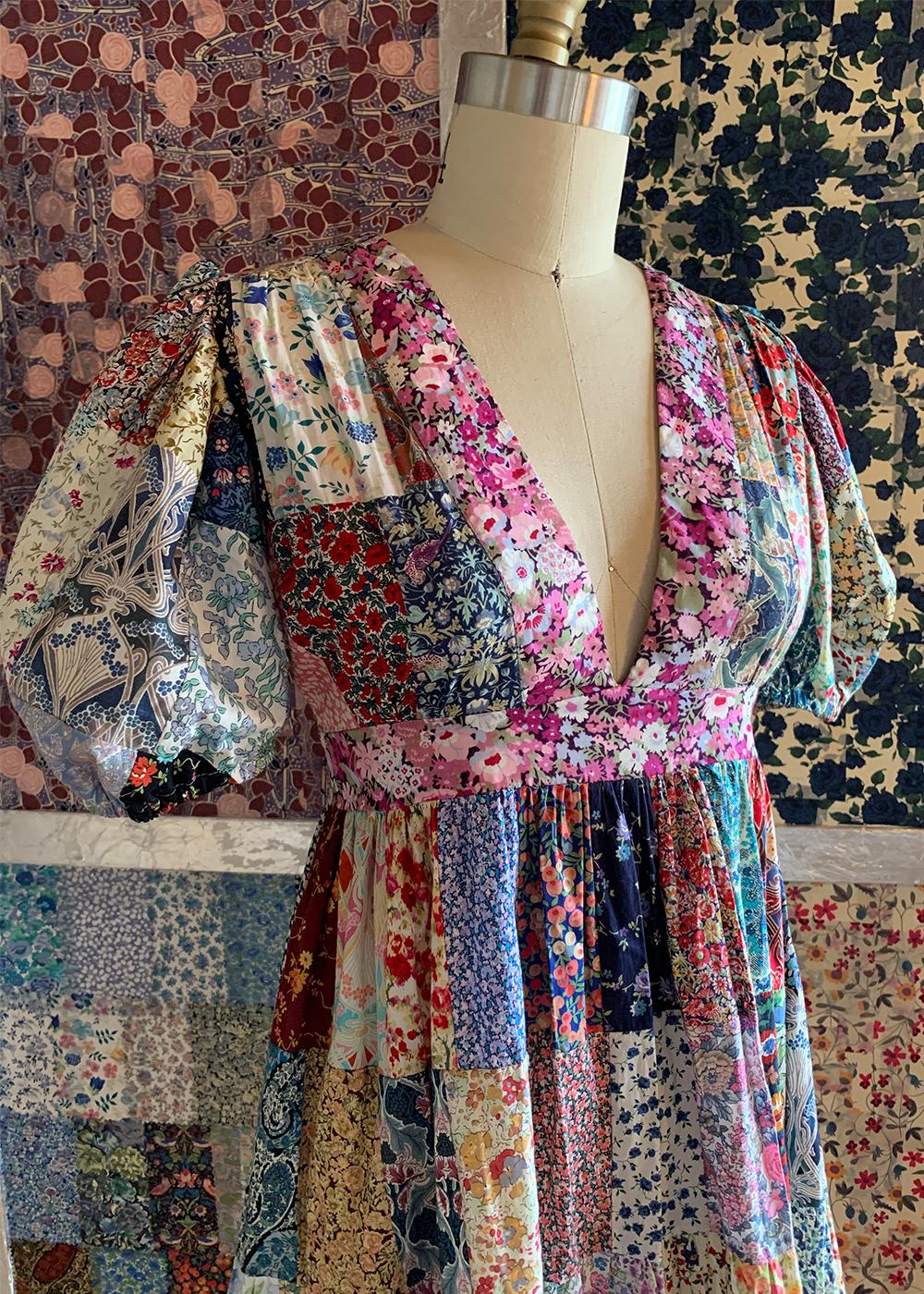 Our Liberty Fabrics Makers
A Chat With…
Michelle Kim
Celebrating the designers and artists who make our Liberty Fabrics community unique
Shop Liberty Fabrics
By: Jess Johnson
The @LibertyFabrics community is a vibrant global network of artists and crafters, united by their collective creativity and love of Liberty designs. Around the world, our talented makers draw from Liberty Fabrics' vast offering to create a living patchwork of ever-changing projects – and here at Liberty HQ, we love to see what you've been making. In this instalment of the series we chat to Michelle Kim – the LA-based designer who crafts intricate, richly imaginative fashion creations with Liberty prints.
What is your design background?
I grew up in New Jersey, studied in New York City and London, and am now based in Los Angeles. My first job in NYC was designing for Anna Sui – I learned about Liberty prints from her while working in her store in the late '90s, and it's been an obsession ever since. Her Spring 1998 collection used the Thorpe print in bright yellow and turquoise colourways. She also had matching shoes made – I was beside myself! After designing for Anna Sui for 10 years, I started to freelance and consult for other designers and brands.
Have you always been creative?
Since I was a small child I was always designing – drawing, dreaming that I'd have a studio, obsessively creating catalogues for clothes and beauty, being DIY and creating my looks with whatever I could find and make (this was before the high street and fast fashion stores existed). I would make paper dresses and purses, and then obsessively laminate them with strips and strips of scotch tape to preserve them. This created the baseline for my resourcefulness, which has been so useful throughout my career and my life.
I love

to combine

Liberty prints

together for a

'more-is-more'

effect

– I cut

them up and

appliqué

or

decoupage

them on top of each other

all mixed up.
Could you tell us about your quilted and laced Ramona jacket?
I was inspired to make my own version of an iconic jacket, a mash up of a Chanel X Gunne Sax quilted jacket – of course, my version needed to include Liberty prints. I started by making the pattern, then patchworked with Liberty prints I had collected over the years. I hand basted the patchwork pieces to batting, then cut out the pieces sloped to the pattern pieces. To give my jacket a subversive edge against the feminine Liberty prints, I incorporated lacing to toughen it up in my own way.

I assembled the jacket, finishing it with binding details in the purple Thorpe around the shoulder patches and the front/neck and sleeve bands. I lined the body in Liberty Field Flower print, and the sleeves in silk habotai. Then I brought the jacket to my favourite local grommeter, Nancy at Steinlauf & Stoller in NYC, to install the gold grommets. It was a satisfying thrill to lace the rope through the grommets for the final finish! This jacket took somewhere between 50-60 hours to complete.
And what about your Michelle dress, which is made of Liberty swatch books?
I had the Liberty swatch books and they felt like a treasure to me, all of these prints in one place. I own a lot of clothes made in Liberty prints (such as from A.P.C. and Cacharel), but I wanted to make something drop-dead gorgeous to express my artistry and love for Liberty prints.

I made the pattern for the dress, then painstakingly took apart the swatch books and patched them together. I was thoughtful of what swatches went where, so that the same prints and colours weren't next to each other. It was so joyful to sew the dress together and see these patches come together as a whole piece. I finished the back with a metal zipper finished in the old dressmaker way instead of a slick invisible zipper, to further the concept of a handmade dress. I added a long ribbon to help me pull the zipper up.

I spent about a week on this dress, working on it all morning and night. Once I start a design, I am committed and focused until it is finished, which is also why I start only when I know I am able to allocate that time and focus. I live to make these obsessive, labour-intensive, and artistic pieces – especially with Liberty prints.
Where do you source your materials, and is sustainability important to you?
I source my materials through mills I have relationships with, and I like to support local fabric stores, even the ones back in NYC. My pieces are meant for someone who appreciates quality and understands that they are made to order for a premium, for less waste in the world – maybe this is the only area in my work where 'less is more'! I also save scraps of Liberty prints and other fabrics to go towards future projects, such as patchwork blankets.
I

am a

maximalist

– the

materials I

use have to be

statement-worthy,

and if it takes

longer

and is more

labour-intensive, I

need to

do it.
What's your favourite Liberty print?
There are so many. I love Edenham, which was one of the first Liberty prints I used in the late '90s, and also Thorpe. Libby is becoming quite a favourite too.

Liberty prints are burned into my visceral memory, and when I see one, I'm brought back to the time I used it. I've kept remnants of almost all the Liberty prints I ever used – and I'm glad I did, because there are a few that are no longer in print.
@LibertyFabrics lovers – we always want to see your creations. Upload and tag us with #LibertyCraftClub, so we can see what you've been making, and maybe we'll feature your work in our next series instalment.