In Rainbows
Olivia Rubin
The London-based designer on the surroundings that bring her colour-soaked homewares to life
Shop Olivia Rubin
By: Kate Przybyla
Instagram native Olivia Rubin is projecting a world of colour into bold interior textiles, and the influences that surround her hold vibrancy above all else.
As much in her own space as her design output, designer Olivia Rubin's world is nothing if not colourful. And her maximal approach has longstanding beginnings: "I feel as though my '80s childhood home is what I always crave," she says. "Over the top vintage multicoloured curtains, green sofas with pale pink piping, marble dining tables, wooden woven chairs. So many interior gems I wished I had kept." Now, her distinctive rainbow silks are manifesting as candy-coloured interiors, bringing her multi-hued vision into the home.
Rubin considers creativity an intrinsic force, learned and practiced from a young age. "I was super creative at school," she explains, "inheriting my love of colour and painting from my grandpa who was an amateur painter." It's something she continues through her collections, and she tells us, "I went on to use this as inspiration for a lot of my print and textile designs. I think because my brand is centred around colour and playful prints this can be easily translated into the world of interiors."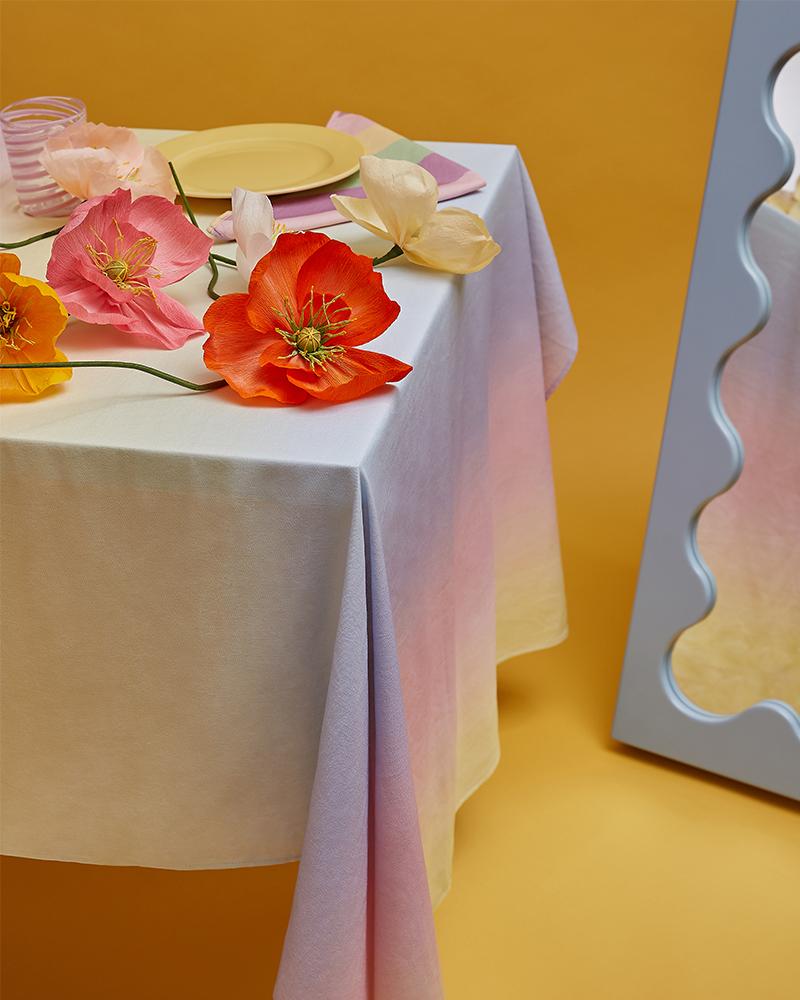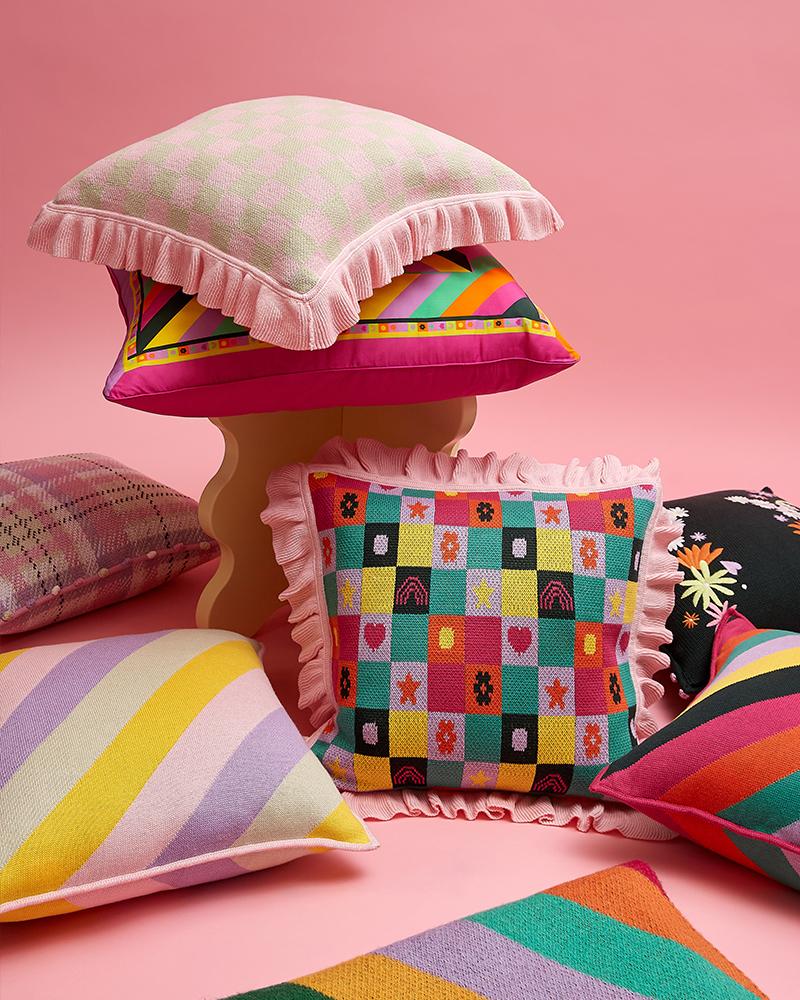 Finding a direct link between her surroundings and her ability to conjure new ideas is a driver behind the interior mood Rubin creates, personally and in her homeware designs. It's a formula she applies to the smallest and the most impactful pieces, and she says, "I think a sense of calm combined with inspired pieces helps drive creativity and new ideas. Because the team and myself are constantly designing, having interiors that spark that inspiration – whether it be a mug or a mirror – helps the whole process come together."
I feel

as though

my '80s childhood home

is

what I always crave: over

the

top vintage multicoloured curtains, green sofas

with

pale pink piping, marble dining tables…
For Rubin, home is primarily built upon "family, warmth, safety; my sacred space." This has influenced her environment heavily and, in turn, has reinforced her connection to her roots. "West London is my home", she shares, and she attributes it's draw to "the nostalgia, the greenery, the community spirit, the memories I have as a child and the new ones we are making. I grew up in this area and I love seeing my girls grow up and flourish in the same parks, schools and neighbourhood as I did."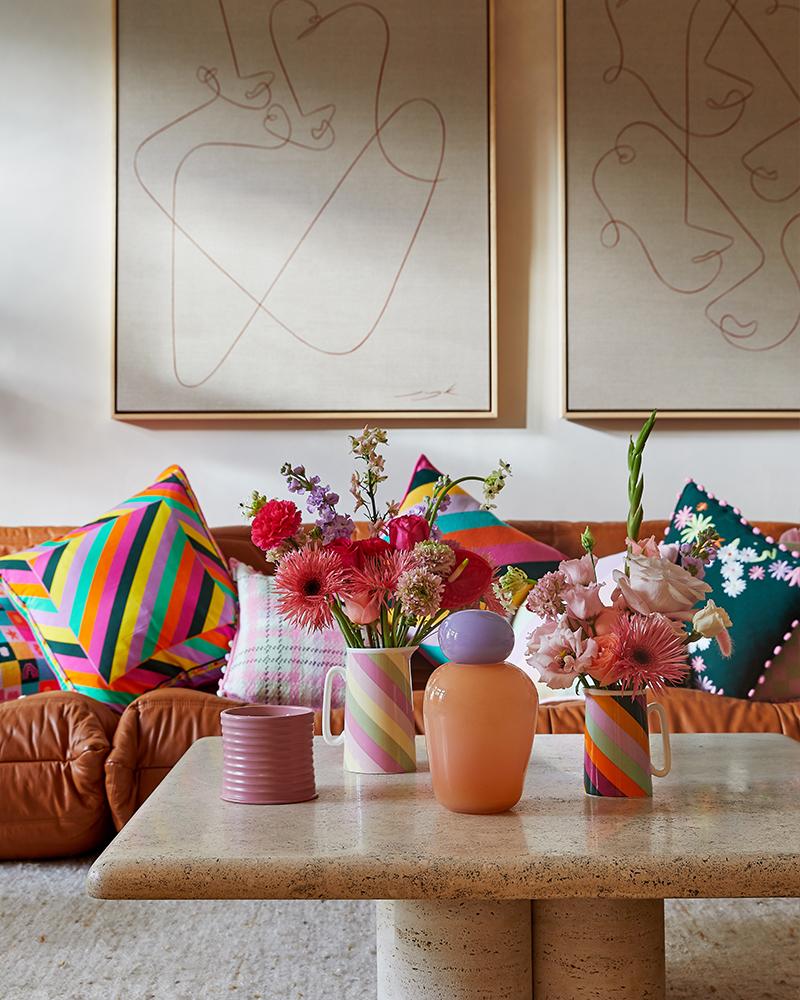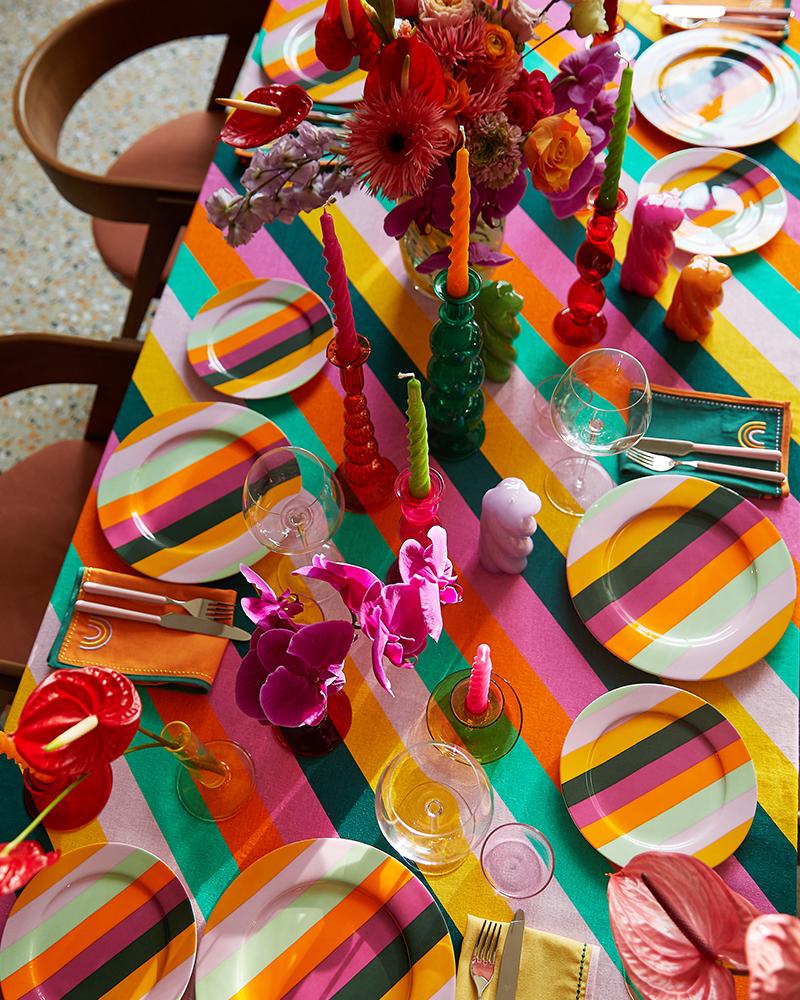 Aesthetically speaking, hers is an amalgamation of influences. Rubin tells us, "I like a balance of comfort mixed with eye-catching wall art and home accessories; colourful, bold and contemporary with an eclectic twist." Artful accents are where she finds the most joy, and she shares, "I just splurged on a Gustaf Westman mirror for my studio. I love all his pieces! And, my Tim Garwood painting – bought at the Affordable Art Fair – really brings life into our living room."
I think

a

sense

of

calm combined

with

inspired pieces helps drive creativity

and

new ideas. Having interiors

that

spark

that

inspiration

the

whole process come together.
Interior inspiration comes from the endless possibilities of social media and accessible architecture alike, and Rubin confesses, "Researching fashion departments and designer stores has become an Instagram addiction of mine. I am partial to the Tate Modern and have hundreds of saved posts via Instagram." And yet, sometimes, to truly connect creatively and unwind, she calls for something bigger and bolder, seeking the influence of more majestic surroundings than the capital – and the digital realm – can offer. "Our apartment in the hills of the South of France is my Mecca for recharging and relaxing," she says. "I love being surrounded by epic views and quaint architecture; it's where all my thoughts and visions for the upcoming year come together."