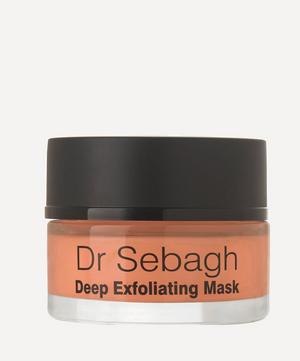 Dr Sebagh
Deep Exfoliating Mask
This product earns 310 loyalty points
Editor's Notes
Deep Exfoliating Mask
from the Dr Sebagh collection.
"Whenever I look in the mirror and can't stand what I see (it might be a breakout, or generally lacklustre, dull looking skin), this product never fails to make a difference. Containing azelaic and lactic acid it brightens skin and pores almost look like they have been hoovered out afterwards." – Susannah Taylor, Get The Gloss editor
Exfoliating is a critical step in slowing down the ageing process because as we age, the natural process of cell turnover slows down. Dr Sebaghs award winning deep exfoliating mask is a perennial best seller due to its hard working, quick results formula.
"I use this once a week to blow away the cobwebs. Not for the faint-hearted it nukes all those dead cells and clears out pores and presses reset on cynical skin." - Annabel Rivkin
Read more
Read less
Features
- Exfoliates the dead layers of the skin for faster cell turnover
- Cleanses and exfoliates the pore
- De-sensitizes and reduces redness
- Moisturises
- Brightens and lightens pigmentation and acne scarring
- Recommended for melasma (pregnancy mask)
- Anti bacterial spot fighting ingredient
- LACTIC ACID 18%: an Alpha Hydroxy Acid obtained from milk. Helps to dissolve the dead skin cells and moisturise the fresh new cells.
- AZELAIC ACID 1.6%: Azelaic acid is a yeast found on normal skin. It is known to be effective against a number of skin conditions. It returns to normal disordered growth of skin cells. It is particularly good at treating acneic skin conditions
- PALMITOYL PENTAPEPTIDE-3: stimulates the skins matrix: collagen and elastin levels are improved. This ingredient has been found to be as effective as retinol in dealing with wrinkles and sun damage, without the side effects.


Size
50ml



Read more

Read less
About Dr Sebagh
Dr Sebagh, shuttling between his clinics in Paris and London, has artfully administered his way into the hearts of anyone looking to keep their face clear and youthful. With a firmly science-led approach, Sebagh has been an innovator in the world of ageing maintenance (a term he came up with) and a cosmetic surgeon whose skills have become legendary. Skincare and cosmetics – made from the finest ingredients – are an integral part of his regime.
Read more
Read less