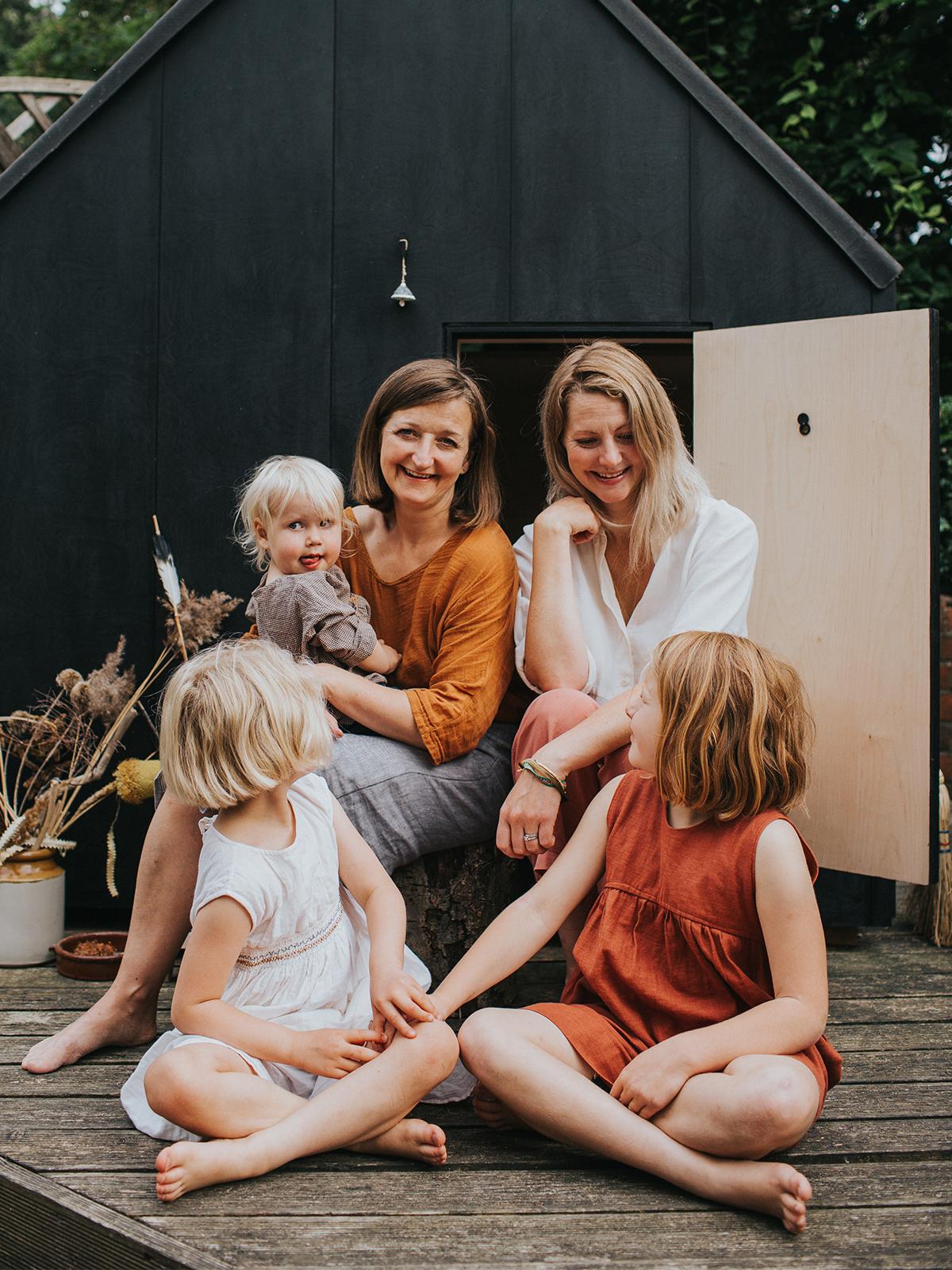 Motherhood Diaries
Freckle Studio's Janine and Chloe
We talk to the founders of sustainable toy brand Freckle Studio to discuss all things motherhood
Shop Freckle Studio
By: Erin Irwin
Motherhood Diaries is a testament to modern-day parenting; from life-changing tribulations, to joyous milestones - and all the chaotic bits in between. Each month, we'll uncover a refreshingly honest account from the Liberty community, with the aim to support women who might otherwise feel frustrated, isolated or overwhelmed. Here, we invite all maternal figures to speak openly about their journey to motherhood, find light in each narrative and ultimately, a sense of solidarity.
The next two mothers to feature in our monthly series are Janine and Chloe - founders of Freckle Studio. Friends as well as business partners, their eco-conscious brand grew from a desire to create the perfect play companions for their own small children that would last for generations to come. Speaking openly and honestly to us about their own motherhood journeys, both reflect on their hopes of becoming a mother as well as the inevitable challenges that come with juggling a family and a successful business.
I always hoped I would become a mother when the time was right. My husband and I were together many years before we were ready to bring a child into our lives. We travelled extensively, taking the time to embark on our own personal journeys before entering into parenthood. We are still drawn to explore as a family and try to make time for adventure each year in the hope that our daughter Vivienne will inherit a curiosity for the world.
I fell pregnant soon after returning from a long spell of travel with my husband. I felt fit and strong, mentally as well as physically, which was great preparation for pregnancy and childbirth. Having confidence in my body and its incredible abilities meant I was able to embrace and enjoy the changes. I was working full time and travelling a lot so had limited time to put my feet up, but I made sure I took time out where possible for self-care which included yoga and preparing myself for birth with hypnobirthing sessions. I was lucky to feel relaxed throughout, and even at times of trial I felt I had trust in my own body to get me to where I needed to be. The best piece of advice I received during my pregnancy was to not over plan. I leant on friends for advice and the excellent healthcare we have here in the UK.
Be gentle with yourself. Don't ever think you need to do it all, a warm

and

fed baby is really all you need in the early weeks. The rest will come.
I was lucky enough to have a year on maternity leave and I loved having time to focus on my baby and becoming a mother. I tend to favour getting outdoors and seeking new adventures, so the house was always a mess, but we had a lot of fun. I also saw the time as an opportunity to create a way of working that would be more supportive to family life. I started my first business when my daughter was one, which lead to me creating Freckle Studio with Chloe, inspired by our shared passion for raising our children with a connection to nature and a love of adventure.
It's natural to put pressure on ourselves, and to want the very best from each stage of our lives and for our children. I'm lucky to have a close group of female friends, most of whom are mothers. We share similar values and yet we all mother in our own ways. It's helped to take any pressure off and avoid any judgement to realise that there are so many ways to be a great, loving mother. It can be easy to get caught up in the small details, but ultimately, as long as our children know they are loved, then all is well.
For me, motherhood guilt is a constant. It can feel like being torn in two sometimes. Like so many parents, when I'm working there's the guilt of not being with my child, when I'm with my child it's hard not to be thinking about work and time to myself can feel like an indulgence. If I'm with my daughter, I want to give her my full attention and I really notice the difference when I manage it. Talking with friends helps and surrounding myself with people who have likeminded goals for family life is a great support. As a mother you are constantly subjected to opinions of others, the advice, although usually well-meaning, is not always welcome and can be overwhelming.
I limit the amount of 'help' literature I read

and

rely as much as I can upon advice from people I trust in my life.
I don't feel I have compromised on my own social life since becoming a mother, if anything this has been enhanced as I have found some of my closest friends as a result of attending baby groups with Vivienne. Chloe and I actually met while attending a baby music class. I also still try to make time for myself; it is very important to me to retain my own identity and it's something I want to pass on to Vivienne as she grows up.
Having my own child has been the greatest gift and the biggest challenge, nothing prepares you for the intensity of it all and the constant balancing act. The consuming love of the younger years has grown into Vivienne, eight, being a companion and friend. We have a relationship which is more like a partnership, I learn as much from her as she does from me.
I had a hopeful assumption that I would be a mother, with no understanding of what it really entailed. Our first pregnancy ended in miscarriage which was a painful and cold experience. I think it is being talked about more now but unfortunately, it's a part of many people's journeys to parenthood. Thankfully, I had two further pregnancies that went to term and blessed me with two wonderful daughters. My second pregnancy was physically harder, perhaps because I had another child who also needed me. Luckily, my husband is a Chiropractor so when I was too tired to stretch, he would do it for me, he would release the tension in my neck, back and feet which was a wonderful blessing.
I remember so clearly the day we came out of hospital with our first born. It felt like an amazing secret we wanted to share with the world. The second birth was different, I lost a lot of blood in the labour, I was weak and tired, then on day three I was rushed back into hospital with a suspected stroke. Thankfully, it was Bell's Palsy, but it meant the left side of my face was completely paralysed. I looked awful. I really struggled with my inability to speak clearly, smile or sing to my newborn baby. My then four-year old would try to painfully pull my face into a smile, while my eyes wept. Thankfully, my face slowly recovered and was back to near normal nine months later.
Starting Freckle Studio with Janine was inspired by our children. We wanted to foster and nurture their curiosity. It makes sense that we often work around them, and I love when they see me creating and building. My husband and I share the childcare and domestic duties equally and classic gender roles are not represented. This is reflected within our products; we would never want a child to feel their play is limited to certain toys or roles within their imaginative games.
When my eldest was three a simple event took place that affected us dramatically. She was scooting ahead of my father in the park when she saw the park keeper lock the gate. She hastily scooted back to my father and tried to explain what had happened. They came home laughing about how they had nearly got locked in the park but two weeks later she was paralysed by her fear of anywhere closing. We got in touch with a play therapist who helped us to understand that our daughter had been in a situation that she thought she had to take control of which left her feeling confused. We took a simple holiday in our campervan to a wide-open field and spent days and nights with no interruptions, gently and slowly rebuilding her trust, security and confidence. This helped and two months later she pulled through it. It was a valuable reminder of how our children are always learning, processing and trying to make sense of the world. I think it's helped me in some of the more challenging moments of parenting to pause and take a moment to consider my children's perspective.
Each stage of motherhood

and

a child's life is

so

different, they all have their own magic and unique challenges.
You cannot help but fall into the trap of comparing your children's abilities to others, but it is futile. They all have great similarities and great differences. My first baby did not want to breastfeed past three months, but I am still breastfeeding my three-and-a-half-year-old just before she goes to bed. She gets a wonderful sense of security and comfort from it. On the whole I have stopped mentioning it to people, as some have such strong opinions on the matter. However, developing their mental wellbeing is at the forefront of our parenting, so it seems right for us.
Socially, I think I was ready for a change, as were many of my friends. Now most of my social life involves coffee while watching our little ones play or evening walks with mulled wine and camping trips away. I value time with friends and before any of us had heard of COVID-19 we would spend most Fridays on the beach. We'd sit, play, talk and swim while the sun slowly set. I look forward to those carefree days returning.
My advice for mothers-to-be would be to go back to bed with your baby or toddle at least twice a week. You will be tempted to do housework while they sleep but that will get done another time. Lie in the stillness with them, as you drift in and out of sleep. There is nothing like it!
I aspire to be a strong but gentle support to my girls and hope they will come to me when they want to share something good or something upsetting. My eldest has just turned eight, which is a wonderful age full of adventurous curiosity and yet still the innocence and readiness to immerse in imaginary play. Observing and being a part of this, is for me the best thing about motherhood.