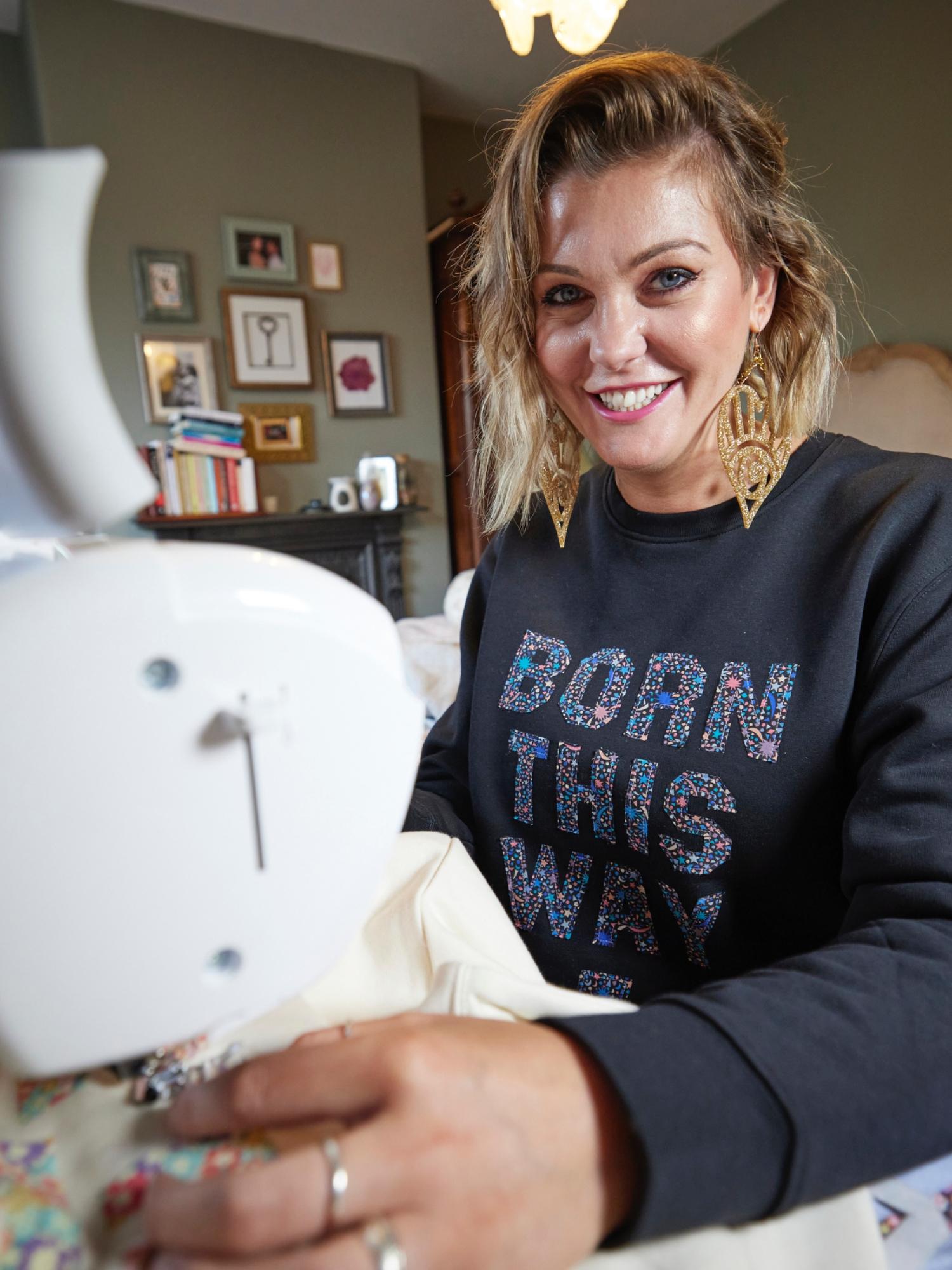 Our Liberty Fabrics Makers
A Chat With…
Magpie & Mama
Celebrating Liberty's global community of designers, crafters and artists
Shop Tana Lawn™ Cotton
By: Jess Johnson
The #LibertyCraftClub connects creatives worldwide who share their talent, imagination and a love of Liberty print – here at Liberty HQ, we always love to see what you've been making. In this instalment of the Fabrics Makers series, we chat to Rachael from Magpie & Mama, a Manchester-based fashion brand with a witty approach to wearing your feelings on your chest.
Could you tell us a bit about yourself and your brand?
I'm Rachael a.k.a. Mama, a northern soul living in Manchester. Magpie & Mama is a handmade, fun and feel-good fashion brand, enabling you to curate your own style. I never trained in a creative field – I went through to early adulthood set on becoming a barrister, but when I got there, realised it wasn't for me. Having always loved working with people, I spent 10 years working in HR. I absolutely loved it, but the more senior I became, I really started to question everything.

When better mental health and doing something more aligned to my values became my focus, I spent three months volunteering and surfing in the Algarve – there is something about being out on the waves that cleanses your mind. That time off the corporate treadmill gave me the headspace to incubate the business idea that would become Magpie & Mama. I launched November 2020 (yes, right in the middle of a global pandemic), and haven't looked back.
I have dressed DJs, TV personalities, models

and

drag queens

in

Liberty! I feel

so

lucky

to

call this work.
What led you to start Magpie & Mama?
When my daughter Maggie was born, she changed my world. I felt constrained by what clothes I could buy for her to express who she was, and this was coupled with an overwhelming urge to learn to sew. I brought this up in conversation with my Aunty, and it turns out that my family had been sewing their own clothes for generations. I took it as a sign and decided to buy a sewing machine, and started doodling designs. My first design was a lightning bolt – a way to draw upon power, light, and confidence. I love it so much that it forms part of my logo.
Why did you choose to use Liberty Fabrics in your designs?
I've loved Liberty Fabrics forever – they are vibrant, iconic and colourful works of art, which is exactly what I want Magpie & Mama to be. I have never been a follower of trends or a supporter of fast fashion, my wardrobe has always been "jeans and a nice top" (or sweatshirt), so it started with what I would love to wear. Using Liberty prints was such an easy decision. I feel like it adds an extra ounce of luxury to a much-loved wardrobe essential, but is also an accessible way to wear a piece of art and a piece of history.
What inspires your phrases – do you have a personal motto?
All my phrases are designed to let people's personalities shine through. People can customise and choose whatever slogan they want – if there's a phrase that celebrates you and the things you love, one that makes a statement or that you generally just connect with, then you can wear it with pride, in a fabric that matches your personality. There's a story behind each one. I have sewn some really beautiful stories, and some quite tongue-in-cheek ones too! I keep a little list of phrases I come across that I would love to stitch in Liberty print.
I find what feels good

and

just go with the sew – my favourite

to

date has got

to

be 'Less Bitter, More Glitter'!
Do you have a team, or work alone?
I currently work alone, but my partner Mike sometimes helps me with the geeky stuff like website design and marketing. Working on your own can be tough – when I set up the business, I sat down and thought about the values that would need to be the golden thread that weaves through my brand. They came through to me so easily; FUN, FEEL-GOOD and FOR YOU. Whenever I feel overwhelmed, I remind myself of them.

I can do anything, but not everything – being able to balance my work and home life was the ultimate reason to choose being my own boss, and I am so grateful for the balance it allows. I don't want to glamourise overworking, and I strive to be a role model for my daughter. I will have to look at scaling at some point quite soon, but it's incredibly important to me that the output stays the same and that each creation is hand sewn with love.
Have you had any special moments through Magpie & Mama that capture the spirit of your brand?
When I first launched the brand I was only creating clothes for little ones, but not long after launch the TV personality and chef John Whaite reached out to me to tell me how much he loved my designs. He asked if I could create one of my initial sweatshirts in an adult size for him, because he loved what the brand stood for and he wanted one to represent his name. I couldn't believe it. He shouted about it on Instagram and wore it on TV and the Magpie adult range was born. The feedback and the requests for beautiful creations off the back of that was just incredible. It just solidified the fact it was what I was meant to do – not just making others happy, but making myself happy too.
Finally – do you have a favourite Liberty print?
This was honestly the hardest question, I love them all. If I must choose it would have to be Fizz Pop. The colourful confetti-like pops of colour sparks so much joy – please make it in another colourway!
Liberty Fabrics lovers – we always want to see your creations. Upload and tag us with #LibertyCraftClub so we can see what you've been making, and maybe we'll feature your work in our next series instalment.