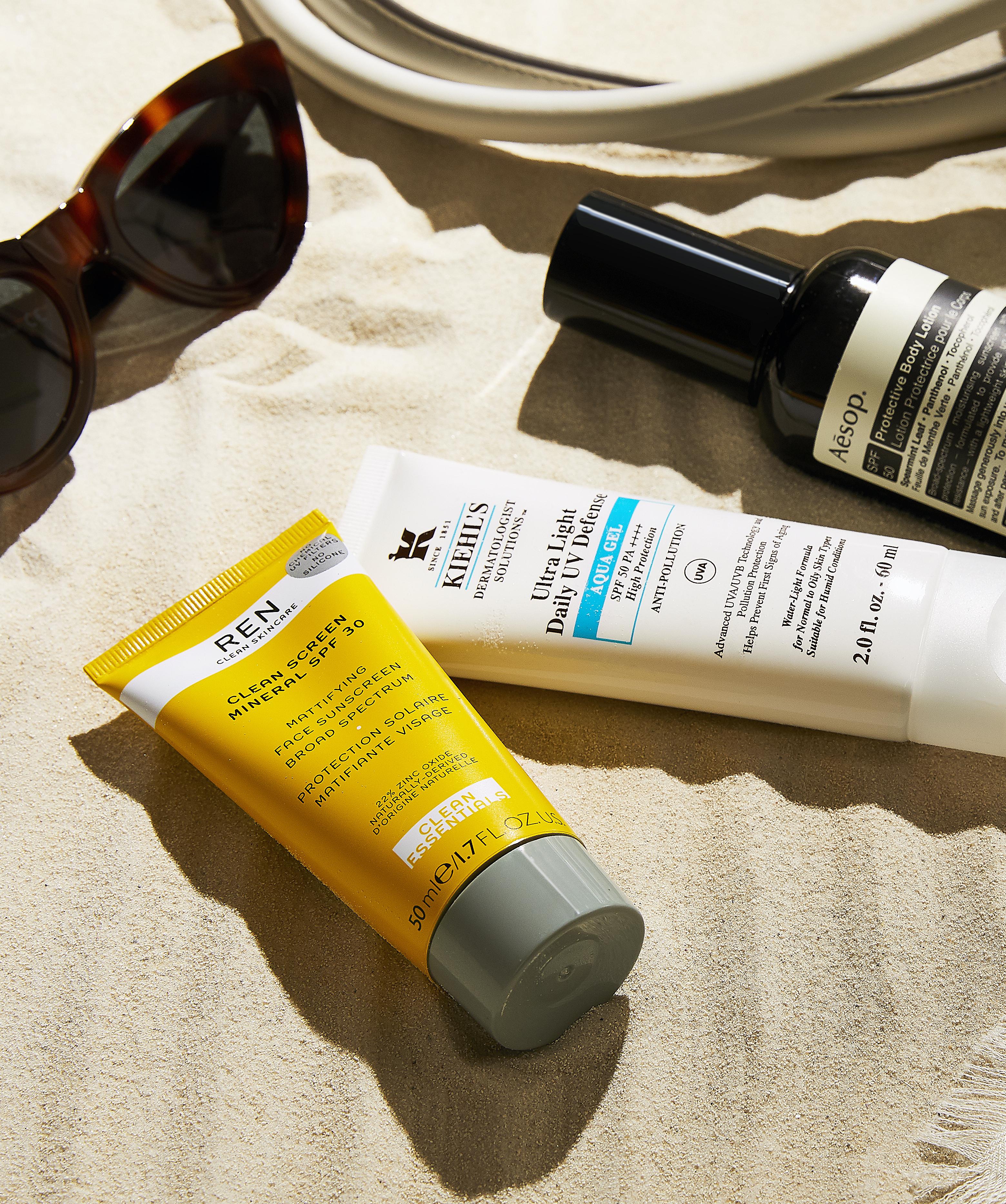 Top 5
Mineral Sunscreens
Essential facial SPF from the most innovative in skin care, minus the pore-blockage and chemicals
Shop SPF
By: Sarah Dancer
A high-performance sunscreen fit for the face hasn't always been easy to come by – but modern formulas are jumping the hurdle with ground-breaking wins in technology. A revelation for sensitive, reactive and acne-prone skin, mineral sunscreens form a physical barrier – with help from natural titanium or zinc oxide – to block out UV rays, as opposed to their absorbent chemical counterparts which function as a filter. So, whether you're upgrading your daily protection or planning your next holiday, hold the invite for irritation, breakouts and that greasy film – and welcome a breathable formula that's better for your skin.
REN Clean Skincare
Clean Screen Mineral SPF 30
Sensitive, reactive and allergy-prone skin types, take note: this 99% natural sunscreen is one of the clean and sustainable skin care brand's proudest feats. Perfected over six years of research and development, it's optimised with 22% zinc oxide, which forms a barrier against UVA and UVB rays – and even blue light from tech – whilst passionfruit extract acts as an antioxidant and rice extract mattifies skin.
Shop now
Omorovicza
Mineral UV Shield SPF 30
Gone is the filmy finish left by traditional sunscreens; this vegan formula is superior skin care wrapped in a protective package. Vitamin C corrects tone, illuminates and shields against pollution, a patented Healing Concentrate repairs and titanium dioxide has a mattifying and softening effect on the complexion.
Shop now
Kiehl's
Ultra Light Daily UV Defence Aqua Gel SPF 50
If residual shine is your concern to beat, opt for an oil-free formula. A rarity in the sunscreen world, this gel-based option has oily skin covered – not only with ultra-high protection from the elements, but with a sebum-controlling pollution shield, too. Its light, aqueous texture effortlessly holds its own on skin, meaning it's also a saviour in humid climates.
Shop now
Aesop
Protective Lip Balm SPF 30
An often-forgotten area when exposed to the elements, the lips are just as prone to sun damage as anywhere else on the body. Addressing this crucial skin care step as well as everyday dryness, this plant-based lip balm does so without silicone, paraffin or beeswax – overcoming the common pitfalls where other lip balms fall short.
Shop now
Chantecaille
Ultra Sun Protection Sunscreen Broad Spectrum SPF 45 Primer
The best mineral sunscreens go the extra mile – and this one cleverly bridges the gap between SPF and makeup. Chantecaille's Swiss-made SPF primer acts as a protective precursor to your go-to base, or a mattifying finishing touch on a bare face. And the brand's signature floral extracts don't go amiss – rosewater, cherry blossom, lemon balm and white tea extract pamper and nourish the skin.
Shop now