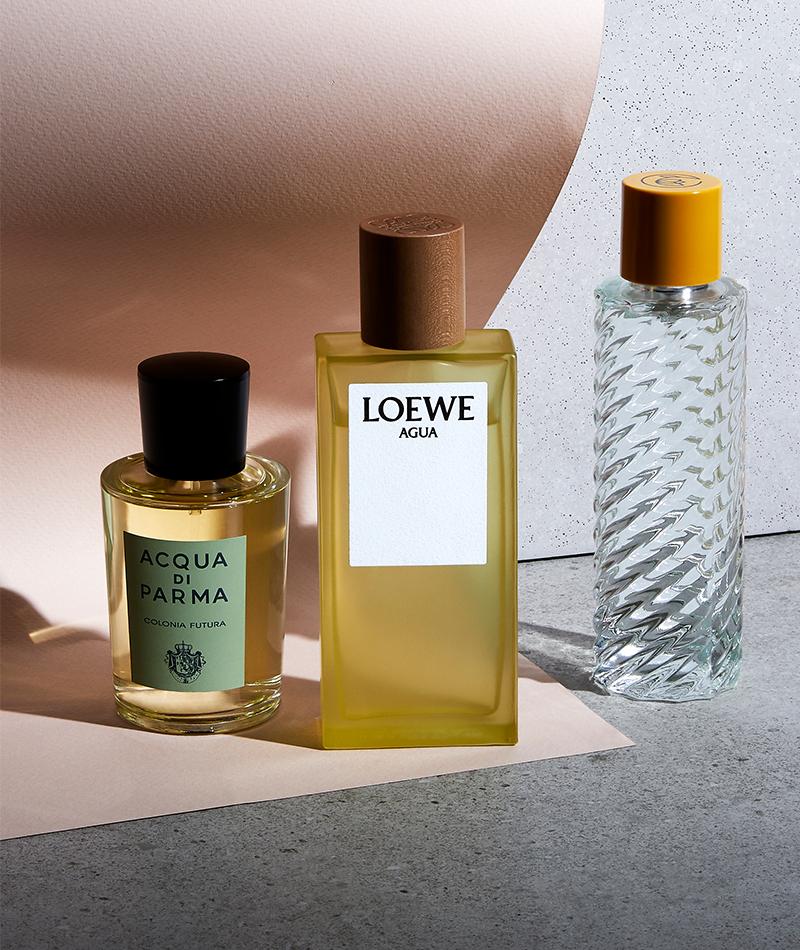 Top 5
Autumn Scents
Adapt your perfume mood with our top transitional scents
Shop Perfume
By: Kate Przybyla
A good fragrance wardrobe shifts with the seasons, and the move into autumn lets you play with intensity. Invite warm notes, earthiness and lingering woods to match autumn's crispness – and find the ideal excuse for a new perfume approach. Here are our favourite ways to navigate the switch.
LOEWE
Agua Ella
A light but piquant scent that mirrors autumn's polarities. With an aquatic waterlily heart and zests of lemon, kumquat and bergamot, LOEWE Agua Ella finds its grounding in sandalwood, cedar, musk and an energising twist of pepper.
Shop now
Acqua di Parma
Colonia Futura
This herbal-spiked citrus scent drives the lightness of summer into earthy new territory. Lavender and clary sage lend a transitional spirit to grapefruit, bergamot and pink pepper, helped by a woody, aromatic base of vetiver.
Shop now
Timothy Han
The Decay of the Angel
A bouquet in embers inspired by the Yukio Mishima novel, consider The Decay Of The Angel your autumn rebirth. Complex floral notes of neroli, rose and ylang ylang smoke at the edges with Spanish cade, patchouli, and labdanum, and a rich undercurrent of jasmine and tonka.
Shop now
Vilhelm Parfumerie
Dear Polly All-Over Spray
Reflecting on the ritual of freshly brewed tea, here in a head-to-toe spritz, Dear Polly's heart of Ceylon black tea gets a lift from the crisp brightness of apple and bergamot, and a warming touch of musk and amber that leaves a sensual finish.
Shop now
Cire Trudon
Elae
The historic fragrance house distils the essence of ylang ylang, African neroli and the narcotic power of Egyptian jasmine in a heady, multi-faceted floral that wears its femininity big and bold. Rich, warm and sparkling on the skin.
Shop now