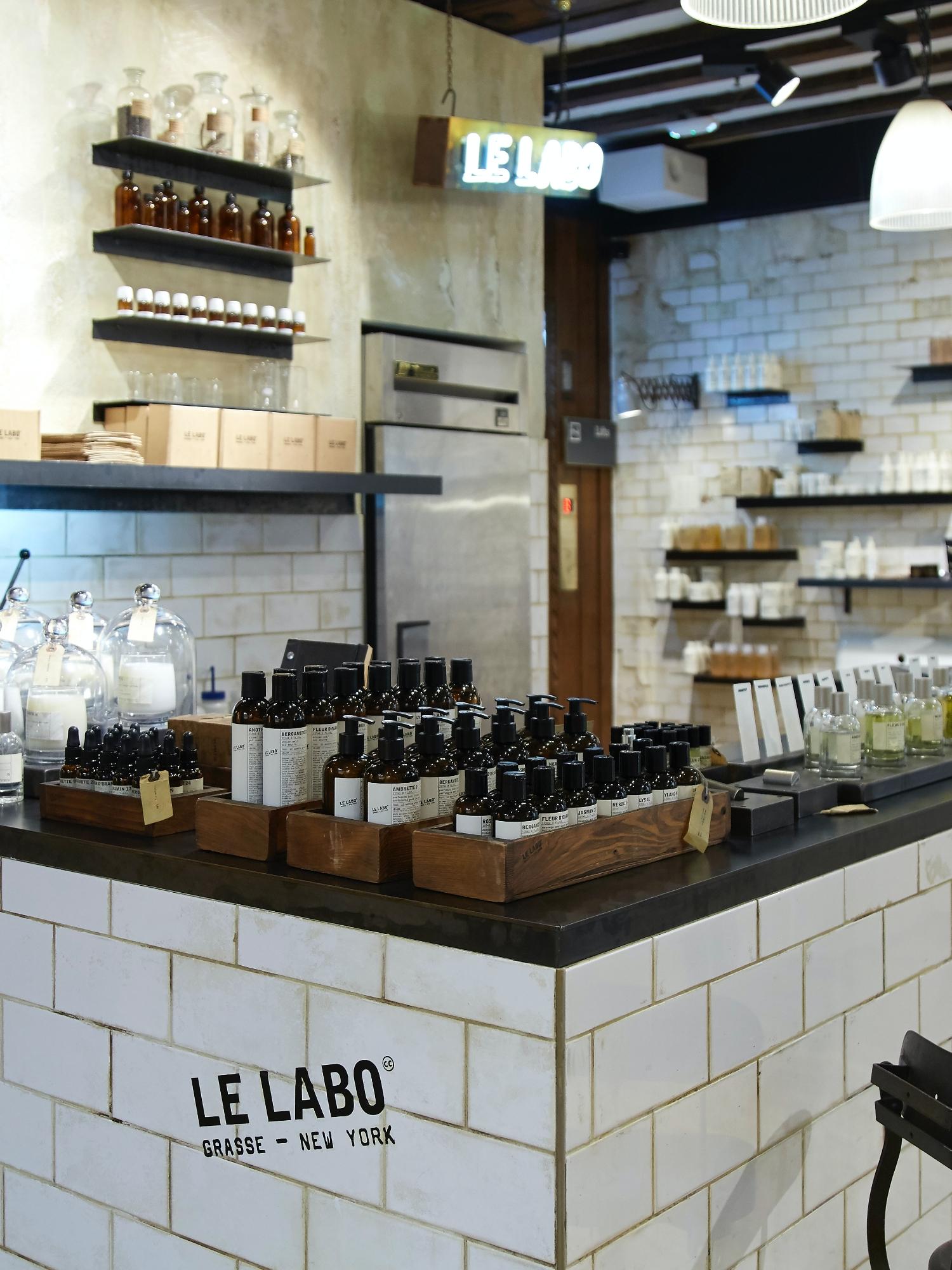 Behind the Brand
Le Labo
We housed their first UK counter, now our Le Labo expert shares his pearls of wisdom and best-kept brand secrets
Shop Le Labo
We've worked

with

Le Labo

since the

very beginning

and the

brand

was at the

forefront

of the

alternative fragrance movement. We loved

its

simplicity, irreverence

and the

achingly cool nonchalance

that

oozed out

of

every bottle. T

o

wear

a

Le Labo fragrance

was a

statement, like

a

secret handshake only

a few

understood. Now their fragrances

are

utterly iconic

and

I love

the

brand more

than

ever.
The place where the world's best skin, hair, makeup and perfume brands come alive, our Beauty Hall is filled with cult products and new discoveries. No one knows this more than the experts behind the counters, so throwing a spotlight on some of our go-to brands, we ask their in-house specialists to reveal all on your best-loved products and future favourites.

First up, Le Labo Brand Manager Murray talks transformative base notes, plant-based skincare and vegan diffusions, and gives us the low-down on the science behind the magic, the story of Santal 33, and what's in that fridge.
I love

the

whole special vibe

the

Liberty Beauty Hall offers – it's comforting

and

homely, topped off

by

some

of the

coolest

and

quirkiest brands

in the

beauty industry.
What's your favourite Le Labo product?
I have two at the moment, the first being Santal 33 perfume oil – the scent, for obvious reasons – and the perfume oil purely down to the fact that I love its creativity. I use the pipette to apply it as a perfume, then run it through my hair and beard so when the wind hits, it creates the most beautiful diffusion.

Second is the new Beard oil from our men's grooming range. The blend of grape seed oil and sunflower seed oil is perfect for taming my Viking beard.

To be honest, with the new skincare range, everything's amazing – it's all plant-based which appeals to so many people, with no synthetics, parabens or nasties. It's a simple collection, it's not heavily perfumed but the notes that are in there, for example basil, mandarin and Hinoki – which is an amazing, exotic wood from Japan – are very potent.
We were

the

first Le Labo counter

in

London,

so

we've got

a

lot

of

original features here,

for

example, our logo

in

neon lights – it's something

that

other counters don't have.
What's the running theme behind the fragrance range?
We have an individual story behind every scent. Le Labo founders, Eddie and Fabrice, have created these fantastic narratives and used some of the best noses from around the world to create each perfume. For example, Santal 33 – it's based on the Wild West; so you've got those really earthy, woody, dry notes of sandalwood and cedar wood. You've also got leather throughout, to create that cowboy/cowgirl feel – sensual with a musky finish.

Aside from the storytelling element, we specialise in using the finest natural ingredients from around the world – it can take up to five years to source the raw ingredients and get each formula absolutely perfect. We're a putting modern spin on traditional scents and using a very high concentration of oil, which makes them very complex and unique – as well as being completely vegan.
What does the number at the end of each fragrance name mean?
It stands for how many notes are in the fragrance. Ylang 49 has the highest number, and it's one of our bestselling scents – there are 49 notes in there, 49 ingredients, 49 things going on – it's super complex.
Why should I choose an alternative form fragrance over an eau de parfum spray, and how does its staying power compare?
People want different things from perfumes. The eau de parfum is always going to be the strongest way of wearing a scent.
I

f

somebody wants

that

really potent, powerful, in-your-face fragrance

and

they want

it to

last, they'll wear eau

de

parfum.
Balms and perfume oils give an alternative to eau de parfum – they're an alcohol-free version, because a lot of people don't want alcohol on their skin. The absence of alcohol doesn't affect the staying power, only the potency of the scent – so it won't be as in-your-face. I like to say that it will be a little bit more intimate – you're looking for those close encounters to really experience the scent.

With the perfume oil you can be a little bit more creative, while the balm is a roll-on – it's light, quick and simple to apply, making it easy to just take out of your bag, roll on, then you're on the move again. The solid perfume's wax form has an even more intimate effect. Some people really want to capture intimacy in a perfume, and this would be the best way of doing so. It works really well with the body heat, so if you're wearing it in a hot country, you'll get a beautiful diffusion.
The science behind Le Labo fragrance makes for a unique in-store experience. Can you tell us a bit about the behind-the-counter mixing process?
We've got all of our perfume oils in a fridge behind the counter. What we do here is put together the last three parts of the perfume. You choose your scent, then you choose your size, and it's all freshly hand-blended for you. Some scents take three components, while some just take the two – each has its own unique formula. I can't go too much into the formulas though – that's top secret!
What comes out

of the

fridge

is the

magic potion –

the

perfume oil
Let's use Santal 33 as an example – we'll take the 33 raw ingredients, then put them into the oil to macerate for up to three or four months. We'll then add the perfume oil to the other two components – ethanol and zero mineral water – to its unique formula, to create the eau de parfum.
Somebody

will

arrive

to the

counter,

and

they'll say "I grabbed someone

on the

tube last night"

or

"I've chased somebody down Regent Street" – what scent

will

this be? Santal 33!
What about the cult following behind your home fragrances as perfumes?
The magic behind the Le Labo fragrances is that because they are so complex, they literally unravel throughout the day. Sometimes people will try them on in the beginning and they're not too sure, but I say, "give it a few minutes, walk around", and I can literally see them doing a U-turn in the beauty hall after 10 minutes and coming right back to the counter. AnOther 13 is a great example of this, with a base of ambrox which works beautifully with the skin to create something really sensual and unique.
Santal 33

is

actually built

on the

success

of

Santal 26.
Our home fragrance is essentially an interior spray – it's designed to cling to textiles, so people usually buy it for their curtains and cushions.

Santal 26 was the original fragrance, designed for home, but so many people were wearing it as a perfume that we were inspired to make Santal 33. Santal 26 has notes of coconut and vanilla, which is more tailored to home for a sweeter, more relaxing feel.