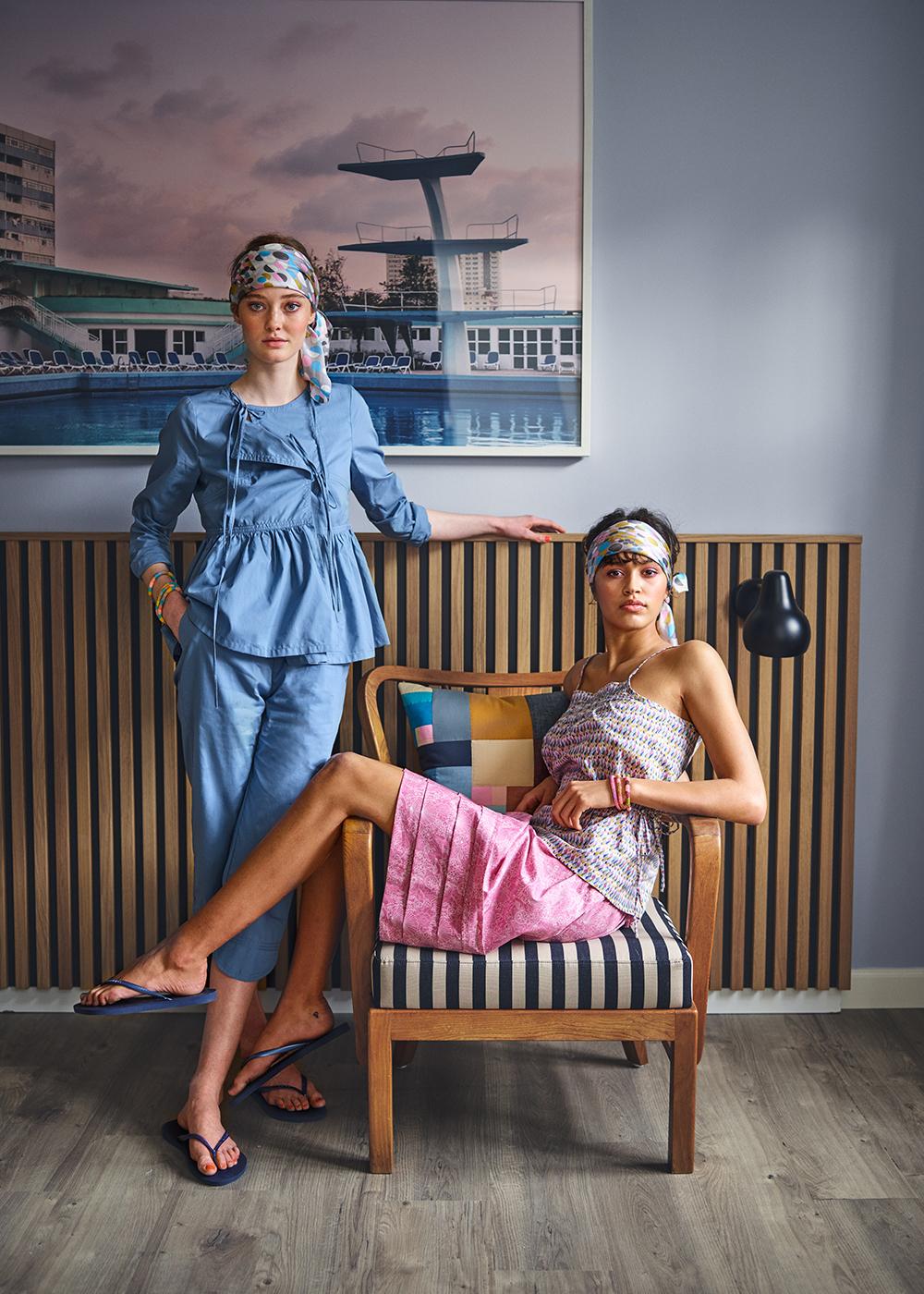 Our Liberty Fabrics Makers
A Chat With…
Rikke Gravengaard
Connecting with a global community of Liberty Fabrics creatives
Shop Liberty Fabrics
By: Jess Johnson
@LibertyFabrics lies at the heart of a global network of talented makers. Drawing from our world-famous Liberty Fabrics prints, these designers and artists create a living patchwork of ever-changing creations – and here at Liberty HQ, we love to see what you've been making. In this instalment of the series we chat to Rikke Gravengaard, a Copenhagen-based designer whose womenswear brand offers a colourful, playful take on Scandi style.
Can you tell us about yourself?
My name is Rikke Gravengaard. I live in Copenhagen, Denmark and this is also where I have my shop – it's just around the corner from where I live. I grew up in a magic world of Liberty prints, with a family of tailors and seamstresses. Homemade was key, and quality was essential. I remember my mum making the most beautiful clothes with Liberty Fabrics, which lasted forever. Fashion and fabrics were always a part of my life from an early age.

When I was 25 I studied fashion with knitwear at Central Saint Martins in London, and a world of opportunities opened up. As part of my education I got to work at Knit 1 in Brighton and at Anna Sui in New York. Years later I returned to Denmark and started working as a freelance designer – I did interior designs for many years before I decided to get back into knitwear.
When and why did you set up your brand?
I knitted show pieces for several of the large design brands here in Copenhagen, but I always felt something was missing – almost everything had to be made in black and white, and I missed colour and fun! Therefore I decided to start my own brand, and bring colour and most of all fun back into my designs. I started my brand in 2017, and opened my shop in 2019.
How many people are part of your team?
I started as a one-woman company, and I design and make all the pillows, quilt, bags and so on myself. For my clothing designs I have a pattern cutter who helps me out, and also a seamstress here in Copenhagen. A part of the production of my clothes I outsource to Hungary, and the rest I make myself in the shop. I have a work studio in the back of the shop, so I can sit and work if I don't have customers.

The shop has now been open for a little more than a year, and in November last year I added an online shop where most of my things can be bought. I have also hired a part-time student from the Danish Design School who helps me in the shop and studio, and I am about to hire a student from the Danish School of Media and Journalism to assist me on the social media front.
What do you like about working with Liberty Fabrics?
It's the fabric of my childhood! To this day, the Liberty store is still the most adventurous place I know – a perfect balance between tradition and quality. I still remember the first time I visited – I felt like Lucy in Narnia, when she comes through the wardrobe and meets Mr Tumnus.

Liberty Fabrics also just make beautiful clothes – the prints, the colours and the quality of the fabric. It's easy to make a beautiful garment when the fabric tells the story, and when the quality is good. This is something I put first in my designs – I like the idea that my designs will last not just for one season, but for years to come.
What inspires you creatively?
I find my inspiration all over – on my travels, in my garden, when I play with my kids, from books and movies, and so on. This year's Spring/Summer collection was inspired by last year's holiday in Japan with my family. We travelled around Japan and all fell in love with this beautiful country and its amazing history and culture.
What's next for your brand – are you working on anything exciting at the moment?
Currently I am putting the last parts of the Autumn/Winter collection together. This collection is inspired by the old Radio Concert Hall here in Copenhagen – it's filled with old instruments, music and wooden walls. I am mixing lots of prints from the Winter 2020 Liberty collections together with cognac, army and dark blue leather jackets, wool trousers and long Liberty silk satin evening dresses. I think it's going to be fun!
Do you have a favourite Liberty print?
I couldn't possibly answer. I am like a kid in a candy store – I want them all.
@LibertyFabrics lovers – we always want to see your creations. Upload and tag us with #LibertyCraftClub, so we can see what you've been making – and maybe we'll feature your work in our next series instalment.