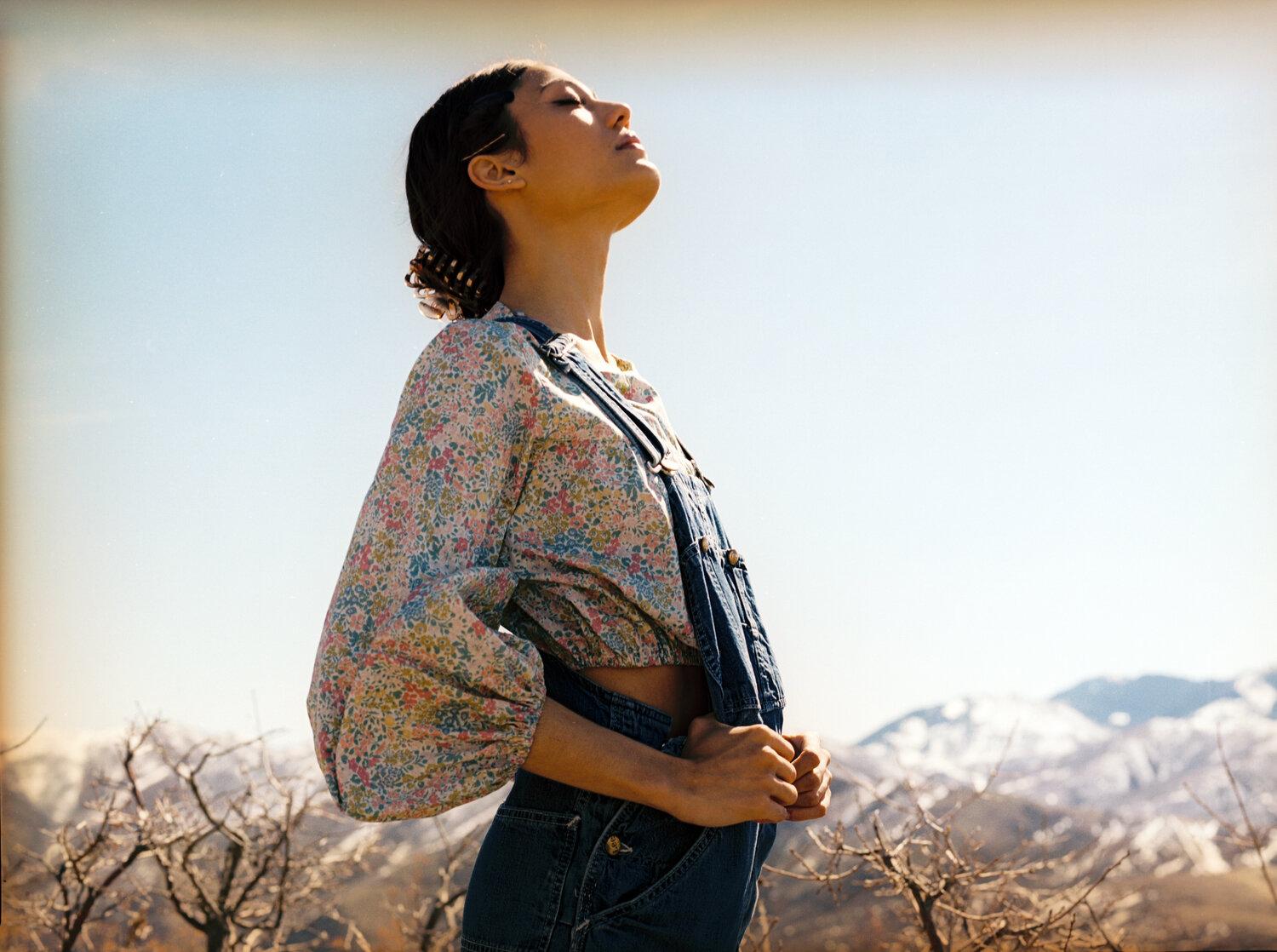 Our Liberty Fabrics Makers
A Chat With…
Emma Rothkopf
Celebrating our worldwide community of Liberty print loving creatives
Shop Organic Tana Lawn™ Cotton
By: Jess Johnson
The #LibertyCraftClub is a global network where makers, artists and designers of all stripes can connect over their shared imagination and love of print – here at Liberty HQ, we always love to see what you've been making. In this instalment of the Liberty Fabrics Makers series, we chat to Emma Rothkopf, a Utah-based womenswear designer who draws inspiration from the beauty of the natural world.
Could you tell us a bit about yourself and your creative background?
I grew up in rural Massachusetts (think Little Women – Louisa May Alcott lived in my hometown as a young girl) before arriving at Amherst College, where I studied Fine Art and English. After graduation, I decided to drive around the country for the summer. I'd spent my entire life in New England and realized there were many other places, especially places out west, that I might like to live. So I took a big road trip: I camped and stayed with friends and sometimes stayed with strangers.

After the road trip ended, I enrolled in a design course at Central Saint Martins in London and realised that fashion design would be a great way to make an artistic practice slightly more practical. My first break came when I landed a gig at Apiece Apart in New York City. At Apiece Apart, I was brought under the wing of some great friends and mentors who taught me an invaluable amount about building a collection, working closely with pattern makers and factories, sourcing fabric and trims, and trusting my instincts creatively! Eventually I rose to the position of Design Director, until I moved from Brooklyn to Utah in late 2019. Now I'm based in Salt Lake City.
Liberty prints

are

nostalgic

and

iconic,

and

the fabrics

are

unbelievably soft yet durable. I

am

honoured to be able to incorporate them into my designs.
When and why did you set up your brand Emma Rothkopf?
The line began after I moved from Brooklyn to Salt Lake City. This was a big change of scenery and I immediately began dreaming up the garments I most wanted to wear year-round – that I could wear in the city or in the mountains, on the east coast and out west. From there I started planning out how I could build a small collection as intentionally and manufacture as locally and ethically as possible.

I currently design and create by myself, but I work with a local zero-waste garment manufacturer to cut and sew every piece.
How do you source the fabrics for your pieces?
I mainly use deadstock fabrics that I source in Los Angeles. Some are special vintage yarn dyes, some are heavy cotton ribs, others are light gauzy cottons. I stick to natural fibres when searching for deadstock fabrics because they are better for the earth, feel better on skin, and – just as importantly – they last! When I found out that Liberty print on GOTS-certified Organic Tana Lawn™ Cotton, I jumped at the opportunity to work with such iconic prints in their new sustainable iteration.
Sustainability

is

extremely important

to

me – it's one of the main reasons I wanted

to

start something small in the first place. Having total control over each

of

my piece's materials

and

knowing the manufacturers well allows me

to

ensure that they

are

made

as

ethically

as

possible.
What is your making and designing process like?
Since I mainly utilise deadstock fabric, that's where I first begin. Then I see how I can layer on a print or two that ties together the different solids, stripes, ginghams I have found to make it a cohesive collection. For the styles, I often reference my mom's clothes from the 1960s-80s (many of which she has 'handed down' to me), plus other vintage pieces I collect for my own wardrobe.

For my brand, I never make something unless I can see myself wearing it often and can imagine many different people in my life wearing it, too. I want the pieces to feel special yet versatile.
Where do you work from?
I currently work from a little studio down a big hill from my house in Salt Lake City. I am so grateful to have a space separate from my home where I can create, make a mess, and just be. Of course, my kitchen and dining room and living room and bedroom and guest bedroom and basement also serve as what I tell my wonderful and supportive fiancé are 'satellite studios'…
What inspires you creatively?
I am inspired by so much of who and what are around me: painters, filmmakers, nature & the mountain west. Right now I am especially enamoured by the Utah landscape, specifically the majestic mountains all around Salt Lake City. Out our back door are countless hikes and trails, each with distinct landscapes and so many colours and patterns to soak up and draw from creatively. And we're only four hours north of the vast southern Utah desert, which is a stark contrast to the greens and blues all around Salt Lake City.
The desert never ceases

to

amaze

and

inspire me – those warm reds, ochres

and

earth tones set against blue sky

are

often on my mind.
Finally – do you have a favourite Liberty print?
I love the Joanna Louise floral I used for my first collections – also anything William Morris, and most all of the Tana Classics collections!
Liberty Fabrics lovers – we always want to see your creations. Upload and tag us with #LibertyCraftClub so we can see what you've been making, and maybe we'll feature your work in our next series instalment.