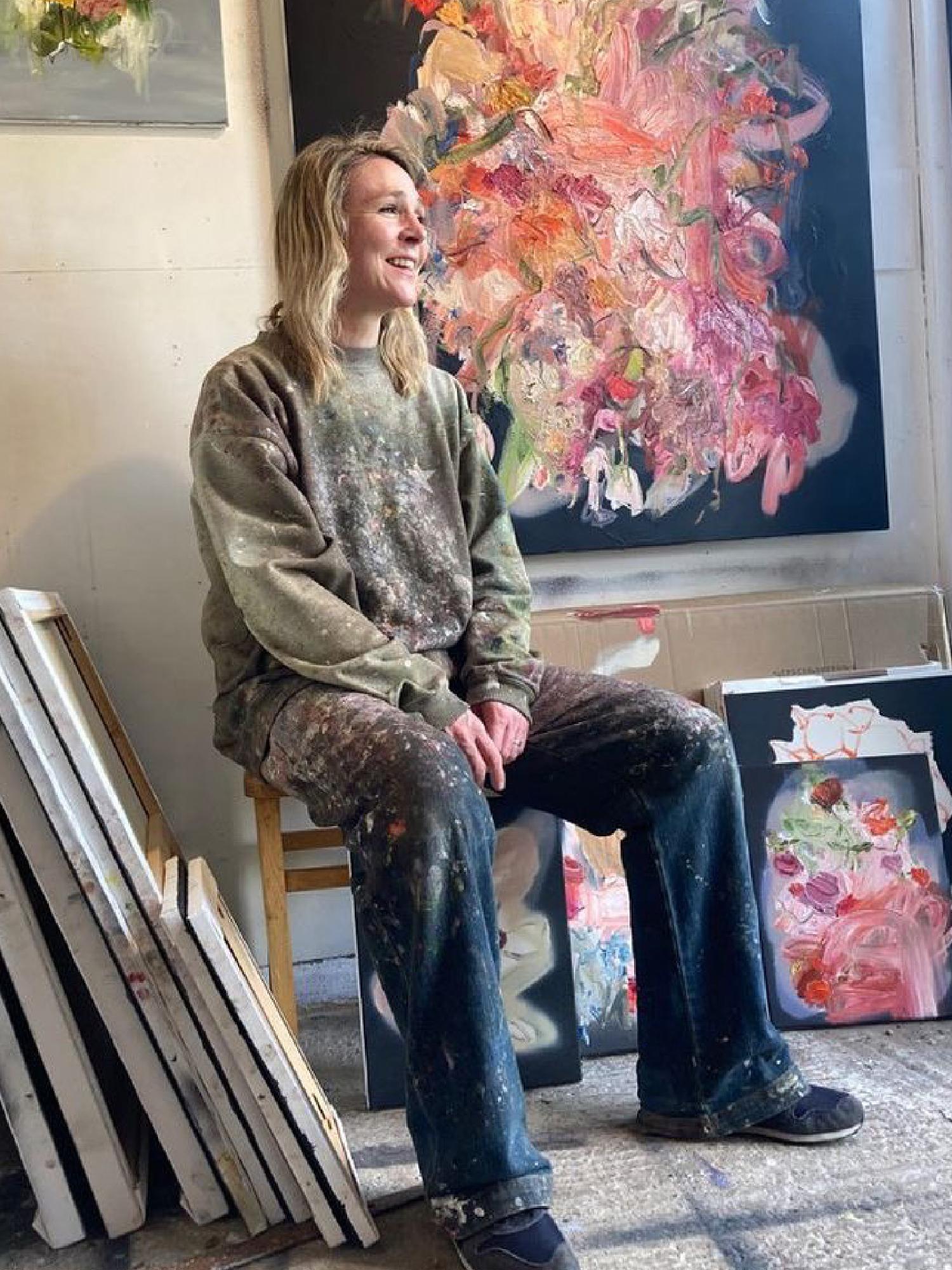 Artist in Residence
Miranda Boulton
The British artist talks connecting artistically and emotionally through bold swathes of colour
Shop Miranda Boulton
By: Kate Przybyla
Based in Cambridge, artist Miranda Boulton brings a bold sense of expression to the Still Life tradition. Rooted in historical artworks, her floral compositions build colour, layer-upon-layer, back-dropped against stark black to give a noted poignancy to the blooms at their centre. Here, she takes us deep into the memories and emotional connection that feeds her inspiration.
How did you get into art?
Art was always around me when I was growing up; it was always a possibility. Both my grandparents on my father's side were artists. My grandfather passed away before I was born, and my granny kept his studio as he had left it. When we visited, I would sneak into the studio and just sit and stare, imagine him painting, and dream of being an artist myself.
Flowers

are

poignant, beautiful

and

life affirming...

but also

transient, reminding us

of the

fleeting nature

of

life.
How would you describe your style in your own words?
Expressive, gestural, and emotive.
What do you hope to convey through your work?
A sense of emotion through my use of colour, gesture and form. My subject matter, Still Life's of flowers, reinforces the emotional pull of my paintings. Flowers are poignant, beautiful and life affirming... but also transient, reminding us of the fleeting nature of life. I suppose I want to convey beauty, happiness, and sadness all at the same time.
What are your main sources of inspiration?
For me, painting is a conversation between the past and present; an exploration of new forms from old images and narratives. Art History is my main source of inspiration, my work is a response to historical references within the Still Life genre. My two original series of paintings for Liberty London are based on memories of the last flower paintings by Manet, which he painted during the last six months of his life in Paris during the winter of 1880.

I have also worked on other series, which reference Dutch 17th Century Still Life painters such as Rachel Ruysch; the English 18th Century Artist and founding member of the Royal Academy, Mary Moser; Winifred Nicholson; and Morandi.
Can you tell us about your materials and how you use them?
I mainly use oil paint, which is amazingly versatile. Sometimes I thin it down with turps and use it like washes of watercolour paint. At other times, I build up layers to create impasto areas of gestural marks. I use brushes, rags and sometimes my hands to move the paint around the surface. I have recently been using spray paint, sometimes under and sometimes over the oil paint. This creates an interesting tension on the surface between the soft powdery spray paint next to the built up, hard, impasto oil.
I mainly use oil paint,

and

I have recently

been

using spray paint; this creates

an

interesting tension

on the

surface between

the

soft powdery spray paint next

to the

built up, hard, impasto oil.
Where do you begin when starting on a new piece?
To start a new painting, I spend time looking at an image of the painting I want to reference in a book or online. The next day I start a painting based loosely on this memory. I am not interested in replicating the memory; I use the process of painting to move away from the memory and for the work to write its own path in its layers of paint and marks.
Which artists or movements have been your biggest influence?
I have been through so many stages absorbing different influences, but if I had to choose seven artists: Manet, Matisse, Diebenkorn, Bacon, Auerbach, Mitchell and Twombly are all there in the mix.
What's your earliest memory of the art world?
I think it was my granny telling me stories about her student days during the 1930s at the Royal Academy. She was a fantastic storyteller and would have me in stitches retelling funny anecdotes. She made the idea of being an artist fascinating.
Where do you go to feel inspired?
I live in Cambridge and love nothing more than to spend a free afternoon at Kettle's Yard. It always has a hugely calming and inspiring effect on me. However, many times I visit, I always see something different or maybe the time of day creates a different atmosphere and light.
My granny

was a

fantastic storyteller, telling me stories

about

her student days during

the

1930s

at the

Royal Academy. She made

the

idea

of

being

an

artist fascinating.
Do you have any other creative outlets outside of your art?
I love gardening, although I don't claim to know much about it. I usually work on instinct. I find spending time in the garden grounding and relaxing.
How do you manage the pressures of creating art on demand?
I try not to overthink what I am doing and just enjoy the process of painting.