Aime
Summer Glow Capsules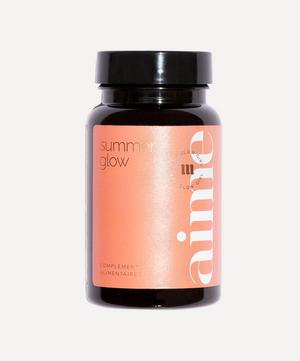 This product earns 165 loyalty points
Editor's Notes
Reinvent your beauty routine with Summer Glow tablets from Aime – supplements that help simulate the sun's glow-boosting properties, while assisting in protecting skin from oxidative damage.
Working to enhance skin's health while preparing it for sun exposure, each Summer Glow supplement contains a super-powered blend of beta-carotene, lutein, lycopene, camelina oil, resveratrol and probiotics – your daily hit of sun-friendly superfood, all in one. Exclusively developed by Aime's in-house R&D team along with micro-nutritionist Valérie Espinasse, these supplements work with the addition of vitamins C and A, which contribute to the protection of cells from oxidative damage. Start taking them the moment the countdown to summer begins to better equip your skin for time outdoors – and be sure to apply sun screen daily and regularly to protect skin from sun damage.
Read more
Read less
Features
30 tablets – 1 month supply
Suitable for all skin types
Helps prepare skin for sun exposure
Enriched with organic plants, vitamins and probiotics
Contains a blend of Betacaroten, Lutein, Lycopene, Camelina oil, Resveratrol, Probiotics, Vitamin C, Vitamin A
Does not replace sun protection
Vegan
Cruelty free
Gluten free
Contains caffeine – not recommended for pregnant women
HOW TO USE
For best results, take 1 tablet per day, starting 1 month before sun exposure (4 weeks minimum). Continue dose throughout the entire period of sun exposure. These tablets do not replace sun protection – be sure to apply sunscreen every morning and reapply regularly throughout the day.
Read more
Read less
Ingredients
Bulking Agent: Acacia Gum; Dry Extract of Green Tea Leaf (Camellia Sinensis (L.) Kuntze) (200mg, Providing 11mg of Caffeine, 40mg of Catechins and 32mg of Egcg); Dry Extract of Tomato (Solanum Lycopersicum L.) (120mg, Bringing 6mg of Lycopene); L-ascorbic Acid (Vitamin C) (60mg or 75% AR*); Beta-carotene (5 Mg); Anti-caking Agent: Magnesium Carbonate; Camelina Seed Oil Powder (Camelina Sativa (L.) Crantz) (Maltodextrin, Camelina Oil) (25 Mg, 7.5mg Camelina Oil); Yeast Enriched With Selenium (25mg, Providing 50mg Selenium or 90.9% AR*); Inactivated Strains of Lactobacillus Acidophilus (11mg), Lactobacillus Casei (11mg); Resveratrol (10mg); Anti-caking Agent: Magnesium Stearate; Retinyl Acetate (Vitamin A) (400μg or 50% AR*)
*AR: Reference Contributions
Read more
Read less
About Aime
Holistic hero, Aime, offers a new way of thinking about beauty. Using micro-nutritionist Valérie Espinasse's expertise, Aime creates high-quality daily supplements that meet the needs of today's woman. Discover the brand's French Glow, Urban Glow and Pure Glow Capsules – simple saviours that work to perfect skin from the inside. Each plant-based capsule is packed with clean ingredients and designed to restore order from the inside out, replenishing nutrients, whilst tackling problematic skin, including rosacea and dermatitis.
Read more
Read less