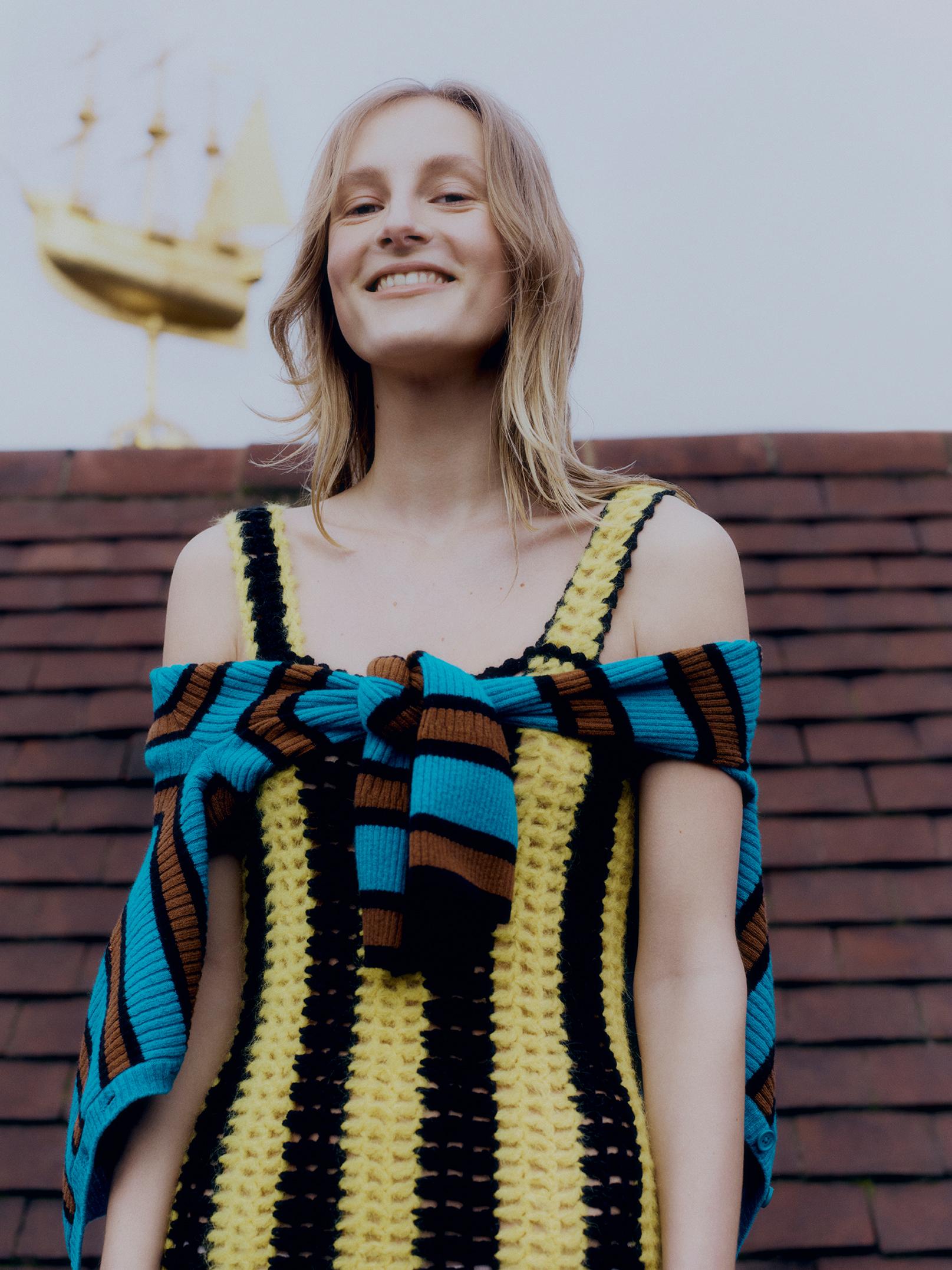 Beauty by Design
MOZH MOZH
Mozhdeh Matin on how a Peruvian upbringing informed her brand's forward-thinking stance on sustainability and authenticity
Shop MOZH MOZH
Sustainability has become a buzzword in the fashion industry over the past few seasons. Emerging brands' ethics and production practises have become a key selling point when our buyers view collections. Exclusive to Liberty and new for SS21, here we delve into lively Peruvian label MOZH MOZH's slow approach – proving that, for this brand, sustainability is more than just a fad.
Can you tell us a bit about your link to Peru?
I was born and raised in the Peruvian Andes. My parents are Iranian immigrants and I still live here, now in the capital of Lima.
What do you love most about the country? In what ways has it informed your taste?
I love the nature and the native cultures of Peru. I've always been curious about the beautiful textile works that are still made here.
How did you discover the work of the Peruvian artisans you work with?
I was born in a native community called Cajamarca - one of the main communities we collaborate with at MOZH MOZH. I also love traveling and visiting communities from the Andes and the Amazon rainforest to connect with artisans and develop a relationship with them that we can sustain.
Can you tell us a bit about what lead to the decision to found your own label – do you have a history in the fashion industry?
I always loved fashion, arts and textiles. I studied Fine Art first but then decided to change to fashion, graduating in 2009. I went on to work mostly with artisans in Peru, developing experimental collections while learning more about their work. I have also collaborated with other brands in the fashion industry, designing knitwear for the past eight years. In 2015, I felt ready for the first time to formalise my brand MOZH MOZH.
We develop textiles

with

traditional techniques because we love them

but

also because

it

helps preserve

the

art

of

these communities. Younger generations see

our

methods generating income

and

want

to

keep preserving

this

art too.
What does authenticity mean to you?
Authenticity for me has to do with consciousness and honesty with oneself. Of course, investigation and work helps to develop this language.
How does MOZH MOZH seek to align the contemporary tastes of its audience – and the industry's fast fashion reality - whilst ensuring the safeguarding of Peruvian traditions and its ethical supply chain?
Our method of designing using traditional techniques focuses on colours and textures, whilst our silhouettes and shapes have more to do with comfort and creating classic items to wear.
What steps has the brand undertaken to ensure the protection of the communities involved in the production of these garments?
We develop textiles with traditional techniques because we love them but also because it helps preserve the art of these communities. Younger generations see our methods generating income and want to keep preserving this art too. They can make a living from it. Nevertheless, we don´t use any of the communities' motifs that they feel could compromise their work.
Creating collections 'based solely on locally-sourced, sustainable and ethical materials' is an ethical position many brands are struggling to reach - how have you managed to achieve this?
We are lucky to live in a country where the industry for cotton and alpaca is enormous. These are our local materials so we challenge ourselves to use these solely.
MOZH MOZH customers

are

wise

and

wild people. They like

the

outdoors

and

dressing up

in

clothes

that

tell them something magical.
Now onto the clothes themselves! Where do you look for inspiration and what are the references you return to time and time again?
I really base the collections on experiences I have every day. It can be a thought, a book, a movie, an art exhibition or travelling. For me, inspiration is all about the mood and what I want to share with the world at that moment. I also like to look at fashion archives and bring back styles I feel a connection with.
Who is the MOZH MOZH customer?
MOZH MOZH customers are wise and wild people. They like the outdoors and dressing up in clothes that tell them something magical.
MOZH MOZH's designs are at once forward-thinking and traditional – how did you align these seemingly juxtaposing aesthetics?
My foundation is always tradition, it is what I admire and want to preserve, but I also like constant change and evolution. I like to ask myself how to make the traditional more futuristic.
How important is it to you that the story of these textiles is told alongside their sale by retailers?
I had always loved to buy vintage because it has a story behind it, it has life and a lot of stories to tell and it can be about time or culture. I like to think that if you know where your clothes come from, and even how they were made, you will have a bigger connection with what you wear and you will respect it and take care of it for much longer than usual.