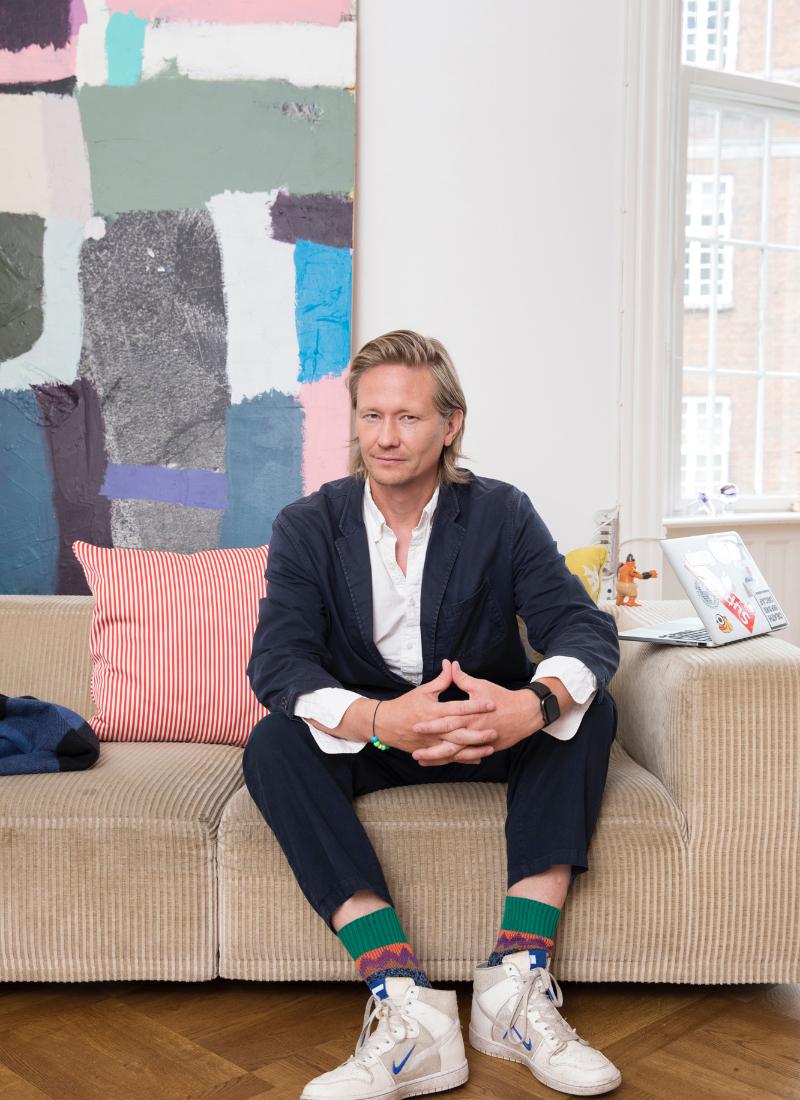 Beauty by Design
GANNI
Nicolaj Reffstrup explains how cutting-edge technologies – and a sense of Danish pragmatism – are at the heart of GANNI's future-proofing gameplan
Shop GANNI
Sustainability is in fashion – but sometimes it's difficult to see the woods for the trees. For the team at GANNI, honesty is the best policy: founder Nicolaj Reffstrup guides us through the efforts the brand is making to become its best self, from technical material innovations to digital solutions straight out of science fiction.
Let's start off by addressing the elephant in the room – as you call it! What makes sustainability such a difficult topic to address in the fashion industry?
We don't call ourselves a sustainable brand, because we recognise the inherent contradiction between being in an industry that thrives and is driven by newness, and the concept of sustainability. It's important to be open about that. You could choose to leave the industry, but fashion isn't going to go away, so our aim is to try to do better and be transparent in what we do to share with others in the industry. It's a very complex topic and you are bound to make mistakes or be criticized for not being good enough. That is why we set up our @ganni.lab account to share an honest take on the challenges along the way and try to push our agenda forward.
Why do you identify with the term 'responsible'? What does that mean to GANNI?
We have chosen to use the term responsibility because we view it as our moral obligation, our responsibility, to become a better version of ourselves. We need to solve the issues we are facing through growth and innovation, so we're putting serious resources into investing in this area to do it properly.
We view it

as our

moral obligation, our responsibility,

to

become

a

better version

of

ourselves
You've set out a Responsibility Gameplan with 44 goals to reach by 2023; how did you develop these goals?
At GANNI we aim to take a holistic approach to sustainability. We set out a framework around our 4 key focus areas – People, Plant, Prosperity and Product – because we needed to set tangible and easily measurable goals. It's also helped us to not act opportunistically, just improving our own situation short term, to give us better options in the long run. We're trying to do better every day where we can. That counts large scale, high impact projects like converting all our fabrics to more responsible choices such as organic, certified, or recycled options, as well as striving to become B-Corp certified this year. But it can also be smaller, more fun, awareness-building projects like growing oyster mushrooms from our used coffee grounds in the office or creating 3D printed vases out of recycled plastic.
Has the way you approach designing a new collection changed?
Yes, something we're excited about implementing are digital solutions. This includes a 3D Design Tool that will be in place by 2022, to reduce the number of samples we produce and ship and instead create virtual, true to life garments. Around 40% of our samples require a second prototype - this is the phase we are trying to cut down on. Our design team has also just finished their second circularity workshop; our goal is to have 20% of styles designed with circularity principles in mind by 2022.
One of your initiatives is to introduce more responsible materials into your collections – do you have a criteria for selecting these?
We set ourselves goals as part of our Game Plan to increase the percentage of responsible materials with each collection. Our main focus is switching to using materials like organic cotton, recycled wool and polyester, as well as working with responsible alternatives to viscose like Lenzing Ecovero. We're switching the most popular categories of fabrics first, to ensure we are making the biggest possible impact. Over time, we aim to reach 100%, but we are currently at 73% of all our products being either organic, certified or recycled fabrics. We also have a really cool internal project called the Fabrics of the Future, where our Responsibility and Sourcing teams explore new research and material innovation developments and try to scale them commercially. We are currently working on bio-based alternatives to synthetics.
Are there any new fabric innovations that you're excited about?
Our responsibility team is always researching crazy new innovations! One of our goals is to phase out virgin leather by 2023 and we have started introducing a super cool leather alternative made from cactus – free of phthalates, toxic chemicals and PVC and is a regenerative raw material. It also looks great and has a great quality too.
How do you balance crafting the trend-setting pieces that GANNI shoppers love with a more responsible attitude?
We want to create different alternatives like launching our rental platform GANNI Repeat, to help change people's mindset on how we consume. We had our first launch of our Levis x GANNI collab as rental only back in August and we are aiming to launch a peer-to-peer reselling platform this year too. We've had repairs and customization in store to extend the life cycle of clothing and lastly we try to return to core GANNI silhouettes season after season to encourage the consumer to keep loving more season transcendent shapes that we see as wardrobe classics.
One of your pillars is also about people – what makes the GANNI community so special?
Our community is at the heart of everything we do: diversity, inclusivity and gender equality. We strive to listen to their comments and DMs and use them as a feedback loop for our design teams, responsibility teams and all departments. For Ditte, the designs have always been about the people that wear us, and celebrating GANNI as a mindset, an attitude rather than a sense of style or one polished persona.
We've introduced GANNI Software,

with

75% traceability

across the

supply chain – however, we are aiming

for

100%
Often people imagine conscious fashion to be boring, which is the opposite of the GANNI aesthetic! How would a GANNI girl create a more responsible edit?
It's widely seen in the industry for brands to launch conscious capsule collections or edits, which are usually basics or organic cotton t-shirts. But for us it's work we want to put in to improve each collection on a larger scale. We've introduced GANNI Software, with 75% traceability across the supply chain, however, we are aiming for 100%. A huge part of the process is also looking at the afterlife of the product and how we treat these products post consumption. That is why projects centred around circular design principles, recycling, take back schemes, rental options and reselling platforms have such a high priority at GANNI.
Copenhagen is fast becoming the sustainable fashion capital – what inspiration do you take from your home city?
I think the lifestyle and mindset is inherent in our culture. Being a Danish brand, it has always felt like our moral obligation to think about our impact on the planet. We have all grown up surrounded by high quality craftsmanship, both in terms of furniture and architecture, and think about longevity, which definitely has left its mark. Copenhagen was the first city in 2009 to sign up to the ambition of becoming the first carbon neutral capital by 2025, supported by the CPH 2025 Climate Plan. But we're also quite humble about it. We're all for pointing out our flaws. The industry as a whole needs more accountability and a level playing field; if we saw more of these kinds of bold moves from the government, this would also push the industry into finding solutions to existing problems.