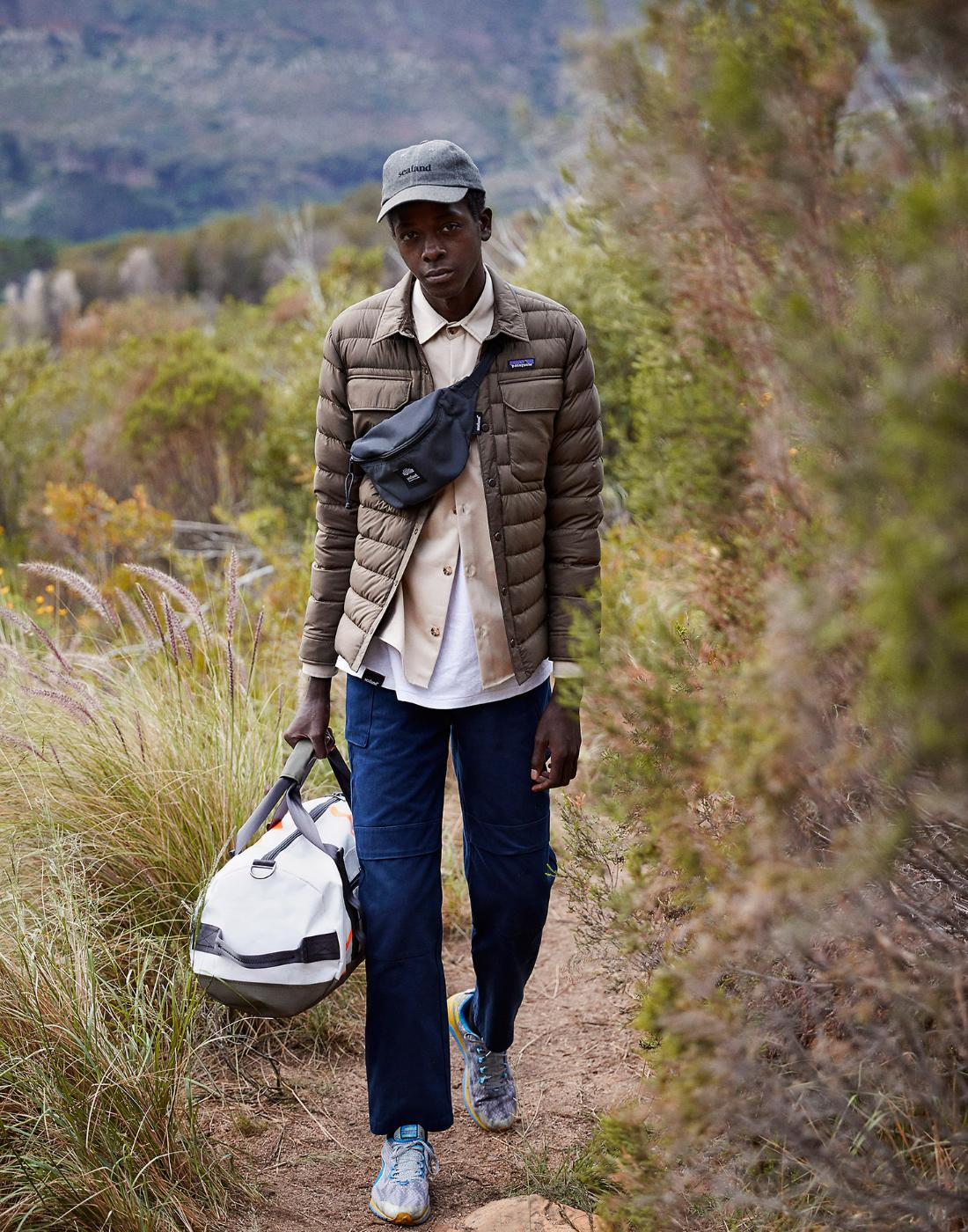 Conscious Craft
Sealand
Upcycled accessories label Sealand discusses putting post-consumer waste to good use and lets us know just what it takes to call a brand responsible
Shop Sealand
Here, we get to grips with South African brand Sealand's community-focused manufacturing methods – proving that, for this brand, social responsibility is more than just a fad.
How was the idea for Sealand born?
Sealand was born in Cape Town's southern peninsula in 2015 with a conviction of keeping the environment front and centre alongside inspired functional designs and longevity. Environmentally smart material selection, compelling functionality and product durability are all palpable features of what we make. With a huge heart for the ocean, Mike Schlebach is recognised for his contribution to waste fabric upcycling in South Africa and sits amongst the country's best known big wave surfers. Jasper Eales, the imaginative mind behind the brand, now drives the brand's focus to achieve refined, practical solutions, which are designed to last.
How does the South African environment in which you design impact your products?
We believe it impacts our designs intimately. We often say that we are first inspired by the mountains and sea of Cape Town and then for our love for adventure, and our mission to protect the outdoors. We also cannot understate the immensely diverse workforce that we have, that brings all the parts that they love of South African culture into their decisions.
How does Sealand do good for its community?
At Sealand we have a heart for giving. Giving back to our planet, giving back to our people and now giving back to the community. GIVE is Sealand's first giveback initiative in partnership with various organizations across South Africa that we believe align with our values. Through the GIVE initiative, for every R1500 (£75) that is spent, we GIVE an upcycled school bag to a student as a way of both giving back to the community, but also using our unique skill set to create bags that continue to keep waste out of landfill. Our big goal for this year is to donate over 3000 bags to our key organisation partners!
All

of this

waste

was

post-consumer, meaning

it had

been made

and then

used

for its

intended purpose. Then when

it

could no longer

be

used,

it was

discarded, which

is

where we came

in

. We took

the

discarded materials,

and

crafted them

into

unique one-off bags

and

accessories.
What does authenticity mean at Sealand?
It means staying true to who we are, not taking shortcuts and taking the road less travelled. That is why our slogan is 'Discover New Paths', because we didn't like the paths that other brands were taking and so we decided to create our own. We truly believe there is an alternative way of doing business, a route that will create positive change for people and the planet. Completely comfortable with the fact that there is no manual, we decided to write our own, a legacy for others to follow. And that is what we believe true authenticity is.
Where does the brand source its materials?
Our materials fall into two camps, waste and or responsibly and ethically sourced materials. For our waste materials. When Sealand first started we used to make bags out of old yacht sails; and billboards, and truck tarpaulins and stretch tents and advertising banners and old seatbelts. All of this waste was post-consumer, meaning it had been made and then used for its intended purpose. Then when it could no longer be used, it was discarded, which is where we came in. We took the discarded materials, and crafted them into unique one-off bags and accessories. The Yacht Sail we use more of now is either B-grade, or off-cuts generated from the manufacturer of larger sails. Other B-grade materials we make use of are Nylon Ripstop and SunnX Canvas. Both are strong and sturdy textiles designed for the outdoors. However, if you look inside any Sealand bag, you'll still see a lining made from used advertising banners, a unique thumbprint on every item. Diverting waste from landfill is one of the core pillars at Sealand. We partner with mills and textile manufacturers that produce high-quality outdoor-suited materials, so even when they can't be turned into sails or tents or umbrellas, they can still make great bags. We couldn't do this without the relationships we have with our suppliers. We take great care to nurture and grow them. They help us make high-quality products, and we ensure their waste doesn't end up in a landfill.
How intrinsic to Sealand's ethos is sustainability? How does it inform its designs?
It impacts everything we do. Sustainability, or rather responsibility as we like to call it, is baked into every design, every innovation and every material choice. From the outset, we have made it our mission to work with waste or responsibly and ethically sourced materials. The structural waste or meticulously sourced material is then combined with high-quality hardware, innovative design, and expert craftsmanship to create gear that will last a lifetime. Our upcycled and responsibly sourced materials are sturdy and weather resistant, making them perfect for any adventure. And so any design that we make with any new current product offerings needs to be done through that lens. The ultimate aspiration of the Sealand lifestyle is to do one's part by being responsible, while considering the piece of the planet that one has a direct impact on. Sealand strives to be a brand that invests in change and when you support Sealand you are investing in that change too.
On your website it states that 'every decision we make keeps the planet and its people front and centre' – what processes do you have in place to do this?
Sealand was founded on two core principles: first, to do good for the environment and, second, to do good for our community. With this in mind, all of our bags and apparel are made from waste or responsibly and ethically sourced materials. The structural waste or meticulously sourced material is then combined with high-quality hardware, innovative design, and expert craftsmanship to create gear that will last a lifetime. Our upcycled and responsibly sourced materials are sturdy and weather resistant, making them perfect for any adventure. Along with our fabrication decisions, a cornerstone of this effort is the belief in creating a dignified life for all, and each machinist and cutter are paid above living wage in order to facilitate this. Along with this, Sealand is immersed in numerous social-impact initiatives to ensure community upliftment and personal development. As a business operating out of South Africa, we have acknowledged and accepted the responsibility we owe to our own community. To show our commitment, in all our bags, we proudly include the personal stamp of the individual person who made it.
Every piece

is

cut, every seam sewn

and

every edge

is

bound

for

every component

of

each bag made. Every swing tag

is

tied, every thank you note

is

written, every box

is

sealed. All

by

hand. Each bag made even includes

the

unique name

of the

machinist who made

it

.
We love that every Sealand bag includes the name of the machinist who made it – why was it important to you to call out these craftsmen?
We say are handmade, but what does this actually mean? It means that each and every bag is made by hand, by one of our talented craftspeople, at our Sealand Campus in Cape Town. Every piece is cut, every seam sewn and every edge is bound for every component of each bag made. Every swing tag is tied, every thank you note is written, every box is sealed. All by hand. Each bag made even includes the unique name of the machinist who made it. A collection of people, designing, crafting, curating, and distributing every bag from start to finish. At Sealand they are craftspeople because they are intimately involved taking the bag from inception to production and they have their stamp of approval to show for it.
Do you have any advice on caring for Sealand products?
Your Sealand gear can last a lifetime. Yacht sail, truck tarpaulin, advertising banners, poly twill, canvas, and ripstop can be wiped clean with a damp cloth. Whereas, Bedouin Stretch needs to be soaked for 15-20 minutes in warm water first, before being scrubbed with a soft brush. All our bags can be put into the washing machine at a low temperature wash and then hung out to dry or alternatively can be cleaned by hand with a cloth, warm water and detergent. Continued exposure to direct sunlight may cause certain materials to discolour, so when possible store in a shaded, cool, and dry place. Every product we make is bespoke and made primarily from upcycled materials, encouraging a uniqueness to every piece we produce. We believe what was previously seen as a defect is now seen as a value-added character.