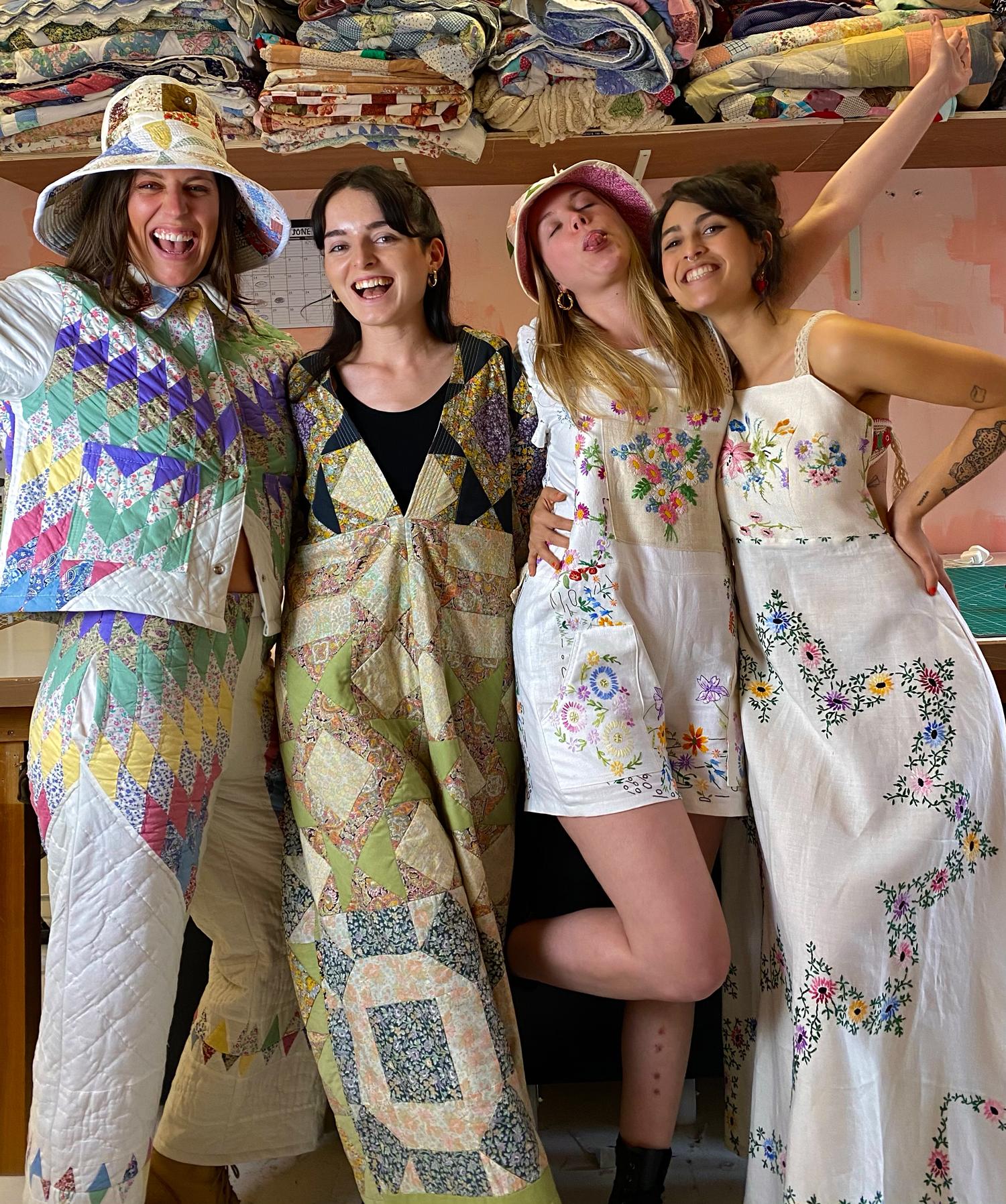 Our Liberty Fabrics Makers
A Chat With…
Magpie Vintage
Celebrating Liberty's global community of print-loving makers
Shop Tana Lawn™ Cotton
By: Jess Johnson
The #LibertyCraftClub is a worldwide network of creatives who connect over their shared love of Liberty print – here at Liberty HQ, we always love to see what you've been making. In this instalment of the Fabrics Makers series, we chat to Alice from Magpie Vintage, a London-based womenswear brand with an inventive approach to vintage clothing and textile salvage.
Could you tell us a little bit about yourself?
I left school at 16 and then a few years later went to college to do a BTEC in performing arts so I don't actually have any training or anything in dress making, business or fashion. I worked from as soon as I could, in clothes shops and hospitality – I was always much more interested in finding my own path and learning through doing.

I took a sewing and patternmaking course when I was 22 to learn the basics, and then used to spend hours and hours on the machine making so many mistakes but learning as I went. Since starting Magpie, I've always been based in London – however my sister moved out to Barcelona and we opened a Magpie shop there together, alongside the two I have here.
When and why did you set up Magpie Vintage?
I moved to Australia for three years when I was 19, and most of my clothes were bought from charity shops so I really got into the treasure-hunting aspect of it. When I came back I decided to turn my love of thrifting and upcycling into a job and started a market stall in Portobello on Saturdays and Brick Lane on Sundays, which turned into a permanent space within Brick Lane vintage market. I got a studio so I had space to make clothes to sell alongside, and after a few years I took the plunge to have a whole collection manufactured – the next few years were a really crazy busy time, I learnt so much but it was so fast paced and actually started to make me ill.

I made the decision to stop designing and producing and went back to selling vintage – I was so relieved to be back working with pre-loved clothing and textiles. I fell pregnant shortly after and this really motivated me to kickstart Magpie and take it from a market stall to a viable business. In lockdown I had some time and space to start designing again and started making jumpsuits from old patchwork quilts – this quickly grew and I now design three salvaged textile collections, creating dresses, jackets, jumpsuits and many more from old quilts, linens and crotchet blankets.
I'm

a

maximalist so Liberty Fabrics speak to me! I love the iconic prints

and

have always admired them – I used

to

buy end-of-the-roll Liberty prints from a textile deadstock factory in East London

and

make co-ords from them to sell on the stalls.
How many people are part of your team?
I have five amazing people working in the shops, they have the best energy and are all so passionate about sustainable fashion. Then I have four incredible girls working in the studio with me, creating the salvaged textile collections. Lastly I have Cat who helps me with the day to day running and managing of everything – I'd be completely lost without any of them!
Is sustainability important to you?
It's something that is at the very core of my business, and has been since I started 10 years ago. Especially having had a few years working in the fast fashion industry, it's even more important to me to ensure that everything we do is as ethical and sustainable as it can be – from giving pre-loved clothes and textiles a second lease of life, to not using carrier bags in store and recyclable packing materials for our online orders.
Do you have a favourite decade for vintage?
I don't have a favourite decade but anything pre-1970s I am a total sucker for. Their use of cottons and silk over man-made fibres will always appeal to me, and I'll forever be in awe of the time gone into creating each piece with the intricate detailing that you just don't see on your average garment these days. There's a genuine history attached with vintage clothing and you can feel it in the fabrics, there's a heaviness to them that I absolutely adore.
Personally I love pieces that have some natural fading to them,

or

patched areas – it adds to the charm

for

me, so I'm always on the lookout

for

those things, as well as little details like metal fastenings

and

delicate accordion smock stitching

or

hand embroidery.
Finally – do you have a favourite Liberty print?
I honestly love them all so much! If I had to choose I would go with the classic Ianthe – it's so timeless, and I love the decadent 1920s Art Deco feel to it.
Liberty Fabrics lovers – we always want to see your creations. Upload and tag us with #LibertyCraftClub so we can see what you've been making, and maybe we'll feature your work in our next series instalment.