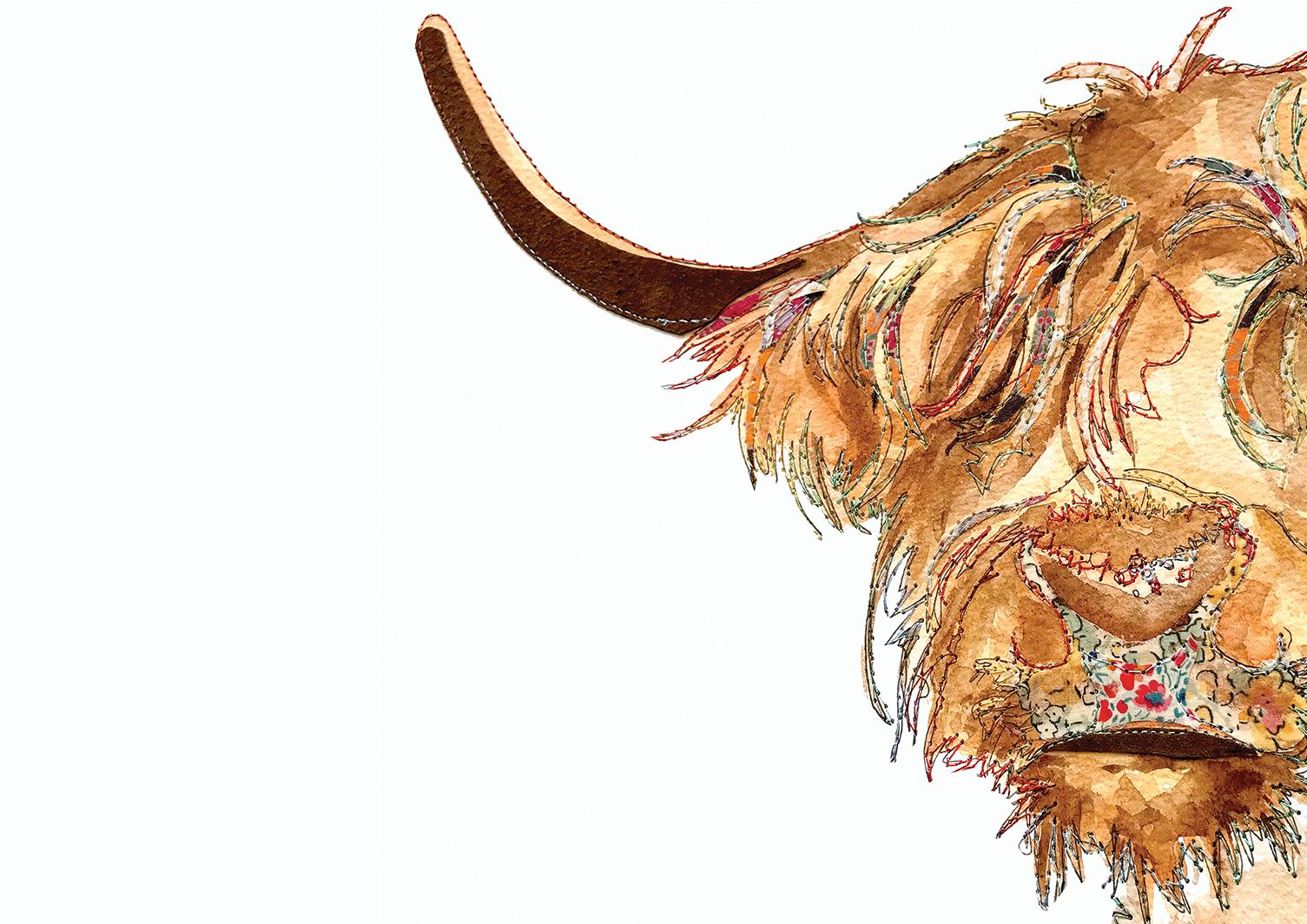 Our Liberty Fabrics Makers
A Chat With…
Jenny Dunlop
Celebrating the creatives who make our worldwide Liberty Fabrics community so special
Shop Liberty Fabrics
By: Jess Johnson
@LibertyFabrics has a truly unique network of global makers. Across the world, thousands of talented crafters use our vast archive of prints to create a living patchwork of ever-changing projects – and here at Liberty HQ, we love to see everything you've been making. In this instalment of the series we chat to Jenny Dunlop about her Wirral-based Jenny Dunlop Art studio, where she creates intricate artworks accented with slivers of Liberty Fabrics.
Can you tell us a little bit about yourself and your work?
I am originally from Northern Ireland and studied Fashion and Textile Design in Belfast, but have been living in Wirral, North West England for over twenty years now. I've spent this time developing my work style, and I haven't been shy in trying different things creatively. The combinations that I use now are as a result of gradual evolution.
When creating your artworks, what's the process like?
The bulk of my everyday commissions focus on homes and pets – I'll occasionally include figures in my artwork, but I tend to avoid human portraits. Typically, I work in pen and ink with watercolour first. Then I introduce Liberty Fabrics and stitching – it's at this point that my work really starts to come alive.

It's always good to have a plan, but also not be too afraid of ignoring it. Usually a positive creative outcome is not a result of good planning, but of working through the process, and of listening to the creative pull.
What inspires your work?
My aim is to create artwork that makes people smile, so I always want to make sure the piece hits the right emotional note. Sometimes it's a subject that the customer knows well, and I can give them the same view but with different eyes and bit of creative flair – in other cases, it's a well-known landmark or an image that is reminiscent of something they've seen, and I want to bring that to life in a way that makes people happy.

What I produce isn't a literal reproduction of what physically exists, it's not photorealistic – but I do like to make sure it's easily recognisable.
Do you have any favourite commissions that you've worked on?
I always get nervous when people come to collect their artwork! A couple of years ago I completed a family home commission which made the lady sob happy tears in my front room when she came to pick it up. She said it had brought back all the good memories she had of growing up in the house – and that I'd made it look happy, like she remembered it from her childhood, and not sad like it was when her mum was older and living there alone. This was one of the first times someone had had such an overwhelming reaction to a piece of my work, and it felt very special to have helped bring back all those fond memories. It's always the response to the piece that stays with me.
What draws you to Liberty?
Any trip I take to London will always include a trip to Liberty. I remember walking into the shop as a child and having a real moment – I was drawn to the building, the colours, the balconies and all the fabrics. It was like no other place I'd seen before, it was magical. I knew I would have to keep returning as often as I could.

I've since introduced each of my three daughters to Liberty on trips into London, and I know they have each had the same experience of feeling like they're in a place that's unlike anywhere else in the world.
Do you have a favourite Liberty print?
The astonishing combination of colours and patterns, and the huge variety of styles, makes it difficult to ever choose a favourite! With my work style, I'm never looking for particular designs or details, but rather a broad range of colour themes that I can then pick and choose from to suit a particular piece of work. If you were really going to push me to choose a favourite, I'd probably settle on Ciara – or maybe Strawberry Thief, or Betsy… Really, there are just too many beautiful designs to choose just one.
What's your philosophy when it comes to your artwork?
If my artwork doesn't make you smile, then I'm not done yet – although if it invokes a memory that's good, I'll live with that result too.
@LibertyFabrics lovers – we always want to see your creations. Upload and tag us with #LibertyCraftClub, so we can see what you've been making – and maybe we'll feature your work in our next series instalment.